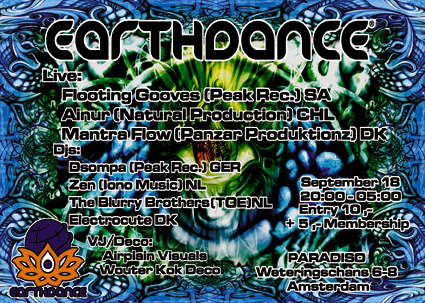 Deco
Deco
Wouter Kok deco
Airplain Visuals
Antonio Projections
Info
program basement:
20:00-22:00 Bliepertronic
22:00-00:00 Flooting Grooves
00:00>>>Radical Rehousing acts
program upstairs:
20:00-21:45 Electrocute
21:45-23:00 Ainur
23:00-00:30 Zen
00:30-02:00 Mantra Flow
02:00-03:30 The Blurry Blothers
03:30-05:00 Dsompa
Visit the tibetan community website!!:
[tibetancommunity.nl]
And the other program happening simultaniously in the Paradiso :
[paradiso.nl]
and
[rebellionevents.com]
Location
Location
This time T.O.E. not in Ruigoord but :
Dutch rock temple and formerly squatted church,the PARADISO,centre of Amsterdam
[paradiso.nl]
Weteringschans 6-8,Amsterdam.
Entry fee
Entry fee
10,- eu plus 5,-eu membership Paradiso// As we`re part of a combined program,everybody in before 23:30 supports the Tibetan community in the Netherlands directly.On top of this,the Paradiso organisation will donate 250,- eu and the crew work for free!!!
Organizer
Organizer
Trance Orient Express