Dynamic @ Arena Club October 27th @ Athens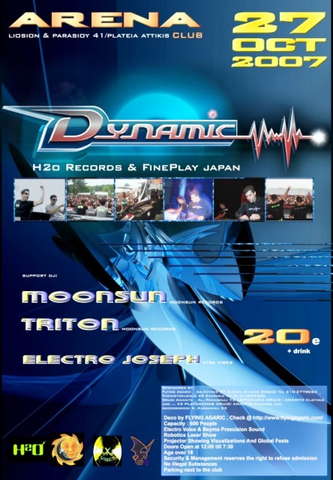 Line Up
"For The 27th Of October - Xtra Vibes hosts @ the Arena Club - DYNAMIC"
>> DYNAMIC _ H2O RECORDS / FINEPLAY MUSIC _
Presentation Of Their New Album ACID BEAT thats released from " H2O RECORDS / FINEPLAY MUSIC " _
[fineplay.jp]
_
BIO: " Dynamic " are Shay Elmakies & Ben Avital, Phonokols permanent crew members and one of the most promising & admired Israeli trance groups emerging from the evolving Israeli trance scene. Dynamic are respected members of Phonokols young and dynamic new roster Phonokols big hope for years to come! The Next Generation is the latest concept of Phonokols compilations a stage for the labels new in-house artists to present their DJ skills & expose their DJ sets each time with another act.Dynamic were invited to release their current DJ set as the grand opening of this new series as they are mainly known as great musicians with their own mark on the trance world, but they are also very talented DJ´s with great taste in music & this project presents their DJ side what a killer result!.Their tracks are on every major trance compilations around the world including tracks on TIP World, SPUN Records (USA), Zoom (Switzerland), several Japanese compilations, many Phonokol releases and a long list of other companies & projects.
Their tour schedule covers every corner of the globe!.
Info
Estimated Capacity * 600 People *
Electro Voice & Beyma Prescision Sound
Robotics Laser Show
Projector Showing Visualizations And Global Fests
Doors Open at 12:00 till 7:30 .............
Age over 18
Parking next to the club
No illegal Substances
Security & Management reserves the right to refuse admission
Supported by:
[fineplay.jp]
[moonsun-records.com]
[myspace.com]
[myspace.com]
[myspace.com]
[flyingagaric.com]
[psychedelic.gr]
[bassline.gr]
Sponsored by:
Xtra Vibes _
[myspace.com]
_
Bassline Radio Network _
[bassline.gr]
_
Flying Agaric _ Ag.fotinis 57 N.ionia Athens Greece tel 210-2778063 _
Themistokleous 49 Exarxeia tel:210-3825306
Druid Amanita _ Al. Panagouli 73 LEPTOKARIA DRUID / AMANITA Clothes and ... 43 PLATAMONAS DRUID
/AMANITA Clothes and Accessories: K. Karamanli 53 _
[myspace.com]
_
" Lets Dance The Arena For One More Time ".........................................
Location
Location
ARENA CLUB @ Liosion & Parasiou 41 Plateia Attikis , Check For Map @
[myspace.com]
Entry fee
Entry fee
20 Euro + Drink
Organizer
Organizer
XTRA VIBES & ARENA TEAM