DWARFS & GIANTS strike back! *with Khopat, Creatrix, ConXion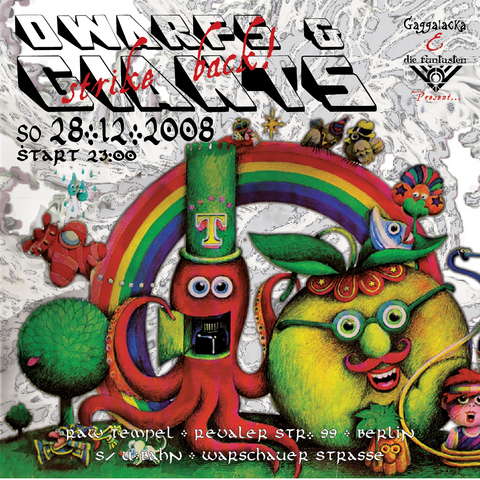 Line Up
KHOPAT _ spectral rec. * noize conspirazy rec. * shiva space * Portugal
>presents his debut album "BioChip" - coming 2009<
* info:
[myspace.com]
.. * video:
youtube
CREATRIX _recrystallize rec. * shaman electro rec. * Brazil / Portugal
>present their 2nd album - coming 2009<
* info:
[myspace.com]
.. * video:
youtube
CONXION _ectogasmics * fullmoon records * Berlin
* info:
[myspace.com]
Info
Hey Zwerge & Riesen, Waldwuffel & Moosmutzel, Elfen & Gnome, Hexen & Zauberer, Engel & Teufel,
zwischen Weihnachten und Neujahr ist es wieder soweit...
Nach der ersten Dwarfs & Giants mit ShivaJörg vor 2 Jahren werden die Gaggalacken und Funtasten wieder für ein Reich der märchenhaften Wesen sorgen...
Soundtechnisch wird ein großer Bogen gespannt werden - wir laden Euch ein, auf einen Trip mit feinstem Psychedelic Sound - angefangen von FullOn über powerful NachtSound zu Twilight und MorningSound bis zu OldSchool-GoaTunes... damit wir Euch alle wieder auf dem Dancefloor vereint rocken sehen... xD
Wir sind stolz darauf, Euch Khopat´s Liveact + DJ-Set mit brandneuem Sound präsentieren zu können. Der seit Jahren bekannte Producer wird in den nächsten Tagen sein erstes Album "BioChip"auf Spectral Records veröffentlichen und Ihr bekommt auf dieser Party schon mal einen exklusiven Vorgeschmack davon! Sein Style ist immer mit einer kraftvollen Bassline bestückt und dazwischen alle Arten des psychedelischen Sounds - vereint mit starkem Tanzkonzept - in anderen Worten Music for Body and Mind. Sein LiveSet auf dem diesjährigen BooM! Festival hat so dermaßen eingeschlagen, dass er dieses Jahr noch unbedingt in Berlin spielen muss...
Denkt dran, diese Party ist an einem SONNTAG!!! Werktätige Fraggles, nehmt Euch den Montag frei, sonst werdet Ihr es bestimmt bereuen, hehe ;)
+++
english:
Hey dwarfs & giants, fairies & hobbits, witches & wizzards, angels & devils,
between Xmas and new years eve it will come again... After our first Dwarfs & Giants party with ShivaJörg 2 years ago we will repeat it.
We, the Gaggalacka´s and Funtasten, will build up a world of fairy tales again...
You can expect a big soundwave of all kinds of finest psychedelic trance - we will invite you to a trip of full on over powerfull night stuff to twilight and morning sound til oldschool goa tunes... then we will see you all together rocking united on the dancefloor... xD
We are proud to present you Khopat from Portugal. He discovered Psytrance music in 1999 during his quest through electronic music. Since then and based on a previous musical education background he decided to create his own psytrance project. Khopat's music concept relies on a very strong rhythm base mixed with all kind of psychedelic sounds.
His music tries to lead the listeners to diverse cosmic environments,always allied with strong dance concept ... in other words , music for mind and body. After his liveset at this year´s BooM! festival he became to a really unforgettable name for psychedelic twilight sound. Khopat is part of spectral records and Noize Conspiracy, his debut album "Bio Chip" wil be released in the end of 2008 by the portuguese Label Spectral Records. Look forward for an exclusive preview / prelisten...
Think for it: this party is on SUNDAY!!!! Take free on Monday or you will cry... hehe ;)
+++
SPECIAL:
* San-CHAI-La by Sanjula _
[myspace.com]
* & Baboo _
[myspace.com]
* no chill * no presale * no guestlist * just music *
Location
Location
RAW TEMPEL _
[raw-tempel.de]
Revaler Str. 99
10245 Berlin - Friedrichshain
S- & U-Bahn Warschauer Strasse
Organizer
Organizer
die Gaggalacken & die Funtasten
Added

12y 4m

· Update

12y 22d

· 90 Parties ·

/ 398