dwArfs & giAnts 3 - MindFunk vs. Doof Records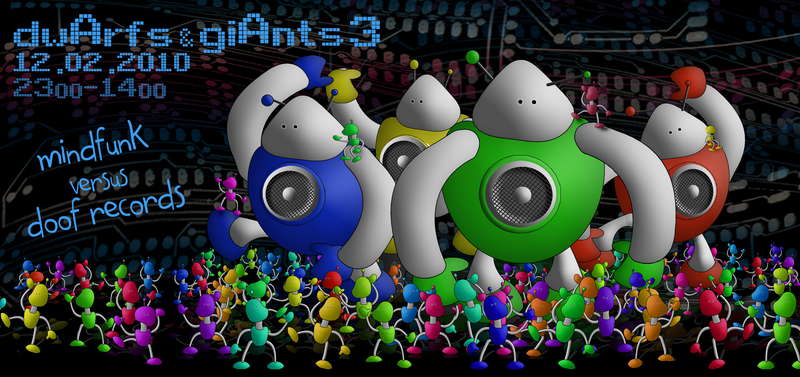 Line Up
REV
doof records * USA / Holland
[myspace.com]
*
[myspace.com]
...first time in Berlin! ...presents new tracks and his 4th album "amusia" - out now!
PEACE KA
mindfunk records / mind expansion * Italy
[myspace.com]
...presents his split album with assault junkies - coming soon!
NINGURA
...will creat a blacklight backdrop live on stage! * Thüringen
[myspace.com]
Deco
* phantastic visuals *
VJane LUCY SKY
mindfunk records * polyeidos * Düsseldorf
[myspace.com]
NINGURA
backdrops & livepainting * Thüringen
[myspace.com]
DIE FUNTASTEN
frühlingszaubertraum * Berlin
[myspace.com]
GOLDEN RATIO
balboa * Berlin
[myspace.com]
... and Friends :)
Info
Als unser erstes High(!)light für 2010 möchte ich Euch verkünden, dass Hagen und ich + Crew uns wieder zusammenraufen für die dritte Dwarfs & Giants - Session :)

Merkt Euch mal den 12. Februar 2010 vor - ist ein Freitag, also macht Euch den Samstag frei!!! Wir werden bis in den Nachmittag feiern!

Hierzu haben wir uns nix Geringeres ausgedacht, als Euch 2 psychedelische Hammer-Labels zu präsentieren:

Zum einen DOOF Records aus Israel, welches beim groovy psychedelic Night-Sound schon seit zich Jahren ganz oben steht. Dafür wird REV endlich nach Berlin kommen und sein bereits 4. Album "Amusia" und neue Tracks in seinem Liveact performen.

Und zum anderen wird das holländische Label MINDFUNK Records in Berlin wieder rocken, welches nun nach 3 Jahren Break ein dickes Release nach dem anderen raushaut... - das nächste wäre die V/A - Italian Instigators - Part 01 und dann das Split-Album von Peace-Ka vs. Assault Junkies, für welche Euch Peace-Ka hier live einen Vorgeschmack liefern wird... stay tuned!

Ausserdem könnt Ihr auf dem Dancefloor live mit erleben, wie ein Schwarzlicht-Backdrop entsteht: Ningura aus Thüringen wird sich von der Musik und von Euch inspirieren lassen und auf der Stage ein floureszierendes Bild malen...

Let´s freak out together on the dancefloor!
Location
Location
RAW Tempel * neu: mit Air Conditioner!
Revaler Str. 99
10245 Berlin
[raw-tempel.de]
S & U Warschauer Strasse
Tram M10
Organizer
Organizer
Gaggalacka Family + Die Funtasten