Backend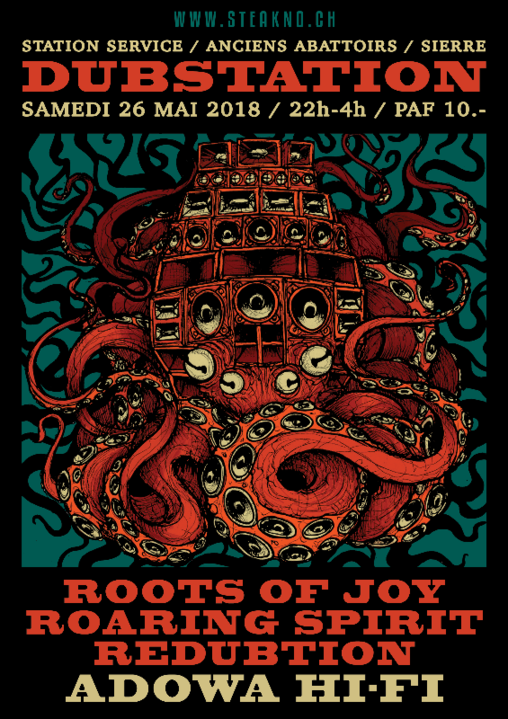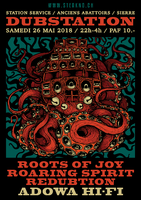 Line Up
Line Up
Roots Of Joy
Roaring Spirit
Redubtion
Adowa Hi Fi Soundsystem
Info
Samedi soir 26 mai à la Station Service aux Anciens Abattoirs à Sierre, Roots Culture & Music !

A l'Aslec :
18h30 - Ouverture des portes
19h - Présentation des associations
20h - Échanges libres
21h - Souper - buffet canadien

Aux anciens abattoirs:
22h - 04h - Dub Station

Trois associations de Sierre viendront se présenter en début de soirée et vous aurez le temps de partager avec eux avant de souper un buffet canadien.
Le dessert sera un abattage de rotules à l'ancienne, Roots Vibes Sound System Style !

19h - Présentations des Associations :
- Jardin d'Itagne, avec Patricia Vicarini - jardins communautaires et participatifs en permaculture à Sierre
- Le Satellite, avec Nicolas Fontaine - association active à Sierre pour le développement social et culturel de la ville
- Permaculture valais, avec Hubert De Kalbermatten - pour la promotion et développement de la permaculture

22h - Dub Station, session jardinage d'anciennes et nouvelles variétés Reggae Music On Original Sound System !
Base saine et naturelle, Roots Of Joy
Pâturage gras et herbe fraîche, Redubtion Sound System
Esprit conscient et militant, Roaring Spirit
Labourage et Vibration propres et profondes grâce à Adowa HI-FI, et une savoureuse collection et sélection 60's to 80's, avec Jah Bast pon di mic !
Paf - 10 chf

À samedi !
Location
Location
Anciens Abattoirs de Sierre.
Depuis la place de la gare prendre à l'ouest, passer un rond-point et un parking puis monter les escaliers et la rampe sur la droite. En haut prendre à gauche et vous y êtes dans 200m.