❉ Drop Odyssey ❉ Meis Live ❉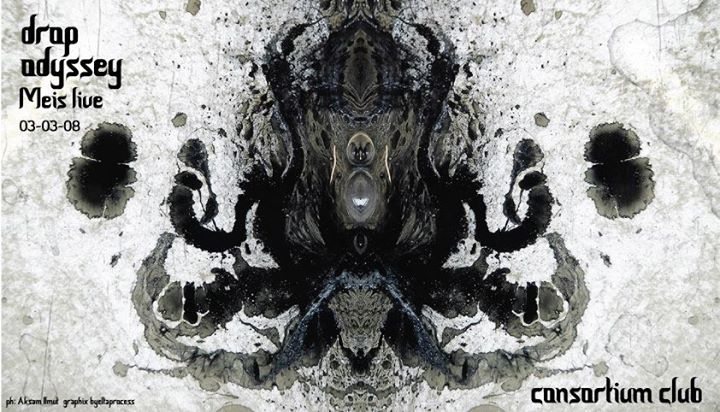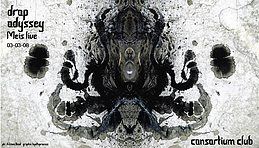 Line Up
LIVE:
★ MEIS ★
(NBM Records)
soundcloud
Meis (05/01/1990) from Bologna, Italy, began producing psytrance and goa sound since the age of 15. He self-taught as much as he could learn about the art of music producing and after 6 years of developing his production skills he started to focus on Dubstep and Electro club music. In order to mix various backgrounds of electronic music genres he experiments with different effects, melting styles into his own unique style that works well on the dancefloor. In 2009 he joined an audio-engineering school (from which he graduated from in 2012), learning the best tricks of music productions and laying a solid foundation of musical knowledge on which he built his own special, atmospheric progressive psy trance sound.
Meis works with NBM Records, Electrobooking agency and USN agency. The countries he last visited are: Italy, Germany, Austria, France, Switzerland ,Spain, Denmark, Canary Islands, Mexico, Australia, Brazil, Israel, Turkey, etc.
This project is getting always more professional and is ready to shock you with many new surprises
★ MARIOBROSSTEAM ★
(GoodVibeTribe / Veleno Music Rec.)
soundcloud
DAVIDE TAMBORRA, WAS BORN IN BOLOGNA IN 1980. HE BEGAN TO TAKE HIS FIRST STEPS TOWARDS MUSIC WITH HIS FATHER, GIUSEPPE WHEN HE BECAME PART OF A FAMOUS ITALIAN CHOIR. IN THE EARLY 90'S, DAVIDE PUT HIS HANDS, ON A REAL DJ CONSOLLE…HIS REAL LOVE!! IN 1994,HE BEGAN TO PLAY AT PARTIES ,UNDER THE NAME "NUCLEAR DJ".IN 1998,DAVIDE,DISCOVERED THE WORLD OF PERCUSSIONS(DJEMBE,DARBUKA,BATTERY),HE SPENT 8 YEARS PLAYING PERCUSSIONS WITH A GROUP OF SENEGALESE PEOPLE. IN 2007,HE MET MARKAYN,AND HE JOINED THE STAFF OF "STARCITY".
A PROJECT CALLED "MARIOBROSSTEAM" CAME TO LIFE! THE VIDEOGAME"SUPERMARIOBROS"FOR DAVIDE IT'S A REAL OBSESSION. DURING THIS TIME, MARIOBROSS, LEARNED HOW TO PRODUCE MUSIC, USING CUBASE AND ABLETON.HE THEN FORMED ANOTHER PROJECT: "OMEGADELTA". AFTER SOME YEARS, DAVIDE, MARCO(MARKAYN), AND PASQUALE(TIMIMASS), JOINED FORCES AND CREATED A NEW PROJECT "ANIMATRONICA" IN THEIR REAL STUDIO! WHIT HIS PROJECT, DAVIDE, PLAYED AT SOME OF THE MOST FAMOUS EUROPEAN AND ITALIAN FESTIVALS (GOALAND-SONICA-FULLMOON-INDIANSPIRIT-PARADISE-ENGADINSPIRIT-AND MANY MORE). HIS MORNING STYLE DELIVERS HARD AND DETERMINED BASSLINES.
NOW, MARIOBROSS, IS COLLABORATING WITH MANY WELL KNOWN AND ESTABLISHED RECORD LABELS, AND PRODUCED MANY TRACK'S WITH FAMOUS PRODUCERS LIKE AZTECDOSAGE,NOISE POISON,INSTICTWAVE AND WOO-DOG TO NAME A FEW.
AFTER MANY YEARS OF EXPERIENCE, WITH HIS MUSIC, DAVIDE WILL TAKE YOU ON A JOURNEY OF TRUE GOA CULTURE!!!!
DJ'S:
★ ORANGE ★
(Progetto Pandemia)
soundcloud
★ SUBLIMINAL POTION ★
(Wild Tribe)
soundcloud
★ LYO ★
(Progetto Pandemia)
soundcloud
★ PORRRES ★
(Progetto Pandemia)
soundcloud
★ DEREK ★
(Progetto Pandemia)
soundcloud
★ L.MIGUEL ★
(Indipendent)
soundcloud
★ KORNOK ★
(Progetto Pandemia)
★ HEARTBEAT ★
(Consortium Staff)
!!!!!!!!BUON COMPLEANNO ORANGE!!!!!!!
LINE UP CLOSED.
·٠ ૐ INFO: ૐ٠·
VISUAL & MAPPING BY DELTAPROCESS
Abbiamo già avuto la possibilità di suonare e ballare sotto queste bellissime visual ... non perdetevi questa occasione!!
[facebook.com]
·٠ 25Kw Core Audio
·٠ PsyBar
·٠ Per chi volesse fare una bancarella è il ben venuto, contattarci al più presto ! !
------------------------------------------------
PARTY FACILMENTE RAGGIUNGIBILE CON I MEZZI PUBBLICI DALLA STAZIONE CENTRALE DI BOLOGNA, PRENDERE GLI AUTOBUS 14-14A-14B-14C (C'è OGNI 15 MINUTI), E SCENDERE ALLA FERMATA "TANGENZIALE SAN VITALE" A 500M DAL LOCALE IN VIA ENRICO MATTEI 6
¬¬¬¬¬¬¬¬¬¬¬¬¬¬¬¬¬¬¬¬LOCATION¬¬¬¬¬¬¬¬¬¬¬¬¬¬¬¬¬¬
∞∞∞ VIA ENRICO MATTEI 6, 40138 BOLOGNA
COSTO INGRESSO: 10 EURO
EVENTO RISERVATO AI SOLO SOCI E.N.T.E.S, IL COSTO DELLA TESSERA E' DI 7 EURO, TESSERA VALIDA PER TUTTO IL 2018
*****DOCUMENTO OBBLIGATORIO*****
CARTA D'IDENTITA'
——————————————————————————
❉ ONLY FOR POSITIVE PEOPLE ❉
✼ Rispettate Tutto e voi stessi ✼
❉ Vi aspettiamo Numerosi ❉
Location
Location
Via Enrico Mattei 6 Bologna
via enrico mattei 6
40138 Bologna
Organizer
Organizer
Consortium Club
Added

3y 10m

· Update

3y 10m

· 1