Dreamscape with Spirit Architect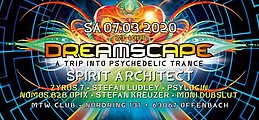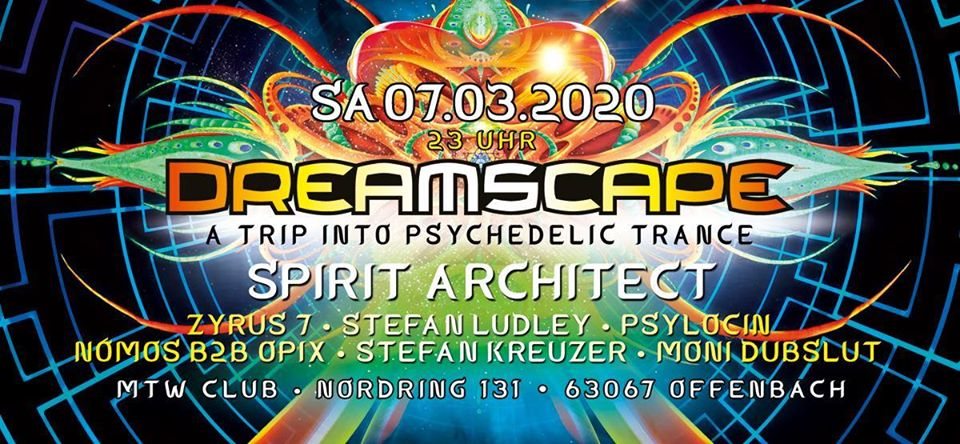 Line Up
✯✯✯ .. ⊙﹏⊙ .. ⊙△⊙ .. ⊙ω⊙ .. ⊙﹏⊙ .. ⊙△⊙ .. ⊙ω⊙ .. ⊙﹏⊙ .. ✯✯✯
═══════════════════════════════════════════════
:: Dreamscape with Spirit Architect – ZYRUS 7 – Stefan Ludley – Dj Psylocin x Laws of Nature – Nómos b2b OPIX – Stefan Kreuzer – Moni Dubslut ::
═══════════════════════════════════════════════
A Trip into psychedelic trance, chill and groove
╔═════════════════════════════╗
║░░ ❁❂❈ PSY MAINFLOOR ❁❂❈
╚═════════════════════════════╝
Live
► Spirit Architect (Dacru Records)
soundcloud
[apple.com]
instagram.com/angel_spirit_architect
DJS
► Nómos b2b OPIX (Upward Records)
soundcloud
instagram.com/nomos_music
soundcloud
instagram.com/opix_music
► Dj Psylocin x Laws of Nature
[click here]
► Stefan Ludley (Psylofant) // FFM
soundcloud
[facebook.com]
► ZYRUS 7 (Bluetunes) // GER
soundcloud
instagram.com/zyrus7_official
╔═════════════════════════════╗
║ ░░ ><><><>< Chill & Groove Floor:><><><║
╚═════════════════════════════╝
►Stefan Kreuzer (Augen- und Ohrenbad)
soundcloud
[facebook.com]
►Moni Dubslut (Technoküche))
[hearthis.at]
╔═════════════════════════════╗
║░░ ❁❂❈ Dekoration/Visuals ❁❂❈░░ ║
╚═════════════════════════════╝
►Cosmo Colors
[facebook.com]
► FluoresqueTier
[facebook.com]
► Free_4Twenty
instagram.com/free_4twenty/
►Visual Mapping by Optikos
[facebook.com]
╔═════════════════════════════╗
║░░ ॐॐॐ Licht ॐॐॐ
╚═════════════════════════════╝
► max headroom mtw
╔═════════════════════════════╗
║░░ ॐ Leibliches Wohl ॐ
╚═════════════════════════════╝
✯Chai und Snacks ChaifideliTea
╔═════════════════════════════╗
║░░ ॐॐॐ Gadgets ॐॐॐ
╚═════════════════════════════╝
► Shop by Worldwidewurm
► Accessoires von Tara
► Blacklight Bodypainting & Light Performance by Feuer & Farbe
[feuerundfarbe.com]
LOCATION:
►MTW
Nordring 131
63067 Offenbach am Main
Germany
[mtwclub.de]
/
start: 23:00h - 9:00h
Ab 18 Jahre
AK 18 Euro
friendly doors
Geburtstagskinder erhalten gegen Vorlage des Ausweises am Abend freien Eintritt.
parken in Clubnähe überall kostenlos
Wir bieten für diesen Abend wieder ein Hotel zum Vorzugspreis an.
Hotel:
[technoclub.tc]
INFO:
Wir schreiben das Jahr 2020! Eure Dreamscape geht weiter. Wir wollen immer nur das beste für euch! Mit Spirit Architect kommt einer der angesagten Psytrance Artist exclusiv zum ersten Mal zu uns. Wir freuen uns tierisch auf ihn, aber das ist wie immer lange nicht alles. Freut euch darauf!
Unsere Artists
Mainfloor:
Live
★ Spirit Architect (Dacru Records)★
Making music is about challenging your brain... becoming complex... being complex. Spirit Architect is a psychedelic trance act by Angel Zdravkovski from Skopje, Macedonia.
His first experiences with writing and producing music go back to 2003. After many years of experimentation and graduating as a sound engineer he was ready to let the world listen to the excellent productions. Many well received releases followed at Ovnimoon, BMSS and Geomagnetic Records. By the end of 2012 the project got noticed and signed by Dacru Records and many quality releases followed, accompanied by an 'anthology' full cd released at Ovnimoon records with some of the biggest hits, and an appearance on Armada Music in 2014. In 2017 the first proper full album 'Moonshine' was released at Dacru Records and turned out to be an instant hit coming in straight at #1 in Beatport's psytrance releases and staying there for over 2 weeks. He's also known for his cooperations with Djantrix and for his progressive side-project 'Dual Resonance', which is signed to Iono Music.
[click here]
[apple.com]
Opening Set
★ Nómos b2b OPIX ★
Die beiden sind zwar zum ersten Mal auf der Dreamscape. Haben letztes Jahr jedoch schon auf der Nature One, Open Beatz Festival, Sommerliebe Festival und vielen weiteren ihr können unter Beweis gestellt.
[click here]
[click here]
Closing Set
★ Psylocin (Laws of Nature /GER)★
Dj Psylocin - so bin ich als DJ in der mittelhessischen Psytrance Szene bekannt. Vor ungefähr einem viertel Jahrhundert - ich bin jetzt 25- durfte ich von meiner Kinderwiege aus meinem Dad an den Plattentellern zusehen. Das mich das begeistert hat brauche ich euch wohl nicht zu erklären. Nach langer Wartezeit, bekam ich mit 6 Jahren nun endlich mein erstes Mischpult und konnte mit dem ausprobieren und mich finden beginnen. Na ja...dass, das im Alter von 6 Jahren noch ne Weile gedauert hat... ist wohl jedem klar. Seit 2005 bin ich nun gebuchter DJ für verschiedene Events und war zunächst auf Veranstaltungen für alternative Musik , House, Electro und Minimal anzutreffen. Die Erlösung kam dann 2008 mit meiner ersten Goa-Party...der Spirit...die Musik...die Verbundenheit und die vielen tollen Menschen zogen mich in ihren Bann, sodass ich mich näher mit der Musik auseinander setzte und mich in ihr wieder fand. Ich bin Dj aus Leidenschaft und es erfüllt mein Herz mit Glück meine Musik mit euch zu teilen, sodass ihr den Dancefloor mit ordentlich gestampfe zum beben bringt. Seit 2009 bin ich nun als Dj auf den Psytrance Partys unterwegs und habe seit dem einige Projekte mit einem guten Freund starten können... wie unter anderem eine seit 2012 bestehende Partyreihe in Petterweil. Im gleichen Jahr haben wir- Dj Psy Schilly und ich - unsere Internet Plattform Laws of Nature auf Facebook ins Leben gerufen. Es ist eine Plattform, auf der wir Newcomern die Chance geben sich vorzustellen und ihre Musik mit uns zu teilen. 2013 bemerkten wir dann, dass wir nicht nur als Planer gut harmonieren, sondern auch an den Decks. Und mit dieser Erkenntnis wurde wir, die Cosmic Loony Tones geboren, unser Back to back Projekt. Seit dem rocken wir auch oft gemeinsam an den Decks und haben eine menge Spaß dabei euch zu beflügeln. So nun hab ich euch genug über mich erzählt und möchte meine Musik für mich sprechen lassen
[click here]
★ Stefan Ludley (Psylofant) // FFM★
Stefan Ludley startete das Djing bereits 1983 in verschiedenen Jugendhäusern Frankfurts. Seit 1993 legt er Goa/Psytrance auf.
Im Jahr 1995 gründete er das heute sehr erfolgreiche Event-Label "Psylofant", unter dem in Frankfurt die ersten Goaparties veranstaltet wurden.
Er gilt als das DJ-Urgestein der Frankfurter Psytrance-Scene und ist maßgeblich an deren Entwicklung im gesamten Rhein Main Gebiet und darüber hinaus beteiligt.
Wegen seiner gefühlvollen und dynamischen DJ-Sets wird Stefan national und international gerne gebucht. So spielte bereits auf namhaften Festivals wie Voov Experience, Fusion Festival und Antaris Project.
Auch als Produzent ist Stefan nicht untätig. Sein aktuelles Release "Elphy" entstand in Zusammenarbeit mit Jörg Friedrich von Pearlcoder. Weitere Releases von Stefan Ludley, unter anderem eine Kooperation mit Fünf D, sind bereits in Planung.
[click here]
[facebook.com]
★ Zyrus 7 (Bluetunes) // GER★
Zyrus 7 ist ein Quereinsteiger der schon jahrelang auf psy steht, aber erst April 2014 bei seinem Gig im Berliner Kitkat Club die Initialzündung hatte. Seitdem produziert er progressiven psytrance und hat es sich zum Ziel gemacht, die Szene im Rhein Main Gebiet durch seine Dreamscape Events zu bereichern. Seine Collaboration mit Liquid Soul kam auf Paul Oakenfolds "Perfecto Fluoro, seine Single "Reflection" hatte Premiere auf dem dt. psy label "Iono" und seine Collab mit " ZYCE" erschien 2017 auf Spintwist. Ausserdem hat er seit Januar 2018 eine eigene Radiosendung jeden dritten Donnerstag im Monat bei Sunshine Live. Von 22-24:00h heisst es dort auf dem Main Channel: Dreamscape on air. Seit Mai 2018 ist er bei Bluetunes unter Vertrag. Dort kamen bis dato 4 Singles. die letzte "About the future" schnellte bis auf Platz 6! der Beatport psy 100. Ausserdem gibt es Collabs mit Phanatic, Eddie Bitar, Static Movement. Im Frühjahr hat er die erste Dreamscape CD Serie gestartet, gemixt von Zyrus und Stefan Ludley. Mittlerweile hat er einige grosse Psy festivals hinter sich, besonders sein Gig auf dem World Club Dome, wo er vor BERG und Neelix spielt, blieb in Erinnerung, als den riesigen noch leeren Platz innerhalb seines Sets mit mehreren tausend Psyfans füllte. Im September kommt seine neue Single "The Ambush" bei Bluetunes heraus.
[click here]
[click here]
[facebook.com]
★ Chill Out:
★ Stefan Kreuzer (Augen- und Ohrenbad) ★
[click here]
[facebook.com]
Stefan Kreuzer plays at Festivals, Clubs, Chillout Lounges, exclusive Bars and Restaurants and had been the resident DJ of the Cocoonclub "Bed Restaurant Silk" from the first untill the last day.
He released three Chillout Compilations; Impulse (Novatekk), Silk Pearls 1 and 2 (Cocoon Recordings) and several Remixes. The new Album "Analog - Digital" was released in July 2013 together with Pearlcoders Jörg Friedrich as "Kreuzer & Friedrich" by Blackfish Recordings.
★ Moni Dubslut (Technoküche)★
[hearthis.at]
Angefangen hab ich 2001 durch einen Zufall. Irgendwie lief jahrelang im Chill immer die gleiche Musik. Die Musik, die ich zu Hause hatte, war eigentlich geil fürs Chillout. Eines Nachts im Signalwerk hab ich mir vom Holger (Dj Holger Best) mal zeigen lassen, wie das mit den Dj Cd-Playern und dem Mischpult so funktioniert. Das war dann damals mein Anfang mit dem Auflegen. Elektronische Musik hat mir eigentlich schon lange gefallen. Irgendwann hab ich angefangen, mit mit den einzelnen Styles und den Künstlern zu befassen. Inspiriert haben mich damals Künstler wie Monolake, Maurizio und die Labels Basic Channel und Chain Reaction. Mittlerweile spiele ich nicht nur im Chill, und wenn ist es immer groovig und tanzbar. Wo ich schon überall gespielt habe? Das wäre eine Riesen Liste. Ich zähl mal ein paar auf. Signalwerk, das alte Basement, Folklore im Garten/Park, Tanzhaus West, Kloster Gronau, Veranstaltungen der Erdlichter, Unterholz, Querbeet, Dance Active, Bei Nataraja und Coming Home, Context Wiesbaden. Und natürlich die Technoküche, bei der ich seit über 10 Jahren Resident bin. Mein Style geht von möchtig düster und bööösääää, bis fröhlich albern. Viele Dub-Effekte, gerne Reggae-Elemente und Folklore darf auch dabei sein. Und ich versuche, daß alle Tracks einen Wiedererkennungswert haben, ohne kommerziell zu sein.
Location
MTW Club
Nordring 131
63067 Offenbach