Backend
Dreamscape with NOK, ZYRUS 7, Ludley etc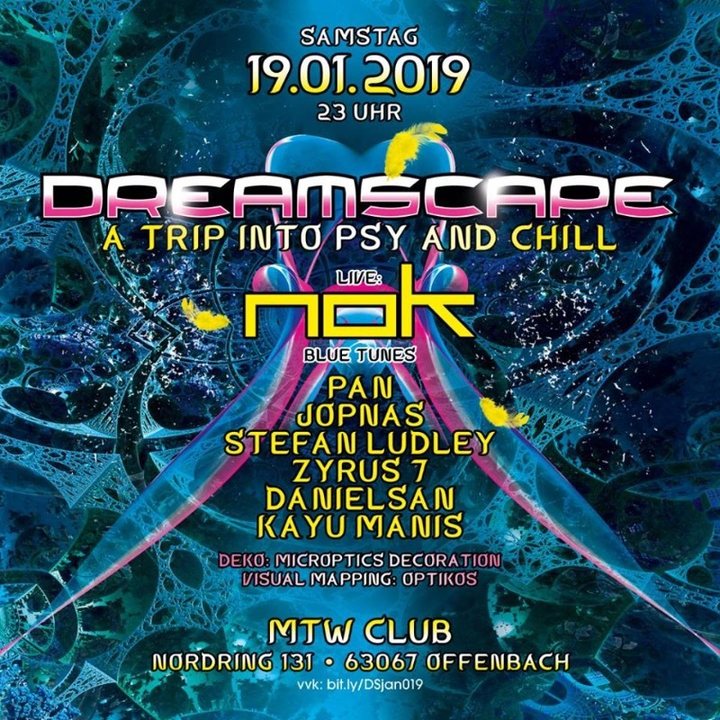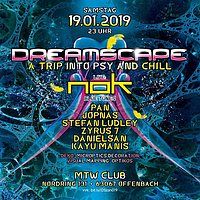 Line Up
A Trip into psychedelic trance, chill and groove
╔═════════════════════════════╗
║░░ ❁❂❈ PSY MAINFLOOR ❁❂❈
╚═════════════════════════════╝
Live/Djs:
► NOK (blue tunes) // HH
soundcloud
► Pan (WDG Music)
soundcloud
► JOPNAS (PsyKo / Hei Tiki)
soundcloud
►LUDLEY (Psylofant) // FFM
soundcloud
►Zyrus 7 (Bluetunes) // GER
soundcloud
╔═════════════════════════════╗
║ ░░ ><><><>< Chill & Groove floor:><><><║
╚═════════════════════════════╝
► DanielSan (Gathering of the Tribes)
soundcloud
► Kayu Manis
soundcloud
╔═════════════════════════════╗
║░░ ❁❂❈ Dekoration/Visuals ❁❂❈░░ ║
╚═════════════════════════════╝
►Microptics Decoration
[facebook.com]
►Unterholz (Wiesbaden)
►Talez of Mystery (OF)
Visual Mapping
►Optikos (Frankfurt)
═════════════════════════════╗
║░░ ॐॐॐ Licht & Laser ॐॐॐ
╚═════════════════════════════╝
► max headroom mtw
Info
X-TRA:
Grosse Outdoorterrasse (überdacht)
Stand mit tollen psychedlischen Gadgets
-------------------------------------------------
INFO:
A trip into psy trance
Willkommen zu einer neuen Ausgabe unserer Dreamscape. Als Main Act präsentieren wir euch voller Freude NOK aus Hamburg, eine der fähigsten aus dem Hamburger Proggy Ensemble. Neben den Gastgebern Ludley und Zyrus 7 spielt für euch Pan aus Giessen mit einem spannenden Opening. Das Holy Closing im Forrest Style kommt von Jopnas. Das Multitalent aus Frankfurt wird euch mit Forest und Darkpsy verwöhnen. Auf die Mainstage Deko von Microptics freuen wir uns daß sie endlich mal wieder dabei sind. In der Lounge erwarten euch leckerer Chai, entspannte Klänge von Daniel San und Kayu manis sowie Traumlandschaften unserer Dreamscape Artists Unterholz und Talez of Mystery.
Unsere Artists:
NOK is Alexander Dorkian (aka Galactika) from Hamburg Germany.
In uniting massive thrust with dreamy easiness, NOK is introducing a New Order...
... in terms of up-to-date Progressive Trance.
It's the skilful play with moods and sound colours that creates a one-of-a-kind suspense on Alexander Dorkian's new album. The rolling force of heavy bass lines meets fluffy and light pad sounds. At one moment the atmosphere is dominated by rhythmically swirling synth chords, shortly thereafter they morph into elegant melodies.
Every title on the album is characterized by this organic modulation between full throttle dance floor power and trancy easiness. Additionally there is a great variation from one track to another, thanks to various collaborations with renowned colleagues and some remixes of proved and tested Progressive bangers.
++++++++++++++++++++++++++++++++++++++++++++++++++
Zyrus 7 - Spintwist - GER
ist ein Quereinsteiger der schon jahrelang auf psy steht, aber erst April 2014 bei seinem Gig im Berliner Kitkat Club die Initialzündung hatte. Seitdem produziert er progressiven psytrance und hat es sich zum Ziel gemacht, die Szene im Rhein Main Gebiet durch seine Dreamscape Events zu bereichern. Seine Collaboration mit Liquid Soul kam auf Paul Oakenfolds "Perfecto Fluoro, seine Single "Reflection" hatte Premiere auf dem dt. psy label "Iono" und seine Collab mit " ZYCE" erschien letztes Jahr auf Spintwist.In 2018, ausserdem hat er seit Januar eine eigene Radiosendung jeden dritten Donnerstag im Monat bei Sunshine Live. Von 22-24:00h heisst es dort auf dem Main Channel: Dreamscape on air. Seit Mai hat er sein erstes Release auf "Bluetunes" und ist gleichzeitig in deren Booking Agency. Im September kommt seine neue Single "Aurora" und er gab sein Debüt auf der "Indian Spirit", eines der grössten Goa festivals auf deutschem Boden! Am 15.10. wurde seine neue Single "Digital Animals" released und Collabs mit Phanatic & Eddie Bitar bzw. Static Movement sind fast fest. Das ZY:FI Universe wird also ständig erweitert.
soundcloud
Ludley
was born 1969 in Frankfurt am Main. His mother infected him with the "technovirus", when he was 6 Years old, with good, old Jean-Michelle Jarre Records like Equinox . 1983 he started djing in different Youthclubs . He collected sounds like skinny puppy, front 242, chris and cosey and of course acidhouse . In the early 90 er, when trance and techno where hosted in frankfurt in legendaery clubs like the omen and dorian gray, he was working for the well known records company " Logic Records" ( Harthouse and Eye Q neighbours) and he had his first club bookings in the "grube " in sauerland and the secret garden in Limburg. At this time he was the pioneer of the psycedelic trance sound in the rhein-main area. 1995 he started his own parties in the middle of Frankfurt. " Biology Uk" has been the first "Goa Partys " in the Town. After this; many Frankfurt Clubs and djs where interessted in Stefans sound and partyconcepts ! He played in famous clubs like dorian gray and XS and played with Famous Djs like carl cox, sven vaeth, laurent Garnier Alien Project , SkaZI Raja Ram, Simon Posford....; on big raves like Voov Experience, Fusion Festival, Antaris Project, Antiworld Psygat ( london UK), time warp ( 20.000 people) and also allways on small underground partys.
Since 1997, he was member and resident of the nada-brahma party community. They created big open air festivals like "Klangwelten" and "the Elements of Life".
In 1999 he founded the first Psycedelic Trance record and event label hosted in Frankfurt am Main ( Psylofant )
Untill today "Psylofant" is the first adress to go if you want to have a serious trance party in the rhein main area.
He also presented his Style in the famous Radio Show "HR 3 Clubnight".
The style of DJ Ludley is always differend and depense a lot on the audience, he is playing for. He is allways prepaired to play a full-on psy set or fluffy morning sounds or what ever the people want to hear: "its not me who is playing, its the audience. I am just the key between them and the Universe " is stefans meaning about his djing.
As a producer and Remixer, he worked with the following Acts:
**O-Ton** Hagen Kiew** Franky Miller**Lava303** Yan ( Gecko )Krassowski** Substance T** 808 Toms** Pierre van Loon** Sonnenzyklus**
Recently Stefan is Label DJ of Crystallin Records and started in cooperation with Techno Club legend Talla 2XLC a new Psytrance Event series called "Dreamscape", hostet at the MTW Club in Frankfurt/Offenbach.
soundcloud
OPENING SET
★ Pan
(Mindshock Music//Gießen)
soundcloud
[facebook.com]
[facebook.com]
Pan kommt aus Gießen, also nicht ganz so weit weg, ist Mitbegründer der Newcomer Crew
"Mindshock Music", welche im Raum Marburg/Gießen/Wetzlar, seit diesem Jahr, mit Open Airs und Indoor Events aktiv sind.
Dunkel, Dreckig, Stumpf und etwas Verrückt, so beschreibt eine Freundin Pan´s Sound.
Wir lassen uns Überraschen was der Gute mitbringt :)
Pan: "Ich freu mich Riesig drauf, euch auf der kommenden Dreamscape, Zwei Stunden richtig einzuheizen. Also, schonmal Prost und Abfahrt ich bin aufjedenfall da ;) wie stehts mit euch."
Closing Set
JOPNAS (PsyKo / Hei Tiki)
soundcloud
Jonas ist 23 Jahre alt und kommt aus Frankfurt am Main. Seine Vorliebe für elektronische Musik entdeckte er relativ früh und somit auch das Auflegen.
Auf seiner Reise durch die verschiedenen Klangspektren zeigte sich doch relativ schnell ein klares Muster – psychedelisch ist ein Muss! Vor zwei Jahren hatte er seinen ersten Auftritt und auch Heute noch treibt Jopnas mit düsteren Forest und Darkpsy Klängen sein Unwesen. Neuerdings auch mit selbst produzierten Tracks.
Chill Out
DanielSan (Gathering of the Tribes) // Frankfurt
soundcloud
;
Schon im zarten Alter von 3 Jahren verzauberte sein Großvater ihn mit Tönen aus seinem Cello und so wurde bereits in frühester Kindheit eine starke Leidenschaft für die Musik geweckt. Eine Faszination und Liebe, die bis heute, durch unzählige Werke vieler Musiker aus aller Welt genährt, anhalten wollte. Durch eine Verknüpfung diverser Zufälle ist er dann 1998 auf seiner ersten Goaparty gelandet, wo sich sehr schnell das Gefühl "zu Hause" angekommen zu sein, einstellte. Jung bis Alt ausgelassen und fröhlich auf ein und der selben Tanzfläche zu hypnotischen Beats und energetischen, psychedelischen Sounds hüpfen und tanzen zu sehen, war das Schönste was der kleine DanielSan bis dahin zu sehen bekommen hatte. Es dauerte nicht lange und er wurde vom Sound und den von ausgelassenen offenherzigen Menschen zelebrierten Lifestyle in ihren Bann gezogen, sodaß er sich daraufhin dem kaum noch entziehen konnte.
Heute, beeinflusst durch unzählige Parties und Künstler wie Atmos, Haldolium, SBK, Magnetrixx, Beat Bizarre, Noma, Suncontrolspecies, Deviant Species, Human Blue und viele Andere Freunde des progressiven Psychedelic -Trance arbeitet er tatkräftig als Musiker und gelegentlich auch als DJ daran mit, dass diese Art das Leben zu feiern noch vielen Menschen ermöglicht werden kann.
Aus diesem Grund gehört DanielSan mittleweile auf nahezu jeder Party im Grossraum Rhein-Main zum Inventar und hat unzählige Parties sowohl als Teilnehmer wie auch als DJ oder Deko-Artist mit seinen Klängen, Farben und Formen bereichert.
Kayu Manis
soundcloud
"Kayu Manis macht gerne entspannte Musik. Am liebsten mit Zutaten aus
aller Welt oder von anderen Planeten.
Schön deep und mit Dub. Alles rein in den Topf und noch eine Prise
Schmalz und Zucker. Langsam aufkochen und umrühren...hmm, lecker.
Get into DREAMSCAPE
Feel the magic of psychedelic trance
★ॐ★ॐ★ DREAMSCAPE ★ॐ★ॐ★
Location
LOCATION:
►MTW
Nordring 131
63067 Offenbach am Main
Germany
[mtwclub.de]
/