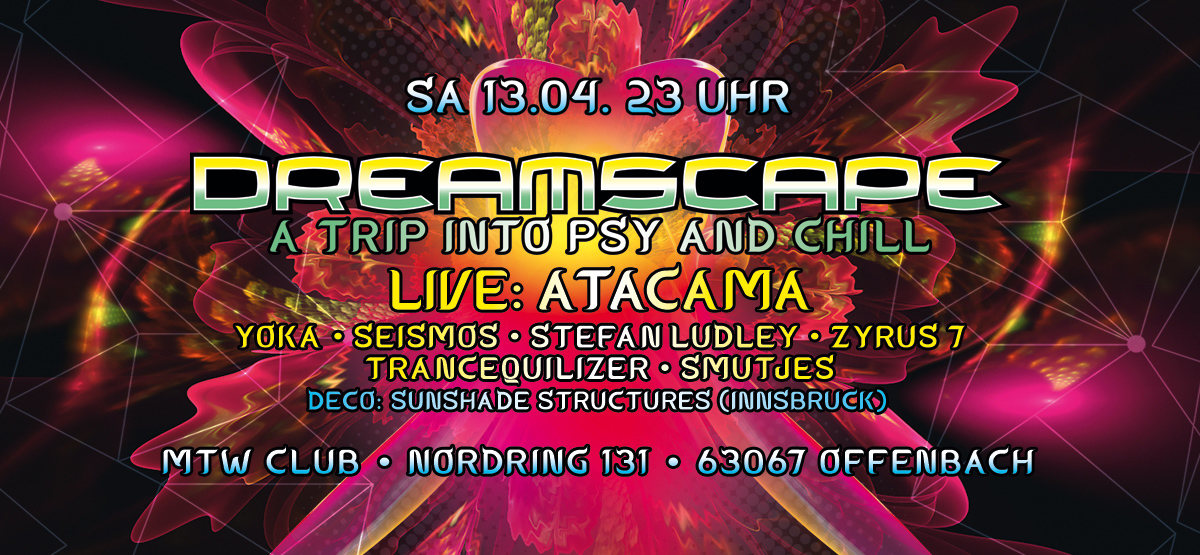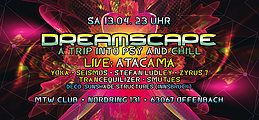 Line Up
╔═════════════════════════════╗
║░░ ❁❂❈ PSY MAINFLOOR ❁❂❈
╚═════════════════════════════╝
Live/Djs:
★ ATACAMA (Digital Om Prod.) Berlin ★
[facebook.com]
soundcloud
► Seismós
soundcloud
► YOKA (TesserAcT) //Cologne
[click here]
►LUDLEY (Psylofant) // FFM
soundcloud
►Zyrus 7 (Bluetunes) // GER
soundcloud
╔═════════════════════════════╗
║ ░░ ><><><>< Chill & Groove floor:><><><║
╚═════════════════════════════╝
► Trancequilizer
soundcloud
Smutjes
soundcloud
Coop Project by Plexigo & Mordread [unterholz]
Deco
Deco
►Sunshade Structures (Innsbruck)
[facebook.com]
►Talez of Mystery (OF)
Visual Mapping
►Optikos (Frankfurt)
Info
Info
Willkommen zu einer neuen Ausgabe unserer Dreamscape. Als Main Act präsentieren wir euch voller Begeisterung ATACAMA von Digital OM, eine der besten psy Labels. Neben den Gastgebern Ludley und Zyrus 7 spielt für euch YOKA mit einem spannenden Opening. Das Closing wird Seismo bestreiten. Auf die Mainstage Sunshade Structures aus Innsbruchk freuen wir uns, weil er sich vor seinem Debut den Fuss brach und nicht kommen konnte. In der Lounge erwarten euch leckerer Chai, entspannte Klänge von Trancequilizer und Smutjes sowie Traumlandschaften von Talez of Mystery
Location
►MTW
Nordring 131
63067 Offenbach am Main
Germany
[mtwclub.de]
/
friendly doors
parken in clubnähe überall kostenlos
Wir bieten für diesen Abend wieder ein Hotel zum Vorzugspreis an.
Hotel:
[technoclub.tc]
Entry
Entry
VVK 15 Euro siehe Facebook seite. , AK 18
Organizer
Organizer
Technoclub Frankfurt, nordring 131