Backend
Dreamscape Openair with Klopfgeister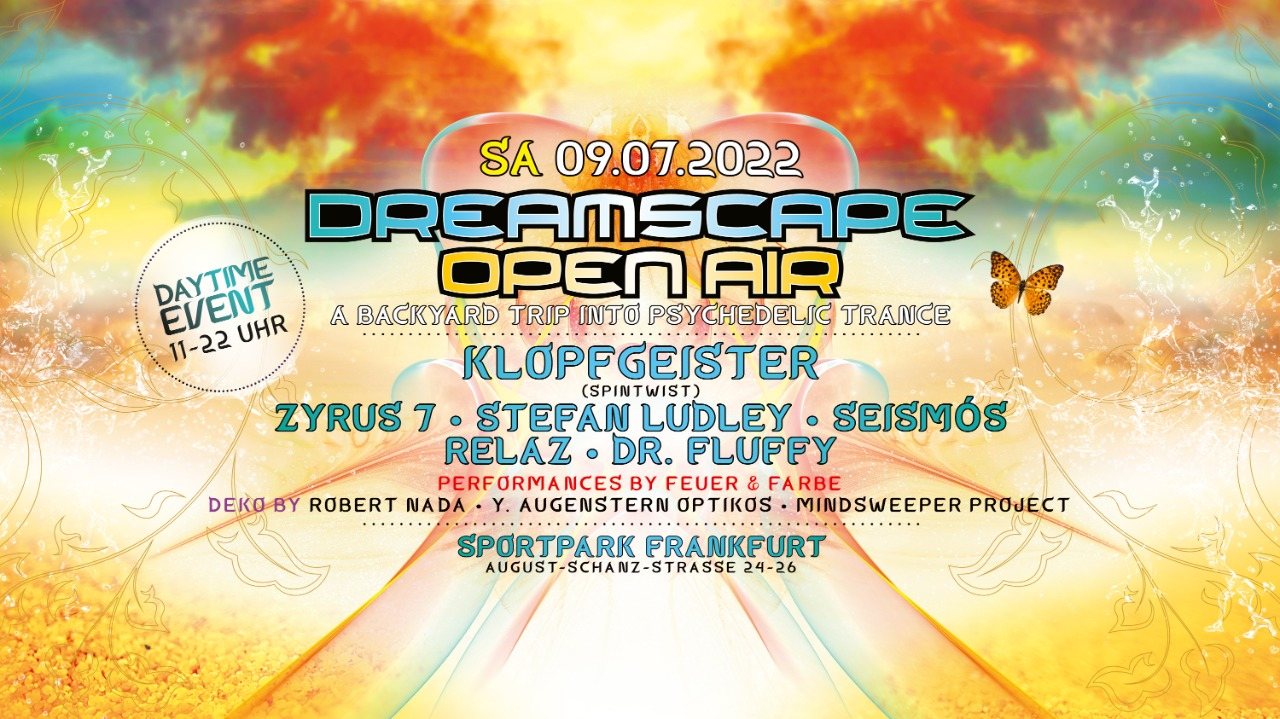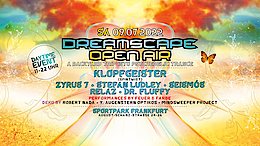 Line Up
Line Up
Live/Djs:

►Klopfgeister – (Hamburg) (Spintwist)
►Zyrus 7 (Blue Tunes)
► Seismós
►Stefan Ludley (Psylofant)
►Relaz
►Dr. Fluffy
Info
╔═════════════════════════════╗
║░░ ❁❂❈ Dekoration/Visuals ❁❂❈░░ ║
╚═════════════════════════════╝
►Robert Nada
► Y. Augenstern
►Optikos
►Mindsweeper Project
╔═════════════════════════════╗
║░░ ॐ Leibliches Wohl ॐ
╚═════════════════════════════╝
✯BBQ and Langosch bei Sportpark Frankfurt
-------------------------------------------------
LOCATION:
►Sportpark Frankfurt
August Schanz strasse 24-26
Frankfurt am Main - Preungesheim
Germany
►Start: 11:00h - 22:00h
►Tageskasse 20 Euro – VVK 18 Euro (Early bird sold out)
►friendly doors
parken in der nähe kostenlos (siehe google maps)
easy zu erreichen mit bus und bahn
per auto – direkt an der A661 gelegen (Ausfahrt Preungesheim)
-------------------------------------------------
X-TRA:
Grosser Grünbereich mit Klapp Liege stühlen
Kids Area
Beachvolleyball
Go kart im Freien
-------------------------------------------------
INFO:
A trip into psychedelic trance
Liebe Freunde, wie versprochen können wir endlich wieder outdoor ohne Beschränkungen feiern.
Unser Sommer open air für euch, in dem tollen Backyard des Sportpark Frankfurts, als Headliner "Klopfgeister" von Spintwist, euere Lieblings residents, tolle Deko Künstler, was will das Psy herz mehr? Freut euch auf einen Megatag mit uns im Freien! Holt euch die Tickets und support euere DREAMSCAPE! Namaste ihr Lieben. !
Unsere Artists:
Headliner
★ Klopfgeister , HH , Spintwist Records
Mit Klopfgeister holen wir uns einen Exilhessen an die Decks der durch den alten Frankfurt-sound geprägt wurde, aber mittlerweile in Hamburg lebt.
Seine Sets sind international ein Garant für breitgefächerte Abfahrten bei denen die Freude an Musik im Vordergrund steht und die sich gerne auch mal aus ungewöhnlichen Stilen bedienen um eine ganz persönliche Art von Trance zu erschaffen.
soundcloud
++++++++++++++++++++++++++++++++++++++++++++++++++
►Seismós (Ananda.) //FFM
soundcloud
…der in Frankfurt am Main geborene Daniel Sadrina ist seit 1994 als DJ und Producer in der elektronischen Tanzszene aktiv. Viel unterwegs gewesen, in einigen Ecken Europas, spielte er in unzähligen Clubs und auf diversen Festivals.
Inspiriert von all der schönen Musik dieser Welt, verwirklichte er die unterschiedlichsten Projekte, z.B. seismós, monsterClick, besh-ba-gowah, cortex, schrittmacher, (ananda - kommend)
++++++++++++++++++++++++++++++++++++++++++++++++++++++++
►Stefan Ludley (Psylofant) // FFM
His mother infected him with the "technovirus", when he was 6 Years old, with good, old Jean-Michelle Jarre Records like Equinox . 1983 he started djing in different Youthclubs . He collected sounds like skinny puppy, front 242, chris and cosey and of course acidhouse . In the early 90 er, when trance and techno where hosted in frankfurt in legendaery clubs like the omen and dorian gray, he was working for the well known records company " Logic Records" ( Harthouse and Eye Q neighbours) and he had his first club bookings in the "grube " in sauerland and the secret garden in Limburg. At this time he was the pioneer of the psycedelic trance sound in the rhein-main area. 1995 he started his own parties in the middle of Frankfurt. " Biology Uk" has been the first "Goa Partys " in the Town. After this; many Frankfurt Clubs and djs where interessted in Stefans sound and partyconcepts ! He played in famous clubs like dorian gray and XS and played with Famous Djs like carl cox, sven vaeth, laurent Garnier, Alien Project , SkaZI Raja Ram, Simon Posford....; on big raves like Voov Experience, Fusion Festival, Antaris Project, Antiworld Psygat ( london UK), time warp ( 20.000 people) and also allways on small underground partys.He also presented his Style in the famous Radio Show "HR 3 Clubnight".
Since 1997, he was member and resident of the nada-brahma party community. They created big open air festivals like "Klangwelten" and "the Elements of Life".
In 1999 he founded the first Psycedelic Trance record and event label hosted in Frankfurt am Main ( Psylofant )
Untill today "Psylofant" is the first adress to go if you want to have a serious psytrance party in the rhein main area.
The style of DJ Stefan Ludley is always differend and depense a lot on the audience, he is playing for. He is allways prepaired to play a full-on psy set or fluffy morning sounds or what ever the people want to hear: "its not me who is playing, its the audience. I am just the key between them and the Universe " is stefans meaning about his djing.
As a producer and Remixer, he worked with the following Acts:
**O-Ton** Hagen Kiew**Lava303** Yan ( Gecko )Krassowski** Substance T** 808 Toms**Fünf D**
Wach out the Latest Release on Blue Room Sounds
"Change is Coming" Fünf D & Stefan Ludley
youtube
soundcloud
++++++++++++++++++++++++++++++++++++++++++++++++++++++
►Zyrus 7 (Bluetunes) // GER
ist ein Quereinsteiger der schon jahrelang auf psy stand, aber erst April 2014 bei seinem Gig im Berliner Kitkat Club die Initialzündung hatte. Seitdem produziert er progressiven psytrance und hat es sich zum Ziel gemacht, die Szene im Rhein Main Gebiet durch seine Dreamscape Events zu bereichern.
Seine Collaboration mit Liquid Soul kam auf Paul Oakenfolds "Perfecto Fluoro, seine Single "Reflection" hatte Premiere auf dem dt. psy label "Iono" und seine Collab mit " ZYCE" erschien 2017 auf Spintwist. Seit Mai 2018 ist er bei Bluetunes unter Vertrag. Seit Mai 2020 streamt desöfteren unter "Dreamscape" auf dem Gamesender "Twitch". Ausserdem gibt es Collabs mit Phanatic, Eddie Bitar, Static Movement und demnächst mit Metronome. Sein Zyrus 7 Remix des Oldschool trancetracks "the oasis" erreichte bei Spotify bis dato über 2 Millionen Plays!
Mittlerweile hat er einige grosse Psy festivals hinter sich, besonders sein Gig auf dem World Club Dome, wo er vor BERG und Neelix spielt, blieb in Erinnerung, aber auch 2021 auf der Indian Spirit, als er das Opening Donnerstags startete und den riesigen noch leeren Floor innerhalb weniger Minuten mit mehreren tausend Psyfans füllte. Das war einfach unglaublich. Im Spätfrühling kommt seine nächste Single bei Bluetunes heraus. Und im Sommer wird er wieder bei Indian Spirit dabei sein.
soundcloud
Instragram.com/zyrus7_official
+++++++++++++++++++++++++++++++++++++++++++++++++++++
Opening
►Relaz (Spintwist Records)
[facebook.com]
Relaz from Frankfurt, germany. Started working in 2020 with progressive psytrance Songs in the mainstream style. his tracks Carry emotional vocals accompanied by lots of melody and psychedelic space! He scored several original works and collaboration at the top of beatport wich will be pumping on the dreamscap open Air !welches den Mix wesentlich beeinflusst. Sein Motto als Musikliebhaber: Von der Tanzfläche für die Tanzfläche.
Closing:
►Dr. Fluffy
Dr. Fluffy
Ersten Kontakt hatte Tobias Pfeffer aka. Doktor Fluffy mit der Psytrance Szene im Jahre 2001 und er war total fasziniert von der Kraft die von dieser Musik ausging. Obwohl er auch schon früher Erfahrungen als Musiker und Dj, in anderen Bereichen sammeln konnte, sollten bis zum ersten Dj Auftritt in diesem Genre aber noch ein paar Jahre vergehn.
Erst 2008, auf einer kleinen privaten Party, spielte er sein erstes Psy Set mit der CD Mappe eines Freundes. Danach machte er sich direkt daran seine eigene Musiksammlung zusammenzustellen und achtete von Anfang an darauf, das seine Musik sich nicht nur an Styles und bpm, sondern vor allem an der Energy und den Gefühlen orientiert, die diese in ihm selbst auslöst.
Seine Stilrichtung zu beschreiben fällt gar nicht so leicht, da er von Chillout über Techno zu Dark Progressive und Forest bis hin zu Hi-tech und Psycore praktisch alles bei passender Gelegenheit schon gespielt hat. Zenonesque hat aber einen ganz besonderen Platz in seinem Herzen, diese Verbindung aus Hell und Dunkel fasziniert ihn und könnte als seine Hauptrichtung neben Chillout und Forest angegeben werden.
Für ihn sollte Musik nicht nur den Körper sondern eben auch den Geist in Bewegung versetzen um maximalen Effekt zu erzielen.
Er war mittlerweile in Italien, Kroatien, Holland, Österreich, der Schweiz und komplett Deutschland aktiv und spielte unter anderem beim Psy-Fi und Alice im Wummerland, Hai in den Mai und Wonderland Festival.
Seit 2016 ist er außerdem als Stage orga/ booking manager für die Chillout Stages bei den Waldfrieden Festivals, Synaptic Eclipse und andern Events tätig.
Anfang 2017 kaufte er dann seinen ersten analogen Synthesizer und startete den Aufbau eines Hardware Live Setups. Damit verfolgt er vor allem das Ziel, Live zu performen und vorallem auch gemeinsam mit anderen Künstlern ganz besondere Live Momente zu schaffen die in der heutigen elektronischen Musik nicht alltäglich sind.
Mittlerweile produziert er größtenteils mit einem Hybrid Setup und die ersten releases stehn dort auch schon vor der Tür.
Während der Pandemie vertiefte er sich voll in sein Studio, aufs produziern und verzichtete darauf in Live-Streams Dj-Mixes zu performen, was zum einen daran liegt das er sich weiterentwickeln wollte und zudem als Dj immer das optische Feedback der Zuhörer benötigt um darauf reagieren zu können. Durch seine vielseitigkeit und auf den Moment angepassten improvisationen, ist kein seiner Djsets wie die anderen zuvor und er versucht jedem Floor etwas eigenes mitzugeben.
Seit Ende 2018 hat er seine Styles auf mehrere Projekte aufgeteilt um seinen Fans etwas mehr klarheit zu geben, was bei welchem Event in etwa von ihm dargeboten wird.
Zenonesque und Forest gibts weiterhin unter dem Pseudonym Dr.Fluffy, ein Darkpsy/ Hi-Tech/ Psycore Projekt unter dem Namen PolytoxSick, ein Techno Projekt als Gobi Pepper und performed Chillout als Fluffy Dimension.
Feel the magic of psychedelic trance
★ॐ★ॐ★ DREAMSCAPE ★ॐ★ॐ★
Location
Location
Sportpark Frankfurt
August schanzstrasse 24 -26
Frankfurt am Main
Entry
Entry
Nutzt den günstigeren VVK