Backend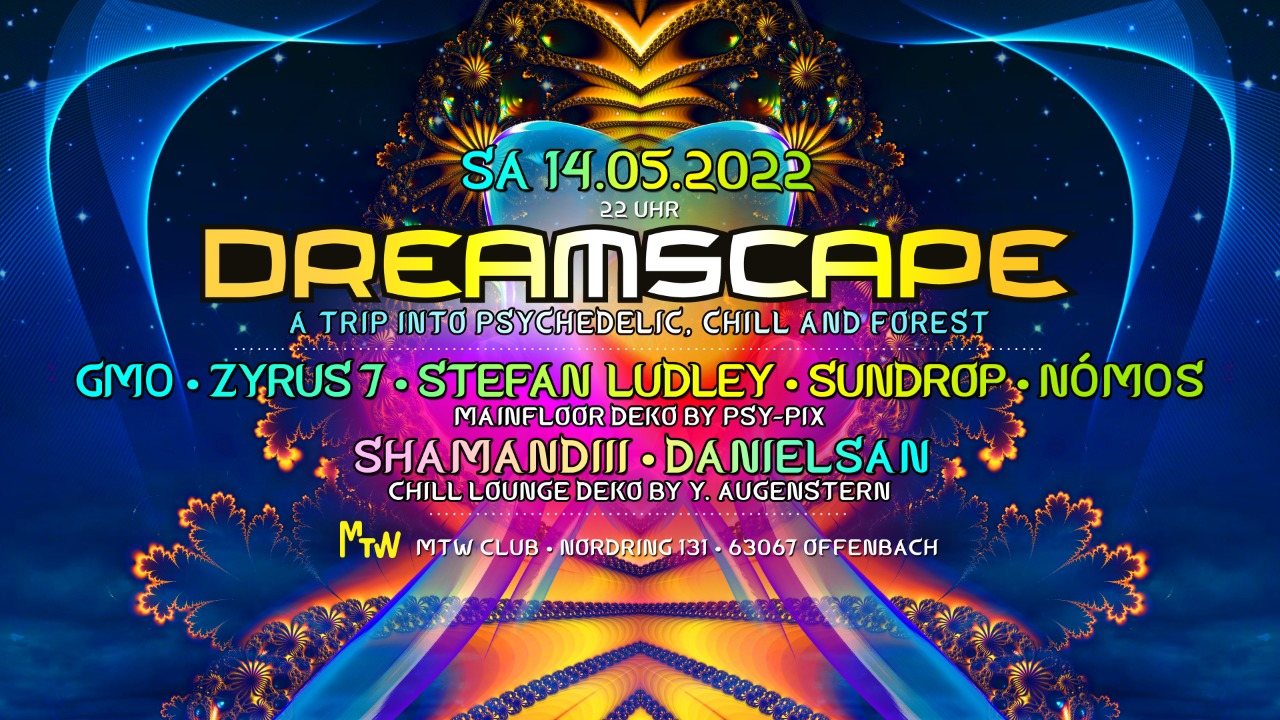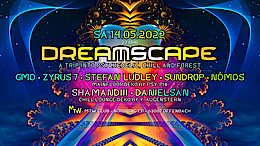 Line Up
✯✯✯ .. ⊙﹏⊙ .. ⊙△⊙ .. ⊙ω⊙ .. ⊙﹏⊙ .. ⊙△⊙ .. ⊙ω⊙ .. ⊙﹏⊙ .. ✯✯✯
═══════════════════════════════════════════════
:: DREAMSCAPE - the may celebration!
═══════════════════════════════════════════════
A Trip into psychedelic trance, chill and forest
╔═════════════════════════════╗
║░░ ❁❂❈ PSY MAINFLOOR ❁❂❈
╚═════════════════════════════╝
Live/Djs:
►GMO – (Blue Tunes)
►Zyrus 7 (Blue Tunes)
► Sundrop
►Stefan Ludley (Psylofant)
►Nómos
╔═════════════════════════════╗
║ ░░ ><><><>< Chill & Groove floor:><><><║
╚═════════════════════════════╝
►Shamandiii
►DanielSan
╔═════════════════════════════╗
║░░ ❁❂❈ Dekoration/Visuals ❁❂❈░░ ║
╚═════════════════════════════╝
✯Deko by Psy-Pix
Visual Mapping:
►Optikos (Frankfurt)
╔═════════════════════════════╗
║░░ ॐॐॐ Licht ॐॐॐ
╚═════════════════════════════╝
► tba
╔═════════════════════════════╗
║░░ ॐ Leibliches Wohl ॐ
╚═════════════════════════════╝
✯Chai und Snacks
-------------------------------------------------
LOCATION:
►MTW
Nordring 131
63067 Offenbach am Main
Germany
[mtwclub.de]
/
start: 22:00h - 8:00h
AK 20 Euro
friendly doors
parken in clubnähe kostenlos (siehe google maps)
-------------------------------------------------
X-TRA:
Grosse Outdoorterrasse (überdacht)
-------------------------------------------------
INFO:
A trip into psychedelic trance
Liebe Freunde, nach dem phänomenalen Osterevent, laden wir euch zur letzten besonderen Indoor Dreamscape bevor die Sommersaison startet. Wir haben erneut die besten Artists was psychedelische Sounds und Visual betrifft, für euch eingeladen. Neben unseren Hosts "Zyrus 7" und Stefan Ludley, freuen wir uns vor allem über "GMO" der sein Debut im MTW geben wird. Freut euch auf eine Traumnacht der besonderen Art, die nicht nur auf den Floors, sondern auch auf der Terrasse unbeschreiblich wird. WE ARE DREAMSCAPE!
Unsere Artists:
Headliner
★ GMO
After several years of DJing in the 90's it was the time to bring up his own tracks. His first album got released in 2001 on Nova Tekk records, followed by two more albums on Yellow Sunshine Explosion and some single-releases on Blue Tunes Records, Spintwist Records, BMSS Records, etc. Olaf is capable of producing trance music by stepping out of the usual formula and using strong melodic patterns, more thought through arrangements and clever production techniques which always made his tunes the highlight on every dance floor. More info and live-gigs:
[facebook.com]
soundcloud
++++++++++++++++++++++++++++++++++++++++++++++++++
Closing
►Sundrop
[click here]
DJ Sundrop begeistert seit geraumer Zeit die tanzfreudigen auf diversen Underground Parties und After Hours mit seinem energetischen und treibenden Forrest Sound. Freuen wir uns auf sein erstes Closing der Dreamscape.
++++++++++++++++++++++++++++++++++++++++++++++++++++++++
►Stefan Ludley (Psylofant) // FFM
His mother infected him with the "technovirus", when he was 6 Years old, with good, old Jean-Michelle Jarre Records like Equinox . 1983 he started djing in different Youthclubs . He collected sounds like skinny puppy, front 242, chris and cosey and of course acidhouse . In the early 90 er, when trance and techno where hosted in frankfurt in legendaery clubs like the omen and dorian gray, he was working for the well known records company " Logic Records" ( Harthouse and Eye Q neighbours) and he had his first club bookings in the "grube " in sauerland and the secret garden in Limburg. At this time he was the pioneer of the psycedelic trance sound in the rhein-main area. 1995 he started his own parties in the middle of Frankfurt. " Biology Uk" has been the first "Goa Partys " in the Town. After this; many Frankfurt Clubs and djs where interessted in Stefans sound and partyconcepts ! He played in famous clubs like dorian gray and XS and played with Famous Djs like carl cox, sven vaeth, laurent Garnier, Alien Project , SkaZI Raja Ram, Simon Posford....; on big raves like Voov Experience, Fusion Festival, Antaris Project, Antiworld Psygat ( london UK), time warp ( 20.000 people) and also allways on small underground partys.He also presented his Style in the famous Radio Show "HR 3 Clubnight".
Since 1997, he was member and resident of the nada-brahma party community. They created big open air festivals like "Klangwelten" and "the Elements of Life".
In 1999 he founded the first Psycedelic Trance record and event label hosted in Frankfurt am Main ( Psylofant )
Untill today "Psylofant" is the first adress to go if you want to have a serious psytrance party in the rhein main area.
The style of DJ Stefan Ludley is always differend and depense a lot on the audience, he is playing for. He is allways prepaired to play a full-on psy set or fluffy morning sounds or what ever the people want to hear: "its not me who is playing, its the audience. I am just the key between them and the Universe " is stefans meaning about his djing.
As a producer and Remixer, he worked with the following Acts:
**O-Ton** Hagen Kiew**Lava303** Yan ( Gecko )Krassowski** Substance T** 808 Toms**Fünf D**
Wach out the Latest Release on Blue Room Sounds
"Change is Coming" Fünf D & Stefan Ludley
youtube
soundcloud
++++++++++++++++++++++++++++++++++++++++++++++++++++++
►Zyrus 7 (Bluetunes) // GER
ist ein Quereinsteiger der schon jahrelang auf psy stand, aber erst April 2014 bei seinem Gig im Berliner Kitkat Club die Initialzündung hatte. Seitdem produziert er progressiven psytrance und hat es sich zum Ziel gemacht, die Szene im Rhein Main Gebiet durch seine Dreamscape Events zu bereichern.
Seine Collaboration mit Liquid Soul kam auf Paul Oakenfolds "Perfecto Fluoro, seine Single "Reflection" hatte Premiere auf dem dt. psy label "Iono" und seine Collab mit " ZYCE" erschien 2017 auf Spintwist. Seit Mai 2018 ist er bei Bluetunes unter Vertrag. Seit Mai 2020 streamt desöfteren unter "Dreamscape" auf dem Gamesender "Twitch". Ausserdem gibt es Collabs mit Phanatic, Eddie Bitar, Static Movement und demnächst mit Metronome. Sein Zyrus 7 Remix des Oldschool trancetracks "the oasis" erreichte bei Spotify bis dato über 2 Millionen Plays!
Mittlerweile hat er einige grosse Psy festivals hinter sich, besonders sein Gig auf dem World Club Dome, wo er vor BERG und Neelix spielt, blieb in Erinnerung, aber auch 2021 auf der Indian Spirit, als er das Opening Donnerstags startete und den riesigen noch leeren Floor innerhalb weniger Minuten mit mehreren tausend Psyfans füllte. Das war einfach unglaublich. Im Spätfrühling kommt seine nächste Single bei Bluetunes heraus. Und im Sommer wird er wieder bei Indian Spirit dabei sein.
soundcloud
Instragram.com/zyrus7_official
+++++++++++++++++++++++++++++++++++++++++++++++++++++
Opening
►Nómos (7SD Records)
[facebook.com]
Born in February 1997, Nómos is an upcoming Progressive Psytrance DJ & Producer.
He found his passion for electronic music at the age of 13. Starting to practise djing in
2012, he got his first booking at a local club in 2016. In the middle of 2017, he decided
to seriously work on his producing skills as he wants to bring his own vision of music
into his sets.
While producing the focus is mainly on melodic Progressive Psytrance and melodic Offbeat Tracks.
He is part of 7SD a label from Hamburg.
His sets can be described with a melodic & dreamy
atmosphere and he always tries to put all his passion into them.
But in the end im just here for the music!
Chill floor:
►Shamandiii
using psychedelic music to bring people together
psydub/psybient/ethno//bushprog
Involve people in our music with ableton live input (voices, noises)
blabla,when I was young blabla, Loveparade Westbam blabla,
U60311 blabla Vinyl Trance / house Techno blabla,
..... (babedibubedi)
--- :) :) :) ---Finally "Energetic" Music / Techno (What ever it means, you will find out)
soundcloud
►DanielSan (Gathering of the Tribes) // Frankfurt
Schon im zarten Alter von 3 Jahren verzauberte sein Großvater ihn mit Tönen aus seinem Cello und so wurde bereits in frühester Kindheit eine starke Leidenschaft für die Musik geweckt. Eine Faszination und Liebe, die bis heute, durch unzählige Werke vieler Musiker aus aller Welt genährt, anhalten wollte. Durch eine Verknüpfung diverser Zufälle ist er dann 1998 auf seiner ersten Goaparty gelandet, wo sich sehr schnell das Gefühl "zu Hause" angekommen zu sein, einstellte. Jung bis Alt ausgelassen und fröhlich auf ein und der selben Tanzfläche zu hypnotischen Beats und energetischen, psychedelischen Sounds hüpfen und tanzen zu sehen, war das Schönste was der kleine DanielSan bis dahin zu sehen bekommen hatte. Es dauerte nicht lange und er wurde vom Sound und den von ausgelassenen offenherzigen Menschen zelebrierten Lifestyle in ihren Bann gezogen, sodaß er sich daraufhin dem kaum noch entziehen konnte.
Heute, beeinflusst durch unzählige Parties und Künstler wie Atmos, Haldolium, SBK, Magnetrixx, Beat Bizarre, Noma, Suncontrolspecies, Deviant Species, Human Blue und viele Andere Freunde des progressiven Psychedelic -Trance arbeitet er tatkräftig als Musiker und gelegentlich auch als DJ daran mit, dass diese Art das Leben zu feiern noch vielen Menschen ermöglicht werden kann.
Aus diesem Grund gehört DanielSan mittleweile auf nahezu jeder Party im Grossraum Rhein-Main zum Inventar und hat unzählige Parties sowohl als Teilnehmer wie auch als DJ oder Deko-Artist mit seinen Klängen, Farben und Formen bereichert.
soundcloud
Feel the magic of psychedelic trance
★ॐ★ॐ★ DREAMSCAPE ★ॐ★ॐ★
Info
Info
Wir haben 2 Floors und eine grosse Terrasse für euch. Wir leben die Musik und sind für einen friedliches Miteinander egal welchen Geschlechts, Hautfarbe oder Religion. Wir heissen alle willkommen, alter und dress egal. Aber wir sind gegen jede Art von Violence und Drug using. Also seid friedlich.
Location
Location
MTW Club Offenbach, Nordring 131 - Parking free rechts neben Hafen2 Location - Achtung richtigen Eingang nehmen. Im Haus befinden sich 2 verschiedene Clubs.
Entry
Entry
VVK 17 Euro plus vvk gebühr
Organizer
Organizer
Dreamscape , Nordring 131, 60311 Offenbach
Added

23d 19h

· Update

23d 19h

· 38 Parties ·

/ 10