Double Dimension - hosted by C³ & Bass Cave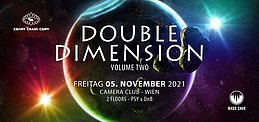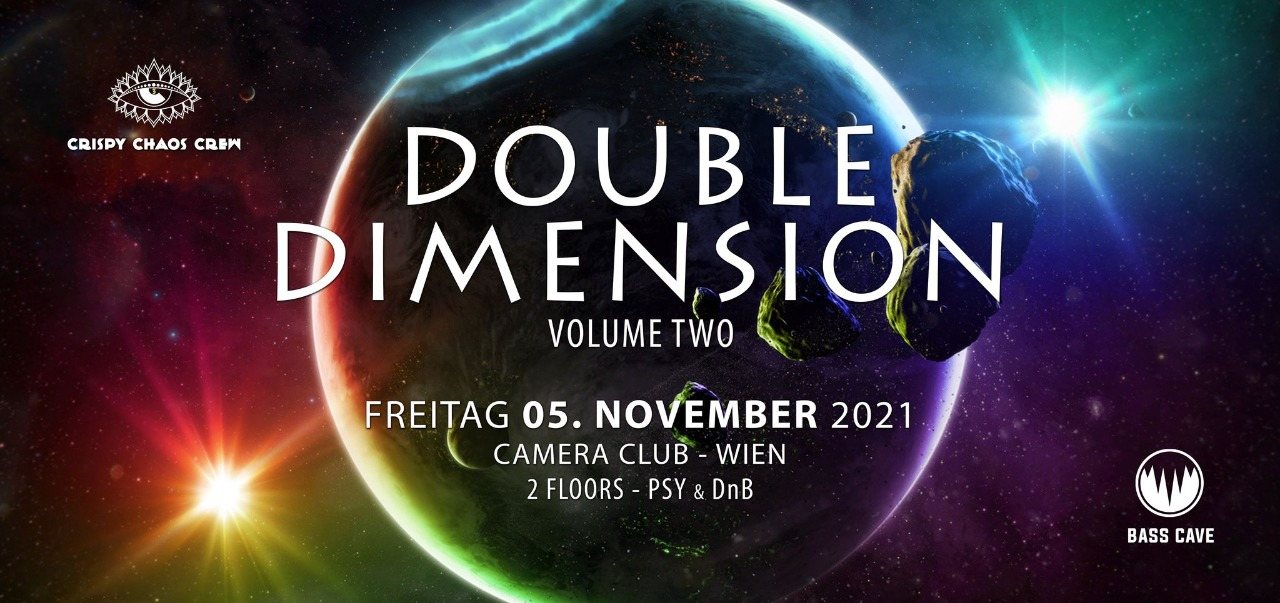 Line Up
▬▬▬▬▬▬▬▬▬▬▬▬▬▬▬▬▬▬▬▬▬▬▬▬▬
⭐⭐⭐ LINEUP ⭐⭐⭐
▬▬▬▬▬▬▬▬▬▬▬▬▬▬▬▬▬▬▬▬▬▬▬▬▬
Ƹ̴Ӂ̴Ʒ CRISPY FLOOR - Start 23:30 Uhr Ƹ̴Ӂ̴Ʒ
hosted by C³ - Crispy Chaos Crew
(Psytrance, FullOn, Psychedelic, Nightpsy)
🍪 NOCULT LIVE + DJ SET 🍪
(Banyan Records)
soundcloud
🍪 MAN ON MISSION 🍪
(Burnout Audio)
[click here]
🍪 LENYA 🍪
(C³ - Crispy Chaos Crew)
soundcloud
🍪 SEBANANDA 🍪
(C³ - Crispy Chaos Crew)
soundcloud
---------------------------------------------------------------------------
Ƹ̴Ӂ̴Ʒ BASS CAVE FLOOR - Start: 23:00 Ƹ̴Ӂ̴Ʒ
hosted by Bass Cave
(Jungle, Oldschool, Liquid DnB)
🦍 DAKINDL 🦍
(Shake it & Break it)
[click here]
🦍 TEHACE 🦍
(Shake it & Break it)
soundcloud
🦍 SARAH ALLEN 🦍
(Amikal)
soundcloud
🦍 BACCHUS 🦍
(Static Echo)
soundcloud
🦍 CHINCH 🦍
(Static Echo)
[click here]
🦍 PHUEL 🦍
(Bass Cave)
soundcloud
🦍 ZANIN 🦍
(Bass Cave)
[click here]
🦍 VAL 🦍
(Bass Cave)
[click here]
Info
C³ - Crispy Chaos Crew & BassCave present...
🌌 DOUBLE DIMENSION 🌌
⭐2 FLOORS & 2 CREWS⭐13 DJ's & ARTISTS⭐PSYTRANCE & DRUM AND BASS⭐NOCULT ⭐ MAN ON MISSION ⭐LENYA⭐SEBANANDA⭐DAKINDL ⭐TEHACE⭐PHUEL⭐VAL⭐ZANIN and many more⭐MEDUSAS DREAM DECORATION⭐CAMERA CLUB⭐
Remember, remember the 5th of November…
Liebe Freunde der elektronischen Tanzmusik,
wir freuen uns, euch am 5. November 2021 nach langer Zeit wieder im Camera Club begrüßen zu dürfen! Nach der letzten erfolgreichen DOUBLE DIMENSION Party im Oktober 2019 möchten wir dieses Konzept gerne weiterführen und euch gemeinsam mit der Bass Cave Crew eine knusprig-basslastige Nacht bieten!
Double Dimension steht für Gemeinsamkeit, Vielfalt, Harmonie und feinste Musik, denn wenn 2 verschiedene Dimensionen aufeinander treffen entsteht etwas Neues, etwas Wunderschönes. Am Crispy Floor wird es fetten Psytrance-Psychedelic Sound zu hören geben, während am Bass Cave Floor knackigste D'n'B Tunes aus den Boxen geblastet werden!
Am Psy Floor dürfen wir das österreichische Duo NOCULT (Banayan Rec.) auf der Bühne begrüßen! Mit ihrem schnelleren Projekt NOCTURNE CREATURES werden sie regelmäßig von großen Festivals wie dem MASTERS OF PUPPETS gebucht. Außerdem ist MAN ON MISSION mit an Bord, der schon auf bekannten Festivals wie dem FLOW Experience den Dancefloor beschallen durfte. Selbstverständlich gibt es auch wieder knusprige Unterstützung von unseren lieben Crispys Lenya & Sebananda (C³ - Crispy Chaos Crew), die uns mit Psytrance bis Psychedelic/Nightpsy die Nacht versüßen werden.
Wir freuen uns, dass unsere lieben Freunde von Medusas Dream Decoration wieder dabei sind und die optische Gestaltung des Crispy Floors übernehmen werden.
Am Bass Cave Floor hingegen erwarten euch basslastige Drum and Bass Tunes von insgesamt 8 DJ's! Mit dabei sind DAKINDL & TEHACE von Shake it & Break it, die durch ihre Partys im FLUC bekannt sind. SARAH ALLEN von Amikal, sowie BACCHUS & CHINCH von Static Echo und natürlich PHUEL, VAL & ZANIN von der BassCave Crew: Auch hier ist von Oldschool Jungle bis Liquid DnB alles dabei!
📷 CAMERA CLUB seit 1971 📷
Der kultige Camera Club in der Neubaugasse zählt seit seinen Anfängen in den frühen 70er Jahren zu den bekanntesten und beliebtesten Clubs Europas. Auch deshalb, weil die Camera schon damals versuchte Trends in der Musik zu setzen und sich so den Respekt des Publikums und der Musiker selbst erarbeitete.
Wir freuen uns auf euch!
See Free, Stay Crispy & dance to Psy and DnB!
Eure
C³ - Crispy Chaos Crew & Bass Cave Crew
❗❗❗2G REGEL ❗❗❗
Aufgrund der aktuellen Corona Regelungen herrscht auch bei uns die 2G Regel (Vollständig Geimpft oder Genesen), daher bitten wir euch eure Nachweise nicht zu vergessen. Sie werden beim Eingang kontrolliert.
▬▬▬▬▬▬▬▬▬▬▬▬▬▬▬▬▬▬▬▬▬▬▬▬▬
Ƹ̴Ӂ̴Ʒ DECO Ƹ̴Ӂ̴Ʒ
⭐MEDUSAS DREAM DECORATION⭐
[facebook.com]
▬▬▬▬▬▬▬▬▬▬▬▬▬▬▬▬▬▬▬▬▬▬▬▬▬
Ƹ̴Ӂ̴Ʒ SHOPS Ƹ̴Ӂ̴Ʒ
⭐HiMonkey⭐
[facebook.com]
⭐bandha⭐
[facebook.com]
▬▬▬▬▬▬▬▬▬▬▬▬▬▬▬▬▬▬▬▬▬▬▬▬▬
⭐AK⭐
€ 13 ALL NIGHT LONG
Geburtstagskinder vom 05. & 06. November haben GRATIS Eintritt! Ausweis nicht vergessen!
Eintritt ab 18 Jahren und nur mit gültigen 2G Corona Nachweis (Genesen oder Geimpft)
Location
Camera Club
Neubaugasse 2, 1070 Wien (U3 Neubaugasse)
Organizer
Organizer
C³ - Crispy Chaos Crew
Added

1y 7m

· Update

1y 4m

·

/ 6