Backend
Double Dimension - b2b Special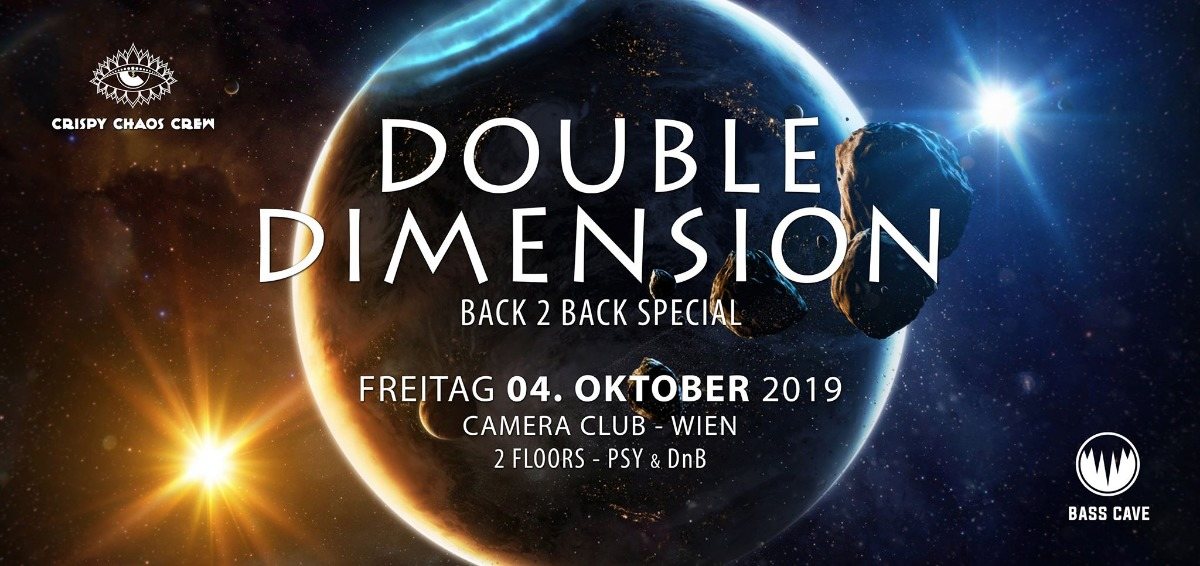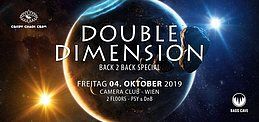 Line Up
▬▬▬▬▬▬▬▬▬▬▬▬▬▬▬▬▬▬▬▬▬▬▬▬▬
✮✮✮ LINEUP ✮✮✮
▬▬▬▬▬▬▬▬▬▬▬▬▬▬▬▬▬▬▬▬▬▬▬▬▬
Ƹ̴Ӂ̴Ʒ CRISPY FLOOR - Start 00:00 Uhr Ƹ̴Ӂ̴Ʒ
hosted by C³ - Crispy Chaos Crew
(Psytrance, FullOn, Psychedelic, Nightpsy)
🍪 CALEIDOSCOPE 🍪
(Soundlab Pirates)
soundcloud
🍪 AKASHA NASHA b2b SAMNU 🍪
(Moongazer & Crispy Chaos Crew)
[click here]
🍪 ARSENIC b2b LENYA 🍪
(C³ - Crispy Chaos Crew)
soundcloud
soundcloud
---------------------------------------------------------------------------
Ƹ̴Ӂ̴Ʒ BASS CAVE FLOOR - Start: 23:00 Ƹ̴Ӂ̴Ʒ
hosted by Bass Cave
(Jungle, Oldschool, Liquid DnB)
🦍 DAKINDL b2b PHUEL 🦍
(Shake it & Break it / Bass Cave)
soundcloud
[click here]
soundcloud
🦍 BACCHUS b2b CHINCH 🦍
(Beats we Manifest)
soundcloud
[click here]
🦍 VAL b2b ZANIN 🦍
(Bass Cave)
[click here]
▬▬▬▬▬▬▬▬▬▬▬▬▬▬▬▬▬▬▬▬▬▬▬▬▬
Deco
Deco
Ƹ̴Ӂ̴Ʒ DECO Ƹ̴Ӂ̴Ʒ
✮ High Lines - Decoration ✮
[facebook.com]
▬▬▬▬▬▬▬▬▬▬▬▬▬▬▬▬▬▬▬▬▬▬▬▬▬
Info
C³ - Crispy Chaos Crew & Bass Cave present
Ƹ̴Ӂ̴Ʒ DOUBLE DIMENSION - B2B SPECIAL Ƹ̴Ӂ̴Ʒ
✮ 2 FLOORS & 2 CREWS ✮ PSYTRANCE & DRUM AND BASS ✮ CALEIDOSCOPE ✮ AKASHA NASHA b2b SAMNU ✮ ARSENIC b2b LENYA ✮ DAKINDL b2b PHUEL ✮ BACCHUS b2b CHINCH ✮ VAL b2b ZANIN ✮ HIGH LINES DECORATION ✮ABENDKASSE 12€ all night long ✮ CAMERA CLUB ✮
Liebe Freunde der elektronischen Tanzmusik,
THE CRISPYs ARE BACK IN TOWN!
wir melden uns aus der Sommerpause zurück und hoffen ihr habt euch gut erholt, denn am Freitag, dem 4.Oktober 2019 starten wir mit unserem neuesten Projekt "Double Dimension – b2b Special" in die neue Saison! Double Dimension steht im Sinne der Gemeinsamkeit, der Vielfalt, der Harmonie und der guten Musik, denn wenn 2 verschiedene Dimensionen aufeinander treffen entsteht etwas Neues, Wunderschönes. Zum ersten Mal kollaborieren wir gemeinsam mit der mega sympathischen Drum 'n' Bass Crew "Bass Cave".
Getreu dem Konzept DOUBLE DIMENSION gibt es an diesem besonderen Abend auf beiden Floors ausschließlich b2b Sets zu hören. Stattfinden wird dieses spezielle Event im legendären Camera Club, 1070 Wien.
Am Psy Floor freuen wir uns das allseits bekannte Duo CALEIDOSCOPE von den Soundlab Pirates auf der Bühne begrüßen zu dürfen! Ebenfalls zu hören gibt es knusprige b2b DJ Sets von Akasha Nasha (Moongazer Events) b2b Samnu (C³ - Crispy Chaos Crew) aus Vorarlberg, sowie Arsenic b2b Lenya (C³ - Crispy Chaos Crew). Gespielt wird von feinstem Psytrance bis zu Psychedelic – Nightpsy.
Am Bass Cave Floor hingegen gibt es basslastige DJ Sets von DaKindl (Shake it and break it) b2b Phuel (Bass Cave), Bacchus b2b Chinch (Beats we Manifest) und Val b2b Zanin (Bass Cave) zu hören! Auch hier ist von Oldschool Jungle bis Liquid DnB alles dabei!
📷 CAMERA CLUB seit 1971 📷
Der kultige Camera Club in der Neubaugasse zählt seit seinen Anfängen in den frühen 70er Jahren zu den bekanntesten und beliebtesten Clubs Europas. Auch deshalb, weil die Camera schon damals versuchte Trends in der Musik zu setzen und sich so den Respekt des Publikums und der Musiker selbst erarbeitete. Aber nicht nur die Musik war ein Garant für gelungene Clubnächte, auch die legendäre Camera Tonanlage garantierte unvergessliche Nächte. Seit langem gilt die Camera als der bestbeschallte Club Österreichs. Erst kürzlich wurde wieder in eine neue, noch bessere Beschallungsanlage investiert um diesen hohen Standard beibehalten zu können und sogar noch auszubauen.
Für den richtigen optischen Feinschliff sorgt diesmal die High Lines - Decoration Crew aus Österreich, die der Location einen psychedelischen Hauch einflößen wird! Somit steht einem knusprigen Saison-Start nichts mehr im Wege!
Wir freuen uns auf euch!
Eure
C³ - Crispy Chaos Crew b2b Bass Cave
▬▬▬▬▬▬▬▬▬▬▬▬▬▬▬▬▬▬▬▬▬▬▬▬▬
Ƹ̴Ӂ̴Ʒ SHOPS Ƹ̴Ӂ̴Ʒ
✮ Bandha ✮
[facebook.com]
▬▬▬▬▬▬▬▬▬▬▬▬▬▬▬▬▬▬▬▬▬▬▬▬▬
Hard Facts:
Start: Fr, 04.Oktober 2019, Start: 23:00 Uhr | Ende: 06:00 Uhr
Location: Camera Club
Neubaugasse 2, 1070 Wien (U3 Neubaugasse)
Location
Location
Camera Club
Neubaugasse 2, 1070 Wien
Entry
Entry
Ƹ̴Ӂ̴Ʒ AK Ƹ̴Ӂ̴Ʒ
€ 12,00 ALL NIGHT LONG!

Geburtstagskinder vom 04. & 05. Oktober haben GRATIS Eintritt! Ausweis nicht vergessen! ;-)

Eintritt ab 18 Jahren!

▬▬▬▬▬▬▬▬▬▬▬▬▬▬▬▬▬▬▬▬▬▬▬▬▬
Organizer
Organizer
C³ - Crispy Chaos Crew / Bass Cave