Divine Magic Theory presents: Subaquatic Whirl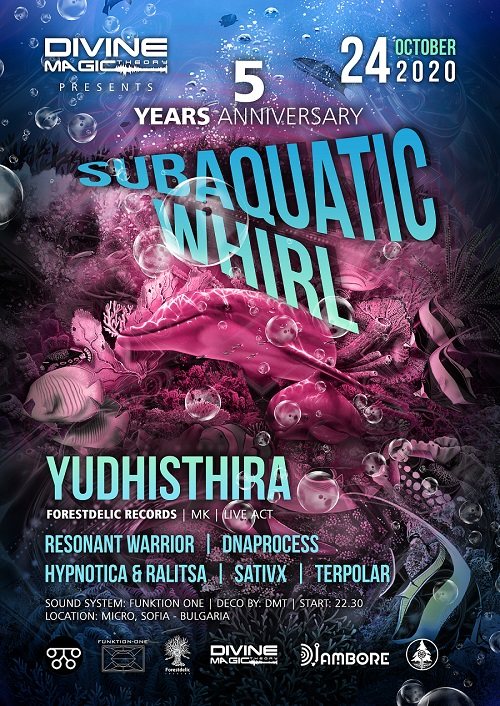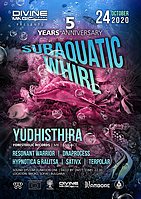 Line Up
It's time to celebrate our birthday properly - with music and dancing! Divine Magic Theory has been uniting psychedelic trance devotees for 5 years now! Thank You for the trust and the unwavering support that you are giving us unconditionally!
The most precious thing that remains after every meeting, party, festival are the happy faces of everyone gathered! To see and feel this happiness again and again is the flame that burns in our hearts and give us the force to move on!
On 24 of October the center of Sofia will be vibrating on the waves of the finest forest psychedelic music. The Divine Magic Theory crew will present their next vivid event - SUBAQUATIC WHIRL - in the marvelous club MICRO - Records & Culture shop, Bar & Multifunctional event space. For the organizers this is a perfect location - equipped with Funktion-One sound system, modern lightning technology and an acoustic isolated hall.
Our guest this night is Yudhisthira ! He describes himself as symbiosis of many different musical influences and since its forming in 1997 it represents a definition for uncompromised pure psychedelic trance.
Being planted as a seed in the most fertile times for the goa/psychedelic scene, it has slowly sprung its roots deep within the foundational grounds of the movement, all the while keeping pace with the ever changing levels of production standards and the evolution of sound synthesis.
Welcome to dive deep together in this extraordinary whirl, crazy fun and sweet temptations, enjoying crystal clear sound, delightful beats and friendly bar. You will revitalize! ❤
With the theory of the divine magic you can master your moods, release trapped emotions, manifest new levels of consciousness, and attract wonderful opportunities in your life!
♫ Yudhisthira LIVE (Forestdelic records / MK)
soundcloud
♫ Resonant Warrior (Asoma / Satori Tribe / BG)
soundcloud
♫ DJ SativX (Divine Magic Theory / PT)
soundcloud
♫ DNAprocess LIVE (Divine Magic Theory / BG)
soundcloud
♫ Hypnotica & Ralitsa (BG)
soundcloud
♫ Terpolar (Divine Magic Theory / BG)
soundcloud
Facebook event:
[facebook.com]
ONLINE TICKETS:
[bilet.bg]
Location
Location
Micro
Karnigradska Str. 19, 1000 Sofia, Bulgaria