Backend
★ DIRTY DANCING IX ★ w/ Harmonika, Vagus, Jon Bovi, Babalos Terra, Simex, Rebugs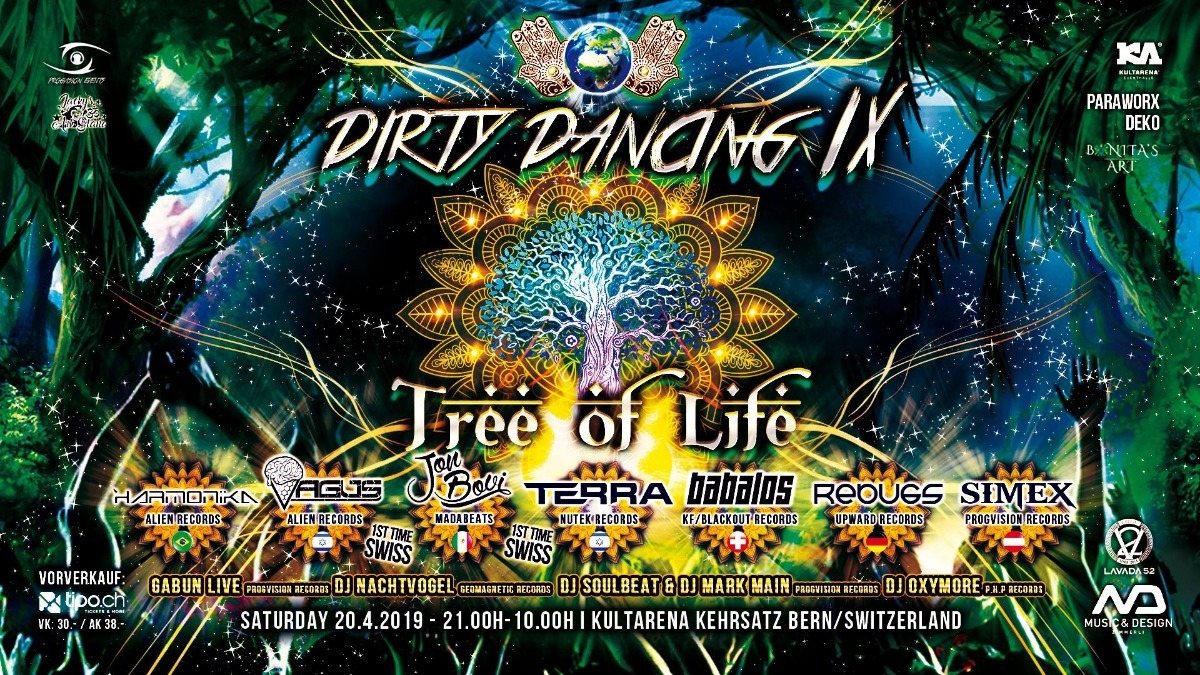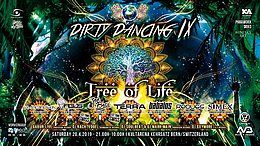 Line Up
█ ▄ ▌║▆ 🌳 LIVE 🌳 ▆║ ▌▄ █
►🎵 🔆🌳🔆 HARMONIKA 🔆🌳🔆 (Alien Rec. BRA)
soundcloud
►🎵 🔆🌳🔆 VAGUS 🔆🌳🔆 (Alien Rec. ISR) 1st Time CH!
soundcloud
►🎵 🔆🌳🔆 JON BOVI 🔆🌳🔆 (Moon) 1st time CH!
soundcloud
►🎵 🔆🌳🔆 TERRA 🔆🌳🔆 (Nutek Rec. ISR)
soundcloud
►🎵 🔆🌳🔆 BABALOS 🔆🌳🔆 (KF / Blackout Rec. CH)
soundcloud
►🎵 🔆🌳🔆 REBUGS 🔆🌳🔆 (Upward Rec. DE)
soundcloud
►🎵 🔆🌳🔆 SIMEX 🔆🌳🔆 (ProgVision Rec.)
soundcloud
►🎵 🔆🌳🔆 GABUN 🔆🌳🔆 (ProgVision Rec)
soundcloud
█ ▄ ▌║▆ 🌳 DJs 🌳 ▆║ ▌▄ █
►🎵 🔆🌳🔆 NACHTVOGEL 🔆🌳🔆 (Geomagnetic Rec.)
soundcloud
►🎵 🔆🌳🔆 BLACKY GINGER 🔆🌳🔆 (B-Alien Music)
soundcloud
►🎵 🔆🌳🔆 MARK MAIN vs. SOULBEAT🔆🌳🔆 (ProgVision Rec)
soundcloud
soundcloud
►🎵 🔆🌳🔆 L4TENCE 🔆🌳🔆 (P.H.P. Rec)
soundcloud
►🎵 🔆🌳🔆 OXYMORE 🔆🌳🔆 (P.H.P Rec) Power Prog Set
soundcloud
Deco
Deco
Das Dekoteam aus Deutschland Paraworx Decoration wird die Location in einen wundervollen Wald verwandeln. Dazu werden wir von ProgVision Deco passend zum Thema viele neue Sachen entwerfen🌳✨
Info
🔆 PROGVISION PRESENT YOU THE NEXT JOURNEY OF THE BIGGEST DIRTY PROG EVENT IN THE CAPITAL TOWN OF SWITZERLAND! 🔆

🌟🌟🌟 ⒹⒾⓇⓉⓎ ⒹⒶⓃⒸⒾⓃⒼ IX 🌟🌟🌟


Der Baum des Lebens gehört zur Mythologie vieler Völker und ist ein altes Symbol der kosmischen Ordnung. Er steht als Weltachse im Zentrum der Welt. Seine Wurzeln reichen tief in die Erde und seine Wipfel berühren oder tragen den Himmel. Somit verbindet er alle Ebenen: Himmel🌅, Erde🌎, Unterwelt🌑 und jegliches Leben. 🌳☯🕉

DIRTY DANCING ist nicht einfach irgendein weiteres Event einer langen Partyreihe, sonder erschafft jedes mal einen Ort grosser Zusammenkunft, an dem unser treues & familiäres Volk sich auf dem Floor versammelt, um gemeinsam in andere Welten einzutauchen und zu tanzen.♥️

Das nächste Kapitel von Dirty Dancing steht diesmal ganz im Zeichen der "VERBUNDENHEIT". Wir präsentieren euch wieder verschiedenste Künstler der Eliteklasse aus aller Welt und verwandeln die Location komplett in eine neue Traumwelt; diesmal mit dem Motto 🌳TREE OF LIFE🌳

Future, Offbeat, Dirty, Psyprog, Techno, Hitech, Psy. All in one🙏🔥💥

💥🎵 LETS START THE NEXT BLAST OF DIRTYNESS 🎵💥

🌟🌟🌟🌟🌟🌟🌟🌟🌟🌟🌟🌟🌟🌟🌟
🌳AMAZING BIG LOCATION
🌳KEINE SPERRSTUNDE
🌳MASSIVE SOUNDSYSTEM
🌳SPECTACULAR LIGHT SHOW & OTHER SPECIAL EFFECTS
🌳DECO BY PARAWORX DECO & PROGVISION & BONITA'S ART
🌳LAVADA FASHION PRINT, BODYPAINTING & JACKYS ART
🌳BIG OUTDOOR AREA WITH FIRES
🌳FRIENDLY SECURITY
🌟🌟🌟🌟🌟🌟🌟🌟🌟🌟🌟🌟🌟🌟🌟
Location
Location
Kultarena Kehrsatz
Belpstr. 24
3122 Kehrsatz
Entry
🔖🔖🔖 TICKETS 🔖🔖🔖
Der Ticket Vorverkauf ist aktiviert bei tipo und wird empfohlen um sicheren Einlass zu garantieren!
[tipo.ch]
Tickets: 30.- (Inkl. Gebühren) (Limited Only 300stk!)
Abendkasse 38.-
Ab 18 Jahren
Geburtstags Kinder erhalten gratis Eintritt
Vorverkaufsstellen:
Alle OLMO STORES Ticketcorner
Alle BLS Schalter
Print @ Home
&
Coiffure Upstairs Plus
Neuengasse 43
3011 Bern
&
EF Bern
Zeughausgasse 12
3011 Bern