Digital Shamans Records Label Night w/ Act One, Z3nkaï, Warp Engine & Eden Lake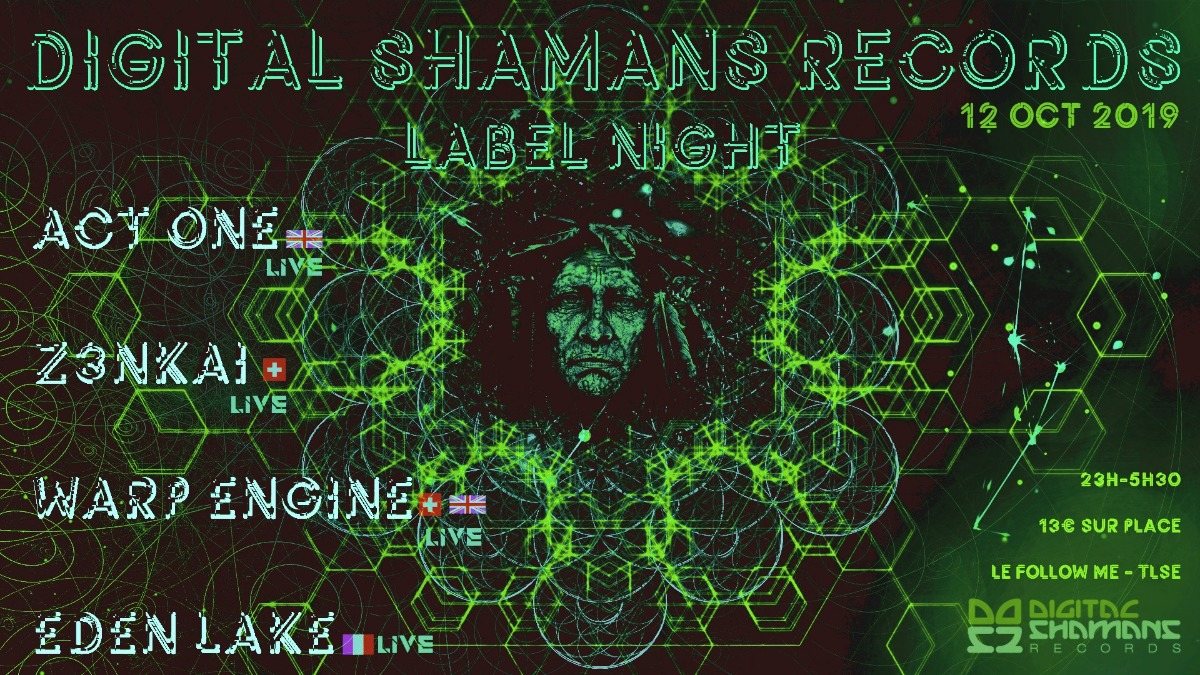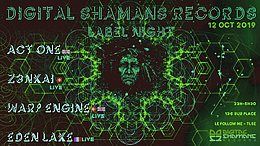 Line Up
C'est toujours avec cette même volonté de faire vivre le mouvement Psytrance sur la scène Toulousaine que nous vous invitons pour cette première édition des Label Night au Follow me !!!
Nous avons l'honneur d'accueillir dans notre belle ville rose, 3 artistes des plus talentueux du label international Digital Shamans Records !!!
Pour le plus grand plaisir de tous, ces producteurs nous proposent un bouquet garni de 4 live Psytrance : Act One - Digital Shamans Records, Z3nkai - Digital Shamans Records, ainsi que leur duo Warp Engine ( Purple Hexagon Records ) se joignent, pour leur grande première à Toulouse, à une référence locale qu'on ne vous présente plus Eden Lake.
Enfin, pour un voyage Psychédélique des plus complets, Visual Process Deco et Kosmografia sauront vous transporter pour un stage design/ mapping vidéo des plus enivrants !!
Trève de plaisanterie, place au line up !
🌀 LINE UP 🌀
🎼 🎵 ACT ONE - Digital Shamans Records 🎶
soundcloud
[facebook.com]
Act One is the project of 21 year old producer hailing from Sheffield in the UK.
After just a short time in the psychedelic scene he has toured Europe with his constantly evolving live set and gained support from many all over the world with his sounds.
🎼 🎵 Z3NKAÏ - Digital Shamans Records 🎶
soundcloud
[facebook.com]
Z3NKAI is a Swiss born dj and producer who discovered the world of psychedelic trance in a cave in Geneva. From that moment on he could not stop anymore. Founder of Digital Shamans Records, he has been playing for 7 years on the swiss party scene.
His sets and his energy quickly put him at the forefront of the party scene and at young age he started to play with the best swiss and foreign artists. At the age of 23, he already had played around all europe. After releasing his first compiltion and putting on parties with his Freaky Moon crew, he decided to build Digital Shamans Records and he work on his live act.
It didn't take long until he had released a CD compilation, a solo EP and was performing all over the world including New York, Canada, Brazil, New Caledonia and festivals such as Mo:dem, Shiva Shankar, Simsalaboom, Universo Paralello. Working on his next album, he his also part of the duo Warp Engine signed to Purple Hexagon Records.
🎼 🎵 WARP ENGINE - PurpleHexagon 🎶
soundcloud
[facebook.com]
The joint project of label mates Z3nkai (CH) and Act One (UK). Their styles fuse to create some on point, hard hitting, funky psytrance. Their tracks have already been tried and tested across the globe by some of the scenes biggest DJs and have recently joined up with the legendary Purple Hexagon Records.
They started making music together in the mountains of Switzerland but quickly decided that their work together was worth a bit more than the occasional collaboration so build a constantly evolving live set. They have already showcased this around Europe and released an EP on Galactic Groove records.
After that, they joined purple hexagon in 2015 and released another Ep - Lay Down That Beat. They're now currently working on their 3rd Ep, Drunken Wisdome. The future is warped!
🎼 🎵 EDEN LAKE - Digital Shamans Records 🎶
soundcloud
[facebook.com]
Eden Lake is a French artist, who has always loved music and partying. By rocking through the night and listening to the great rock'n'roll beats, he started to explore music a little more in his early years. Over a night he randomly heard some electronic music. As easy as it is, this is how he dragged his roots from what was a mostly rock and industrial influenced background to electronic sounds in 2012. He saw the possibilities that this kind music offered, mostly all.
In 2013 he had a picture of what great artists had already done, some of them being Illegal Machine, Synthetic Chaos and Chris Rich. This is how he discovered Psy-Trance and was astonished by it's groove, vibe and general atmosphere. That is how he started mixing in Lyon and it's surroundings.
In 2014 he ran for the Respublica(BORDEAUX)'s residency and won it ! Since then he regularly plays there. By the fall of 2014 he started to discover production and is currently working on a live project.
Mostly influenced by the artists that lead him to Psy-Trance he like to do it in his own style, his music is a mix of heavy bass, with a great groove in a dark sphere. He plays with your brain like he does on the master. Believe it, his set is going to be groovy as hell, a not to be missed. If you like
Illegal machines, Synthetic chaos, Dirty Saffi, Occular,Mark Day Ataro, Asimillion ,Psymetrix,Big Scary Monster Parasense and many others , be my guest!
🌀 INFOS PRATIQUES 🌀
🌍: Le follow Me - 15 impasse didier daurat à Toulouse (Montaudran)
🕒: 23h-5h30
💰: 13€ sur place (pas de CB a l'entrée / CB ok au Bar)
🚌 Bus : Ligne 78 S
✦ Arrêt : Clément Ader - environ 1 minute à pied
Dernier départ à 01h depuis Métro Ligne B - Arrêt : Université Paul Sabatier
Horaires :
[tisseo.fr]
🚌 Bus : Ligne L7
- Arrêt : Malepère (Terminus) 15 minutes à pied
Dernier départ à 01h depuis Cours Dillon (ou Esquirol / François Verdier)
- Horaires :
[tisseo.fr]
🚌 Bus : Ligne L8
- Arrêt : Gonin - environ 20 minutes à pied
Dernier départ à 01h depuis le Métro Ligne A - Arrêt : Marengo SNCF (ou Jean Jaurès / François Verdier)
- Horaires :
[tisseo.fr]
Location
Location
Le Follow Me 4 impasse didier daurat toulouse
Entry
Entry
13 euros sur place / pas de préventes /pas de CB a l'entrée