Backend
Digital Forest - Psychedelic Trance Music Festival 2022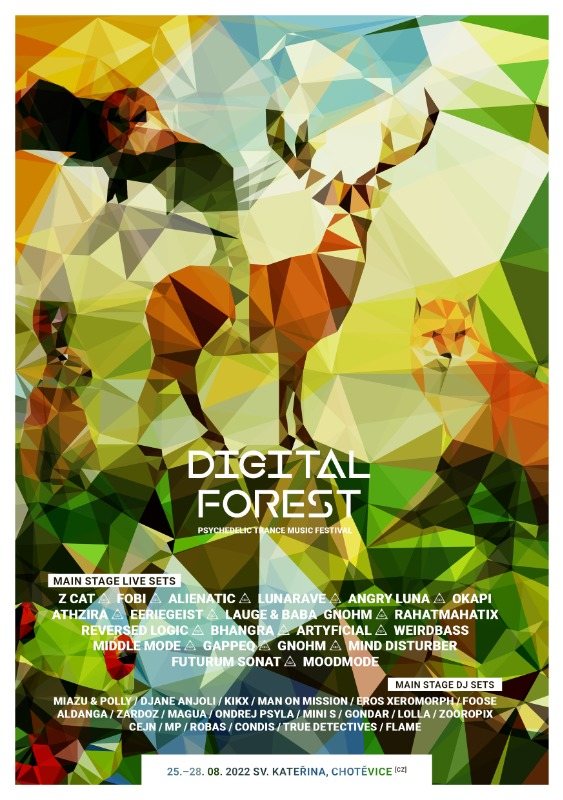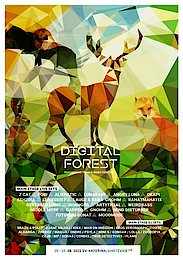 Line Up
✪ CROSS CLUB PRAGUE&DIGITAL FOREST FESTIVAL presents ✪
✪✪✪ PSYCHEDELIC TRANCE MUSIC FESTIVAL ✪✪✪
✪✪✪✪✪✪✪✪✪ DIGITAL FOREST 2022✪✪✪✪✪✪✪✪✪
✪✪✪✪✪✪✪✪✪ 25. - 28.8.2022 ✪✪✪✪✪✪✪✪✪
✦✦✦✦✦✦✦✦✦ RS SV. KATEŘINA, CHOTĚVICE✦✦✦✦✦✦✦✦✦✦
Předprodej přes
[goout.net]
Presale via
[goout.net]
🇨🇿 VSTUPENKY:
[goout.net]
🇬🇧 TICKETS:
[goout.net]
✪ DIGITAL MAIN STAGE ✪
Z Cat Live
Fobi Live
Alienatic Live
Lunarave Live
Angry Luna Live
Okapi Live
Athzira Live
EEriegeist Live
Lauge & Baba Gnohm Live
Rahatmahatix Live
Reversed Logic Live
Bhangra Live
Artyficial Live
Weirdbass Live
Middle Mode Live
Gappeq Live
Gnohm Live
Mind Disturber Live
Futurum Sonat Live
MoodMode Live
DJ SETs:
Miazu & Polly
Djane Anjoli
Kikx
Man on Mission
Eros XeRoMorph
Foose
Aldanga
Zardoz
Magua
Ondrej Psyla
Mini S
Gondar
Lolla
Zooropix
Cejn
MP
Robas
Condis
True Detectives
Flame
✪ DIGITAL CHILL OUT ZONE ✪
soon
✪ MAPPING ✪
RI RI (ITALY)
✪ DEKORACE ✪
[facebook.com]
PUBLIC BETA DECO (HUNGARY)
[instagram.com]
TRIBES' DECORATIONS (ITALY)
✪ FIRE SHOW ✪
soon
Info
Cross Club and Digital Forest Festival have just returned from the location of our upcoming fest. The good news is that everything is arranged and agreed, so we can meet at the camping Svatá Kateřina u Chotěvic (Saint Catherine at Chotěvice) on August 25th-28th.
This month we will introduce you some more artists who will give their performances at the fifth Digital Forest Festival.
For the first time at DF there will be an open Kids' Area which will be managed by two amazing ladies Sašetka and Bajča. There is a big wooden climbing frame on the location which the children's area will be connected to.
At the recreational area there is also a lake where one can swim. So, take your inflatable boats, inner tubes, and swimmies with you!
In addition, there are three exciting sights for all kinds of explorers nearby. And it's possible to reach them all during one trip.
The first place is called Buddha's Stones. It's situated only 1,2 km from the openair area. You can reach them by a forest path that will end in the yellow itinerary. Continue to Karolina's Viewpoint, and Buddha's Stones will be within a stone throw. Then keep following the yellow path to the Sunny Stones and walk back at a relaxed pace to the DF festival recreational area.
A workshop area will be prepared for you by Val. It will be open from 10am on Friday. Later on we will post the further details and write the email you will be able to register your workshop on.
There are enough huts for everybody who paid for them last year (we will be sending information emails about it in April), plus we have some more huts available for those who are interested.
All the tickets from the year 2021 are valid for this year. One week before DF Psy Camp Festival had to take place. As it was cancelled, all the Psy Camp tickets are valid for DF 2022. Lifelong tickets are, of course, valid as well.
We will soon let you know about the camping conditions and post forms for volunteers.
Until the end of April 75 tickets for 1600kč (65 euros) are available. Starting with the first of May the ticket price will be 1900kč (77 euros). Children under 15 are admitted free if charge.
You can now buy tickets at ease through book-tickets.
presale link:
[book-tickets.cz]
We are looking forward to seeing you under the open sky.
Cross Club a Digital Forest
EVENT:
PRESALE LINK:
[book-tickets.cz]
WORKSHOP AREA:
Val:
Yoga with Val on Friday at 10:00.
Yoga has become an essential part of my everyday life and that's why I'd like to share my experience with you at DF.
Yoga is a connection between flowing intensive movements, and it is able to bring to the soul feeling of happiness and beauty.
I've been always fascinated by the atmosphere, energy and power that it gives to people. I am devoted to it, do it every day. It became my biggest favourite pastime and lured me entirely into its magic .
It will change your body and mind as it will produce a high level of energy, vitality in your body, and will offer you freedom. Yoga has a positive impact not only on physical but also psychological condition.
I'm looking forward to meeting you in the workshop tent on Friday at 10:00.
Dominika:
Aromatherapy workshop with Dominika on Friday at 11:30.
At this workshop Dominika will get you acquainted with her aromatherapy. At her lecture, you will know what aromatherapy actually means, how it works, and its history.
Dominika will display you the basics one should know if they want to apply essential oils. From her personal experience, Dominika will retell how aromatherapy helped her and will give everyone of you an oil sample as a present. All of this, in the workshop tent on Friday 26.08 at 11:30.
Robo:
SRI NITHYA BRAHMAGARBHANANDA workshop
on Friday at 13:00.
Robo, who on his trip around India got the name of Sri Nithya BRAHMAGARBHANANDA, spent several years in India, South America and some European countries where he learnt from local masters and shamans. For already several years, he's been guiding people through ceremonies and helped them to widen their consciousness and grow spiritually.
Digital Forest welcomes you at this workshop on Friday 26.07 starting at 13:00.
Dajana:
At the Digital Forest we will introduce you the next workshop devoted to natural magic, and it will be held by Diana. She works with tarot, casts runes, and also uses pendulum in her practices.
At the workshop that will take place on Saturday 27.98 at 11:30, Dajana will guide you through main card interpretations. You'll have the possibility to create your personal amulet to support the tarot cards message.
Tami and Braňa
The workshop zone this year will host Tami and Braño.
Tami is a massage therapist, Chinese medicine disciple, lover of cocoa ceremonies, and a long-time yoga instructor.
At our Digital Forest festival, she will prepare you with love cocoa ceremony united with meditation Saturday on 27.08 at 16:00.
Everyone likes cocoa and those pleasant feelings it arouses. But very few people know that it opens a doorway to invisible parts of our subconsciousness, brings us clarity and cure, ability to understand our behaviour patterns, find emotional connectivity and let go of negative energy. And the most important thing is cocoa helps us to open our hearts!
Braňo is a yoga instructor and a breathwork therapist. He literally lives off it. Yoga has become his life path. Changing breathing habits brought him further transformation, he is grateful for. Right now he is doing his best to pass on his skills and knowledge to other people. On Saturday 27.08 at 10:00 you can do yoga and practise right breathing with Brána.
Tami and Braña send you love and can't wait to meet you.
Silvie:
Friday workshop zone will be closed by Silvie who will teach you to spin poi at 17:00 so that you could dance properly on the dancefloor after. Silvie has been doing poi for over 10 years and loves music, dancing, and lights. She will teach you to make spins around poi. You will be able to borrow poi at the workshop.
Kateřina & František
Digital Forest will visit Kateřina and František and their VISIMIRA.
They will get you acquainted with using natural magic in practice - making your own curing potions, magic bottles, cleansing rituals, working with herbs and natural materials. With respect to our Mother Earth, we use mostly Central European plants and products of nature.
If you are in the mood for it, at the end of the workshop, we will make protective paintings on our faces. As Katja and František say: "We are trying to reconnect with natural cycles and natural spirituality, return to our roots and our anscistors' wisdom. We send our love to nature, old traditions, and forgotten customs".
Don't miss this workshop. It will take place on Saturday 27.08 at 16:30.
Thank you. Can't wait to see you at DF!
Kateřina & František
Ivana:
On Saturday 27.08 at 17:00 we will be waiting for you at our face painting and body painting workshop held by Aiwa, the Slovak artist named Ivana Szabóová. Aiwa has been creating UV-active paintings for years.
She will share her painting skills and experience with you, will guide you through basic techniques, and finally, will provide you space for development of your own creativity.
Braňo:
On Saturday 27.08 at 10:00 you can do yoga with Braño, who is a yoga instructor and a breathwork therapist.
Yoga as an integral method shows me the path to becoming a more conscious and healthy human from both physical and psychological point of view. I discovered in myself discipline, trust, and clear goal.
Yoga has become part of me and my philosophy, and I regard it as a specific kind of art, same as dancing.
My yoga manifestation is conscious movement where power elements, flexibility, balance, and grace are connected.
Maťka:
On Saturday 27.08 there will be a dreamcatcher weaving workshop held by Maťka. She's been creating dreamcatchers for more than 5 years. Through making natural cosmetics, she got to creating decorations that have their meaning and energy. Maťka started to make tree and 3D dreamcatchers in UV- active colours. She adds minerals and different symbols to them, and that led her to learning energies. At the workshop we will make our colourful imagination and creativity go wild.
THE FESTIVAL LOCATION IS FAR from WROCLAW 150 KM, from BERLIN 370 KM, from OSTRAVA 270 KM, from PRAGUE 160 KM, from BRNO 200 KM and from Vienna 310 KM.
Location
Chotěvice

Rekreační zařízení Svatá Kateřina
Entry
Entry
payment via credit card. Price is 1600 CZK / 66 EUR.
Organizer
Organizer
Cross Club Prague
Digital Forest