Backend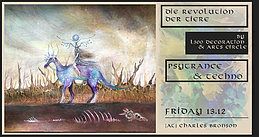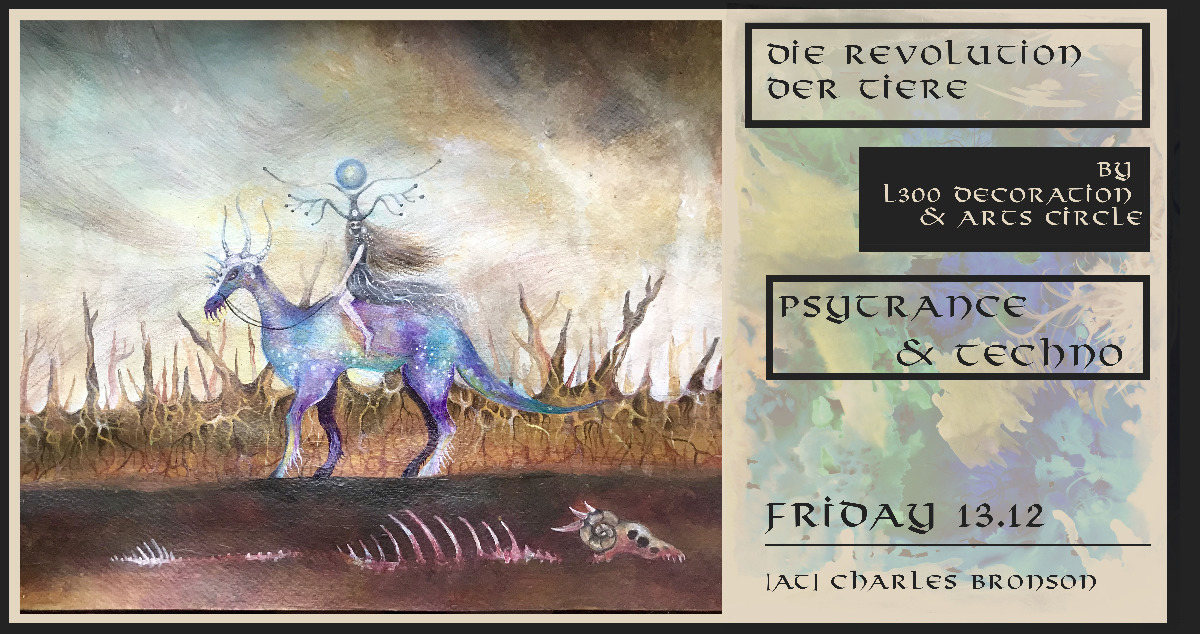 Info
L300 Decoration & Arts Circle presents "Die Revolution der Tiere"
<> Aufruf aufgrund eines Briefes der Konferenz der Tiere <>
"In einer Welt voller rätselhafter Wunder waren die Tiere und die Menschen eine lange Zeit gemeinsam verzauberte Beobachter! Vielmehr beherrschten die unergründlichen Wege der Naturgewalten und das ohne gleichen unübertroffene Zusammenwirken jedes noch so kleinen Bestandteils des Universums die Fäden der Zeit!
Heutzutage jedoch, in den Zeiten, in denen die Gründer - wie sie ehrfürchtig genannt werden - ihre Abenteuer bestreiten, hat die Macht und der Einfluss der Menschen so gewaltig zugenommen, dass die Wage zu kippen scheint... Das Schicksal der Erde, wie wir sie kennen, liegt nicht mehr allein im Geschick und den Händen der Natur!
Genau aus diesen Gründen haben wir eine dringende Nachricht der Tiere unserer Mutter Erde erhalten. Wir sollen ihnen helfen diesen schier unaufhaltsamen Wandel zu stoppen! Seid ihr dabei? Erprobte Abenteurer, Kiez-Kneipen-Gesindel, Stadtpiraten und das fahrende Volk
Lets be the change! Ahoi! See you on board!"
ॐ ☼ ♪♪♪
<><><><><><><><><><><><><><><><><><><><>
________________________________________
❥ LineUp ✾ Psy Floor ॐ
________________________________________
◈ Dschagganaut ◈
▶ Gaggalacka // Bremen
♫
soundcloud
◈ Impites ◈
▶ Space Vibration // Braunschweig
♫
soundcloud
◈ Yondo and Lorca - LIVE- ◈
▶ L300 Decoration & Arts Circle
♫
soundcloud
◈ Monchi ◈
▶ L300 Decoration & Arts Circle
♫
soundcloud
◈ Dirk D. Dänzing / Dimensions ◈
▶ L300 Decoration & Arts Circle
♫
[click here]
◈ Nutaq ◈
▶ L300 Decoration & Arts Circle
♫
soundcloud
________________________________________
❥ LineUp ✾ Techno, House & Downtempo Floor ☼
________________________________________
◈ Walkman ◈
▶ L300 Decoration & Arts Circle // Halle, Bremen
♫
soundcloud
◈ Moom ◈
▶ ease
♫
soundcloud
◈ Sascha Petzold / Petz b2b Mad Boehm ◈
▶ Slow on Sundays
♫
soundcloud
♫
soundcloud
◈ DJ Gitarre - Romantico ◈
▶ L300 Decoration & Arts Circle, 131premium
♫
soundcloud
◈ Josua Karlson -LIVE- ◈
▶ // Berlin
♫
soundcloud
◈ Weckerich ◈
▶ ease // Leipzig
◈ Lorca ◈
▶ L300 Decoration & Arts Circle
♫
[click here]
________________________________________
Picture by Liya Livet, Belgium
[instagram.com]
cover edit by The Imaginarium Of Yondo And Lorca
Deco/Visuals by L300 Decoration & Arts Circle
________________________________________
[facebook.com]
▲No sexism, No racism, No fascism, No homophobia ▲
▲▲▲ P18 ▲▲▲
Location
Charles Bronson
Berliner Str. 242, 06112 Halle (Saale)
Organizer
Organizer
L300 Decoration & Arts Circle