Backend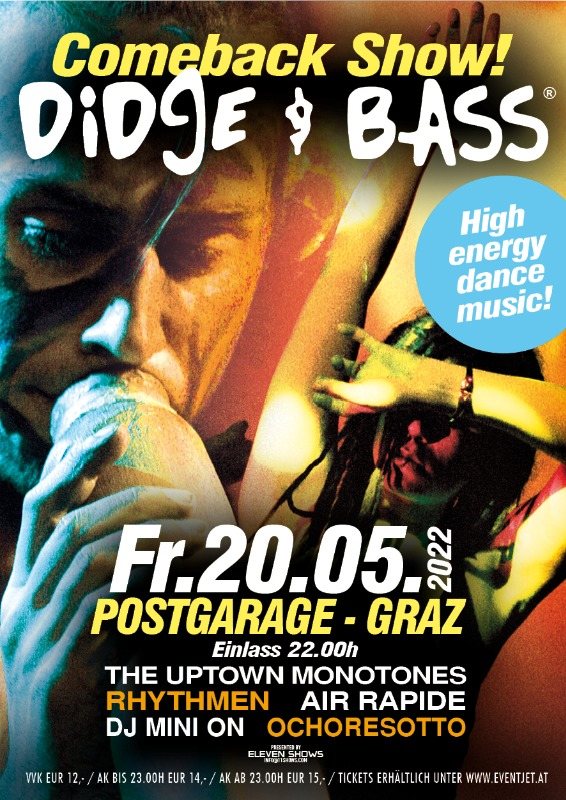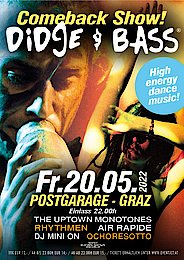 Info
DIDGE & BASS
Didge and Bass kehrt zurück - Hypnotische Klänge und treibende Beats! Unvergesslich waren die zahlreichen Didge & Bass Liveshows von 2006 bis 2018, die eine ganze Generation begeisterten. Die kultige Eventreihe feiert nun am Freitag, 20. Mai 2022, ihr Revival in der Postgarage.
WANN & WO
**************************
Termin: 20. Mai 2022
Einlass: 22:00 Uhr
Beginn: 23:00 Uhr
Location: Postgarage, Dreihackengasse 42, 8020 Graz
TICKETS
**************************
Vorverkaufs-Tickets um € 12,- buchbar auf
[eventjet.at]
und
[11shows.com]
Abendkasse: € 14,- bis 23:00 und € 15,- ab 23:00 Uhr
Sichert euch rechtzeitig ein VVK-Ticket!
BESCHREIBUNG
**************************
Nach dem Motto "back to the roots" sind alle Acts dabei, die schon so oft ihr Publikum in die Tanzekstase versetzt haben. Die Grazer Live-Legenden "The Uptown Monotones" sind immer ein Garant für Party und Stimmung, RhythMen mit ihrem psychedelisch-rockigen Didgeridoo-Trance geben nach mehrjähriger Pause ihr Comeback und das Duo "Air rapide" ist auf diversen Clubshows oder auch mal straßenmusizierend in der Grazer Altstadt immer wieder präsent. Conrado Molina an den Percussions und als MC wird den Zeremonienmeister geben.
Spektakuläre Visuals zu diesem außergewöhnlichen Livekonzert liefern, wie in den Anfängen von Didge & Bass, die Grazer "OchoReSotto". Bei der Aftershow-Party lässt Mario Pall aka "DJ Mini On" einen Mix aus House, Drum´n´Bass und Raggatek von den Turntables.
Wenn diese 3 Bands vereint werden, um 5 Stunden lang in Rotation und im Jam die Bühne zu rocken, dann entsteht samt der Energie des Publikums etwas Einzigartiges und Organisches! Jeder, der schon einmal auf einer Didge & Bass Party war, weiß, welche Stimmung dieses Live-Konzept aufbaut. Es tut einfach gut sich wieder tanzend in der Musik fallen lassen zu können.
Genau jetzt, wo endlich ein Hauch von Normalität einkehrt, ist der richtige Zeitpunkt mit "Didge & Bass" ein Zeichen für ein Miteinander zu setzen. Zum Mix aus Didgeridoo, Schlagzeug, Percussion- und Seiteninstrumenten, Gesang u.v.m. kann somit wieder einmal ausgelassen gefeiert und getanzt werden!
Location
Location
Graz
Dreihackengasse 42
Graz