Backend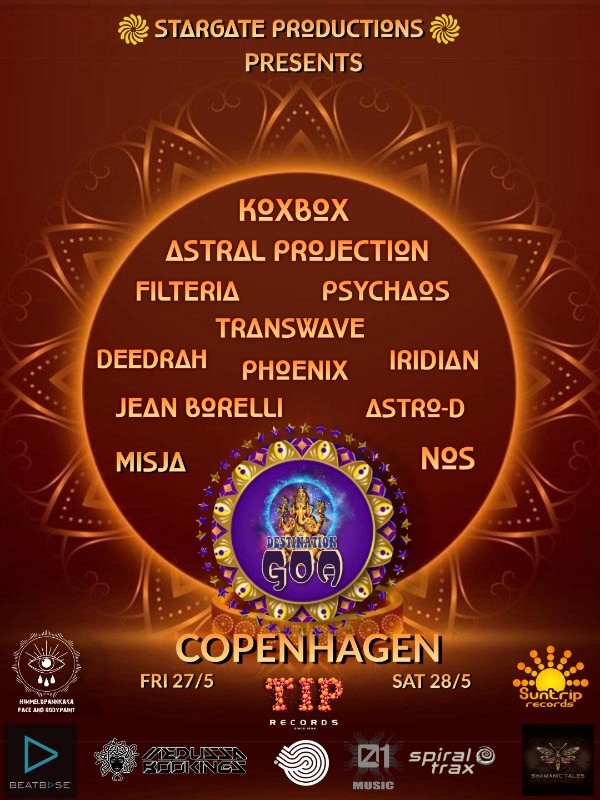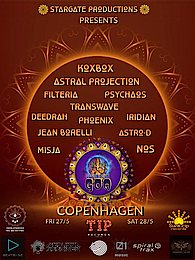 Line Up
We are honored and pleased to present you this amazing lineup in true spirit of the Destination Goa series... N-JOY!
FRIDAY 27th of May
*KOXBOX* 🇩🇰
This one of a kind legend plays an exclusive old school set!
*JEAN BORELLI* 🇩🇰
(Sheyba , Orion , Conspiracy theory)
This night this 2 maestro will do a special set that will be... ⚡⚡⚡⚡
*IRIDIAN* 🇩🇰
Koxbox and Jakob Rishi with their excslusive live set in Denmark.
*MISJA* 🇸🇪
A true goa guardian dj that plays with energy and intellect
NOS🏴‍☠️ The underground acid legend    
SATURDAY 28th of May
* ASTRAL PROJECTION * 🇮🇱
Our main act needs no introduction. This duo from Israel or, the Gods of Goa, as some people call them will not only play a liveset but it will also include new tracks from their upcoming album!
* FILTERIA * 🇸🇪
This Swedish goa-wizard has been in the scene for more than 15 years and with his hypnotic melodies and pulsating rhythms he will make you dance and smile for sure!
* TRANSWAVE * 🇫🇷
With roots that goes back to the beginning of goa-trance. With their ecstatic melodies and sweeping filters they've made people dance all over the world.
* PHOENIX * 🇸🇪
Mr. Destination Goa himself, another Swedish pioneer! He recently made his comeback to the scene and will play a DJ-set just like back in the days, acid based and melody driven.
Facebook: 
[facebook.com]
* DEEDRAH * 🇫🇷
Active for more than 20 years as an artist, he repeatedly woos crowds and longtime fans to the beat of his productions. His talent is wide spread as his versatility in style.
* ASTRO-D * 🇬🇷
Starting out as a DJ in the 90's, this Greek demigod is definitely no newcomer. His tracks has hit the top spots in charts many times and his set should not be missed.
* PSYCHAOS * 🇬🇧
This UK pioneer has done it all! 2020 is his 25 years anniversary for Joti Sidhu aka Psychaos. A true legend.Keep your eyes and ears peeled for his distinctive sound and killer live set.
Deco
Deco
NOS LEGENDARY BACKDROPS AND OLD SCHOOL DECO
LASER SHOW-BEAM MASTERS FROM STOCKHOLM
Info
¸,ø¤º°`°º¤ø,¸¸,ø¤º° STARGATE PRODUCTIONS

DESTINATION GOA - REVIVAL 2022
2 NIGHTS PARTY IN COPENHAGEN

We are very excited and deeply proud to be able to bring this legendary concept back to life.

Back in the 90's Destination Goa was THE compilations to have in your collection and with it's distinct covers, featuring Indian Gods, they were easy recognizable. At it's peak it reached no. 5 in the album charts in Sweden and today it's one of the most sold Goa-compilations in the world.

So to honor our roots, and where many of us found Goa-trance, we've decided to not hold back on anything...

The biggest and best artists from now and then, the most beautiful decorations and brightest lasers!!

Hope to see you all on the dancefloor... Smiling and dancing
Location
Location
Copenhagen
Enghavevej 80 KPH VOLUME
Copenhagen
Enghavevej 80 KPH VOLUME
just 15 minute walk from Copenhagen central station at KPH Volume, Vesterbro.
Entry
Entry
[beatbase.com]
Friday 27/5 299
349DKK+fee
Saturday 28/5 349
DKK+fee
Full weekend pass 500DKK+fee
Organizer
Organizer
Stargate productions Sweden