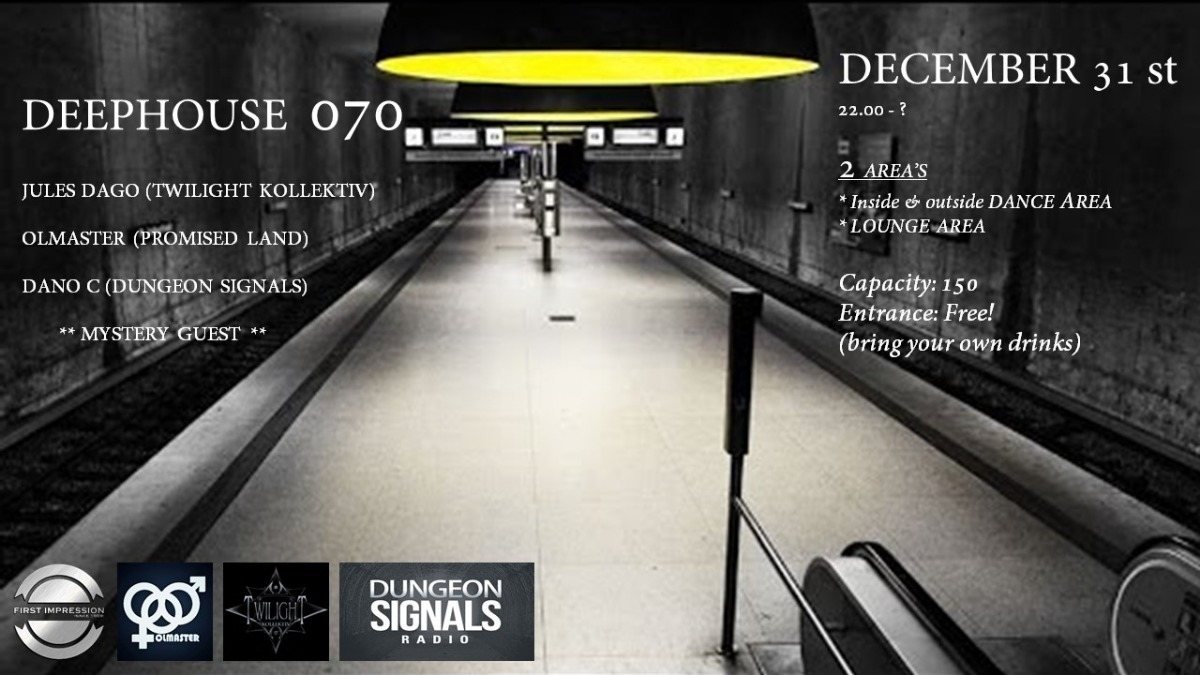 Line Up
Line Up
Jules Dago (Twilight Kollektiv)
Olmaster (Promised Land)
Dano C. (Dungeon Signals)
Deco
Deco
Blacklight decorations by PsyTech
Lasers
Info
Info
This is NOT a psy-trance event!
Organizer
PsyTech/Twilight
FREE PARTY!
Platform: TWILIGHT KOLLEKTIV - please leave a message for the location@ -
[facebook.com]
Description:
Let's Go & do some crazy shit tonight! :P
We welcome you to come and celebrate the old & new year with us and dance away into the deepest electronic music De Hague has got to offer this night. We will celebrate this new years eve in two neighbouring mansions (ground floors). 5 minutes away from to the biggest 'bon fire', in De Hague. With its flying burning ashes; an absolutely stunning sight. In the street the party will go on untill 02.00 (you can also warm up inside or at the fires outside).
After 02.00 we will continue inside the mansions with the music.
In line with local policies. We will stop the event inside when given two official warnings (for the 3rd, we might celebrate new year as cel mates ;)..
We hope you understand.
From the label First Impression (label of Robin-Jaydee-Albers), we welcome JULES DAGO. He is part of Twilight Kollektiv. A trio of producers from the UK & the Netherlands. This January 'the kollektiv' will release their second album: Second Thoughts.
Jules Dago organised and played all over the Netherlands in venues such as the Magistrat, Nighttown, Lvc Leiden, de Kroon, Multipleks and loads of other venues above and under-ground both national and (on occasion) international.
OLMASTER one of the treats and mystery man of the night :)
He played at many parties and festivals not least he played at Promised Land! He is a well know artist in Utrecht. He will gather his gear and make his way down to De Hague and celebrate with us this night, bringin some group of loyal fans from Utrecht with him..
Last but definitly not least; Giordano Colina, better known as DANO C. He is a 27 year old DJ and producer from Rotterdam, the Netherlands. From the age of 15, Dano C. has lots of love and passion for the deep electronical music.
He released music on various labels. He hosts a radioshow every Saturday on Pure Radio and organises his own parties with the name 'Dungeon Signals'.
*** SPECIAL GUEST ***
Directions & availability: Please put a message at our facebookpage and we will send you the adress:
[facebook.com]
It's 10 to 15 minute walk from De Hague HS where all the nighttrains stop between Amsterdam, Leiden, Den Hague, Delft and Rotterdam.
Feel free to bring your own drinks
No hard drugs
Entrance: Free!
More information:
Jules Dago:
soundcloud
[facebook.com]
Olmaster:
soundcloud
[facebook.com]
Dano C:
mixcloud
[facebook.com]