Backend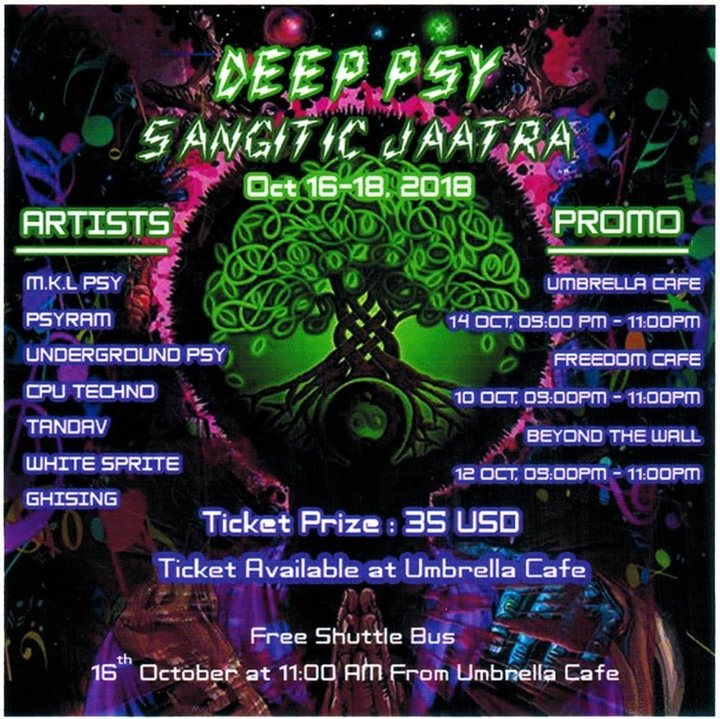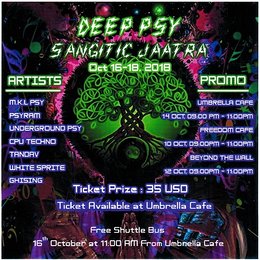 Line Up
#Omkara(IND)
soundcloud
# DJ OuMe (chu2rec)
soundcloud
#Cosmic Shiva (Parvati Valley)
[facebook.com]
# Zazen (Independent/Australia )
soundcloud
#Shiva_Tandav (#Bluelight_Rec)(NP)
soundcloud
#TonyWave
[click here]
#Veide
[click here]
#Ghising (#Prog_Dark_Forest) (#UEV_REC) (NP)
Jay Ghising
#Alchemist (#Psy_Trance_Progressive) (#UEV_REC)(NP)
Raju Lama
#Nalmi (#UEV_REC) (NP)
Dinesh Nalmi
#Broken_Seeker (#Live_ProgPsytrance_Hitech) (#UEV_Rec)(NP)
..
soundcloud
#UnderGround (#UEV_Rec)(#Progdark_Forest_Twilight)(NP)
Saroj Thapa Magar
#ArtSamadhi #UEV_Records_SKOR
soundcloud
#BabaDelic AcidManiaCRec #NPL
Baba Delic
#Ghising Unity Eco Village Records #NPL
Jay Ghising
#Local_Folk_music (From Diff Eco Villages)
#Shimps (UEV_REC)
Simson Lamichhane
#Broken_seeker (#Acoustic_fusion_Live)(NP)
Broken Seeker
Info
#NATURAL_LOCATION
#Entrance_Zone
#Kid_Zone
#CAMPING_and_CARAVAN_AREA
#Workshop_Zone
#Forest_Zone
#Camp_Fire_Zone
#Food_Zone
#Bar_Zone
#Two_Stages [#Main_Psy_Stage #Chill_Out_Stage]
-About the venue:
Pokhara, "The Lake City" a paradise in Nepal is situated on the lap of the majestic high mountains and the panoramic range of Himalayan peaks of the Annapurna that has been on the backpacker's bucketlist list since the early sixties constantly, This Himalayan bound mystic nation is a dream destination for all kinds of travelers, boasting a rich heritage and colorful lively culture, snow capped peaks, spiritual history and vibrant people.
Standing on top of the Hill, the venue adds beauty to the Pokhara Valley. It is a perfect holiday place providing a clear view of the Himalayan range (Annapurna Mountains range, including Fishtail, Dhaulagiri, Annapurna South, and Annapurna III), Fewa Lake and Pokhara city. The hilltop provides a splendid view of sunrise and sunset. The place is about 7-10 kilometers from lakeside, the major business spot in Pokhara. There are several ways to reach the venue. There are hiking trails, cycling tracks and the road to the place. One popular and adventurous hiking trail is the crossing of Fewa Lake by a local boat and then climbing uphill through local villages which takes about an hour and half to two. The partial black-topped road takes about 45 minutes to an hour and half , which can be reached by taxi or private car. Public transportation too is available to the place.
Things to Bring:
1.Tents, Hammock, Sleeping Bag & Mats
2.Toiletries, Towel, Flash Light
3.Warm Clothes (Hoodies, Jackets, Shawls etc) only for night time.
4. Limited food items and Canned drinks will be allowed on entry.
5. Strictly no glass bottles of any kind or types.
We provide:
Food Stalls, Chai Shop, Toilets, Shower, Free Camping Area,
Shuttle Bus from Pokhara (approximately 2 hours drive to Gathering venue)
-Things to remember
Warm cloths
Camping gear
Flash light
A lot of love.
-Things not allowed:
Pets
Outside food and drinks
You'll have to bring your own camping gears, if not than please inform us before.
make sure to get ur tickets.limited places.book ur free shuttle buses
More of the information available at Meeting and Ticketpoint.
our Pokhara Meeting point place .
Umbrella cafe
Khahare ,Lakeside -6, Pokhara
[facebook.com]
Hire Tent & Sleeping Bag
Swisa Trekking Equipment's Store
Hallan Chowk, Lakeside,Pokhara
Phone : 9856020411-061691192
Entry
Entry
Tickets: 35$
USD
make sure to get ur tickets.limited places.book ur free shuttle buses