Backend
DarkForest psychedelic Night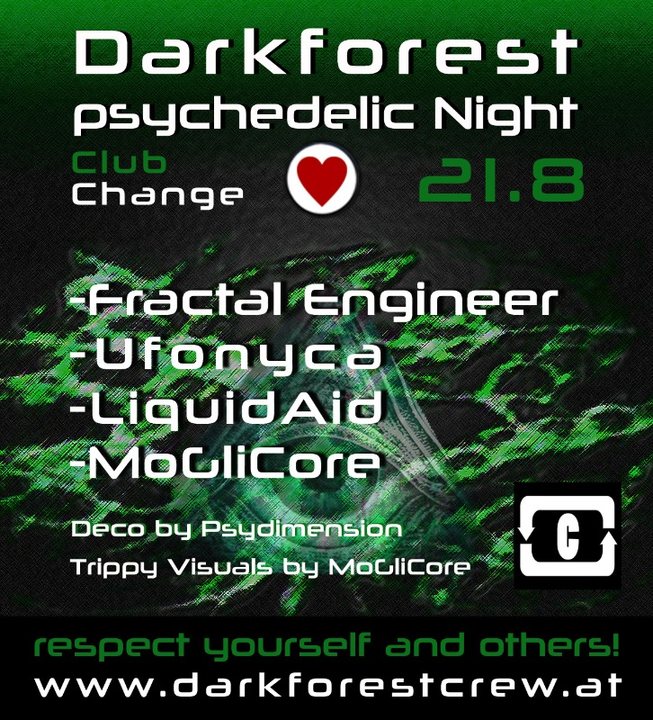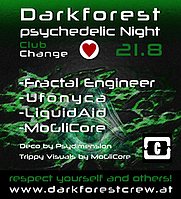 Line Up
Die Darkforest Crew läd euch ein zu einer düsteren Nacht voller treibenden Psy-Energie!
Diesmal rocken Wir den legendären Change Club, was nach unserer Debütparty in der Arena Wien wohl die größte Veranstalltung bissher sein wird!
Den Start macht unser Newcomer und Ufonycas "junger Jedi" Fracatal Engineer!
Danach wird euch Ufonyca selbst mit seinem bewährten und bekannten Sound beginnen zu hypnotisieren.
Unser LiquidAId wird euch danach in Extase versetzen!
Und am Ende wird dann MogliCore mit seinem High-BPM-Experimental Sound gehörig die Birne wegbeamen!
Der Junge is ein echter Geheimtyp, die meisten seiner Nummern die er vorstelln wird werden aus Eigener Feder stammen..
dark/forest/experimental
Entry: 8 Euro
---
start 18.00 ->??
---
Psystickers
PSYSHOPS
---
Welcome Shots
---
Visuals by MogliCore
Deco by PsyDimension
PSYSHOPS
---
!respect yourself and others!
---
[darkforestcrew.at]
Weniger anzeigen
Info
Info
dark/forest/experimental......fast and dark......