DarkAmTag OA ☼ Daksinamurti ☼ Jumpstreet ☼ Bombax ☼ Alpha ☼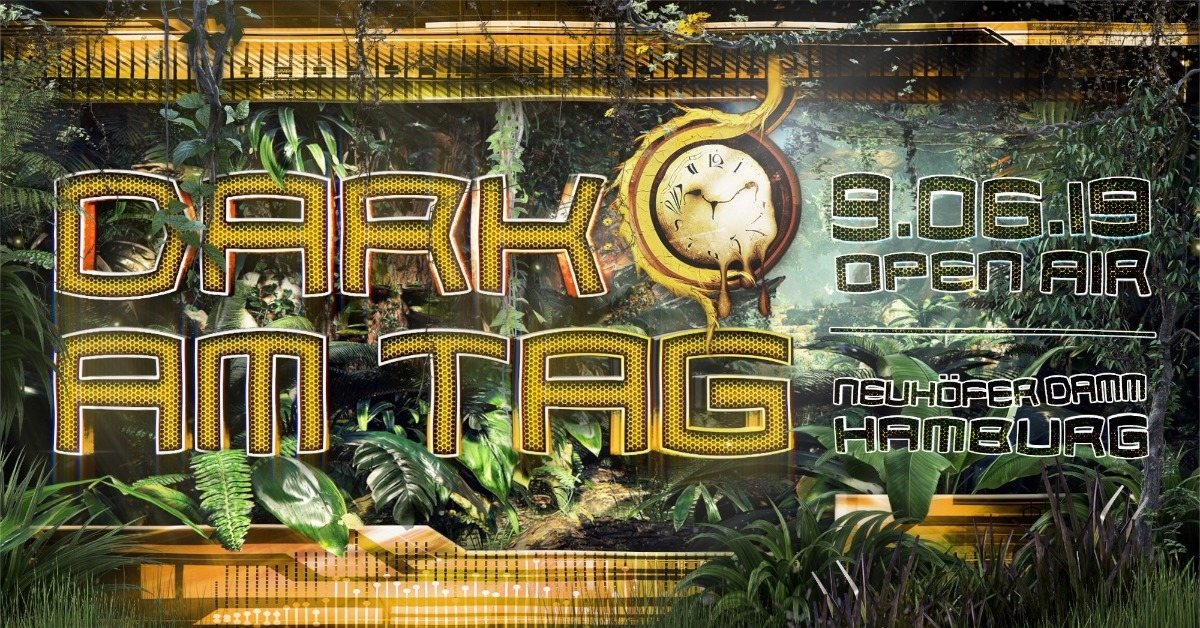 Info
ENG Version below
Endlich...
nach dem wir letztes Jahr das erste Mal die Möglichkeit hatten zusammen mit ov-silence Music unser Herzens Projekt die "DarkAmTag" umzusetzen, sind wir voller Freude euch mitteilen zu können, dass es nach langem Bangen dieses Jahr weitergehen kann.
Wo uns letztes Jahr der Start in die neue Woche bevorstand, haben wir dieses Jahr ein deutlich günstigeren Termin zum Feiern gefunden.
Am darauffolgenden Montag ist frei, dank Pfingsten.
Also macht Euch ein weiteres Mal bereit, am 09.06 mit uns auf einer der schönsten Open-Air Locations Hamburgs, den abgefahrensten Sonntag eures Lebens zu verbringen !!
Nach altbewährter Psyonara Tradition bekommt Ihr auf 2 Floors (Root- und Groovefloor) mit einem brachialem Soundsystem von Hitech/Dark - Progressive Psytrance, alles geboten was eure Herzen höher schlagen lässt.
Um euer leibliches Wohl kümmert sich wie immer der Chaistand und natürlich die Bar mit humanistischen Preisen und dem kompetenten Barpersonal eures Vertrauens.
ENG Version:
[ !!!! ENGLISH VERSION !!!! ]
Finally…
After we had the chance to realize our long awaited project "Dark am Tag" in cooperation with "ov-silence music" , we are happy to be able to announce that we will be back this year.
We will be celabrating on a Sunday again, which won't be a problem since Monday is a public holiday.
So get ready for another crazy ass Sunday full of good music and good vibes on the 09.06. at one of the most beautiful Open-Air locations, that Hamburg has to offer!
We're going to open two dancefloors for you, which will be equipped with a brutal soundsystem perfectly calibrated for Hitech/Dark and Progressive Psytrance. Everything to make your heart go faster.
As usual the Chai store will be there to take care of you physical well being, as well as the competent bar team - that you trust - with fair prices
terms and conditions:
[bit.ly]
18+ | NO ID - NO ENTRY
☼ SOUND ☼
Funktion-One
Location
Location
Neuhöfer Strand (Hamburg)
Ehemaliges Werftgelände
Neuhöfer Damm 98
21107 Hamburg
Entry fee
Entry fee
Entry fee:
Early bird ticket: 7,99€ (limited to 100 pieces)
Presale ticket: 10,99€
At the gate: 12,99€
(all prices include VAT and fees)
Ticket-Link:
[ticket2go.de]
Organizer
Organizer
Psyonara Events & ov-silence