Backend
Dark Wolf Gathering - Erfurt OST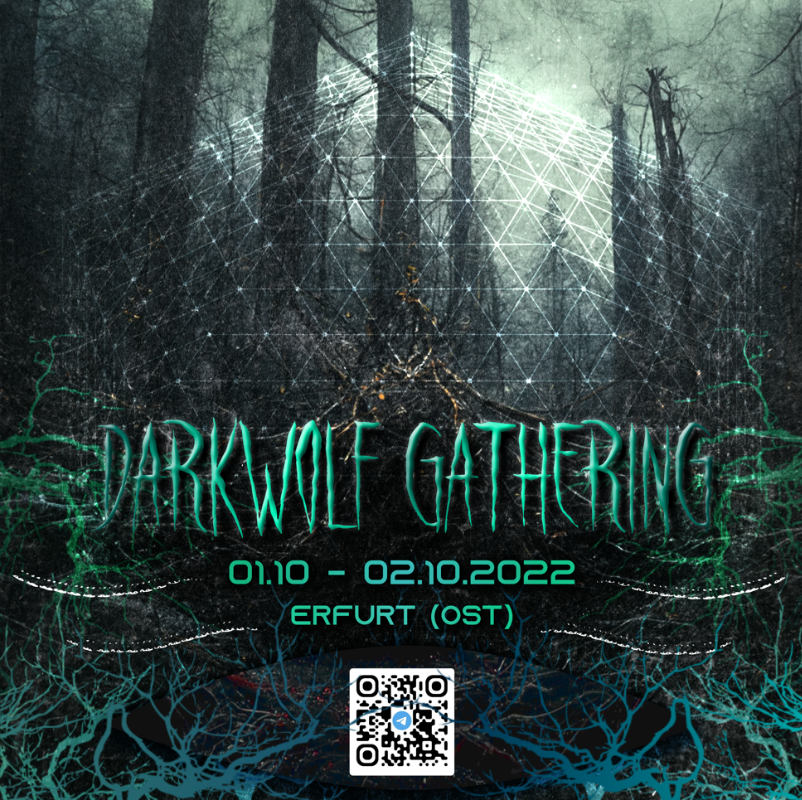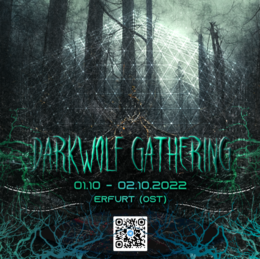 Line Up
𝙇𝙄𝙉𝙀-𝙐𝙋 / 𝙋𝙍𝙊𝙂𝙍𝘼𝙈𝙈 :
✦ Naked Tourist / Iguana - DJ Set
[Parvati Records]
soundcloud
✦ EaAruru - Dj Set (SLO)
[independent]
[click here]
✦ Crom - Live (GR)
[Enygma Music]
soundcloud
✦ IO - Live
[The Endless Knot]
soundcloud
✦ Sonic Wizzard - Dj Set
[Dark Wolf]
soundcloud
✦ OrbitalNoise - Live
[Psycho Tripperz / Dark Wolf]
soundcloud
✦ Tegnigma - Dj Set
[Fractaliens / Seti]
soundcloud
✦ Drakkar - Dj Set
[Dark Wolf]
soundcloud
✦ Exotype - Live
[Fractaliens]
soundcloud
✦ Dr.Überfuchs - Live
[Fractaliens]
soundcloud
+TBA...
Info
For the opening of the fall season we are happy to announce the second edition of Dark Wolf. Together with the Fractaliens crew we would like to invite you to celebrate the end of the open air season with us.
This time our gathering will take place in Erfurt, in a beautiful location made from and for love. The gathering will put its focus on dark experimental psychedelic music, which we will deliver to you with the help of many talented artists from around the world.
We hope to unite fellow freaks from everywhere and nowhere, to enjoy one weekend of pure bliss and connection in front of a proper soundsystem from the Fluctusmotos Crew.
We have tipis, fire spaces, couches and many more chill areas for you to rest and gather your energy during the weekend.
We have a bar and some options for you to purchase food during the festival like Pizza and snacks.
--- Bring warm clothes, it might get fresh ❄️
---For warmth on the square is provided by enough fireplaces 🔥
---The floor and chill area are rain proof so don't be afraid of bad weather ☔
Arrival:
The location is a bit secluded surrounded by fields and highway there are no parking possibilities directly at the location, because we are in nature and would like to preserve it.
On our telegram channel we will mark a location where you can park your car, round about 20min by walk away from the location.
Also easy to reach by public transport.
You can find more information about the participation on our Telegram channel.
[t.me]
We hope to create a space together where everyone will feel welcome and safe.
A temporary utopia, right under the stars.
Bring your tribe & see you soon.
🐺
---------------------------------------------------------------------------------------------
Zur Eröffnung der Herbstsaison freuen wir uns, die zweite Ausgabe von Dark Wolf ankündigen zu können. Gemeinsam mit der Fractaliens-Crew möchten wir euch einladen, das Ende der Open-Air-Saison mit uns zu feiern.
Diesmal findet unser Treffen in Erfurt statt, in einer wunderschönen Location, die aus und für die Liebe gemacht ist. Das Treffen wird seinen Fokus auf dunkle, experimentelle, psychedelische Musik legen, die wir euch mit Hilfe vieler talentierter Künstler aus der ganzen Welt liefern werden.
Wir hoffen, andere Freaks von überall und nirgendwo zu vereinen, um ein Wochenende lang pure Glückseligkeit und Verbundenheit vor einem ordentlichen Soundsystem der Fluctusmotos Crew zu genießen.
Wir haben Tipis, Feuerstellen, Sofas und viele weitere Chillbereiche, in denen ihr euch ausruhen und eure Energie während des Wochenendes sammeln könnt.
Wir haben eine Bar und einige Möglichkeiten, während des Festivals Essen wie Pizza und Snacks zu kaufen.
--- Bringt warme Kleidung mit, es könnte frisch werden ❄️
--- Für Wärme auf dem Platz ist durch genügend Feuerstellen gesorgt 🔥
--- Der Floor und der Chillbereich sind regenfest, sodass man keine Angst vor schlechtem Wetter haben muss ☔
Anfahrt:
Der Ort ist etwas abgelegen, umgeben von Feldern und Autobahn, es gibt keine Parkmöglichkeiten direkt vor Ort, da wir uns in der Natur befinden und diese gerne erhalten möchten.
Auf unserem Telegramm-Kanal werden wir einen Standort markieren, wo Ihr eure Auto's parken könnt, ca. 20min zu Fuß vom Standort entfernt.
Auch mit öffentlichen Verkehrsmitteln gut zu erreichen.
Weitere Informationen zur Teilnahme findet Ihr auf unserem Telegram-Kanal.
[t.me]
Wir hoffen, dass wir gemeinsam einen Raum schaffen können, in dem sich alle willkommen und sicher fühlen.
Eine temporäre Utopie, direkt unter den Sternen.
Wie freuen uns auf euch & bis bald.
🐺
Organizer
Organizer
Dark Wolf Crew.
Added

24d 10h

· Update

5d 9h

· 1