● DARK PRISMA LABELNIGHT ●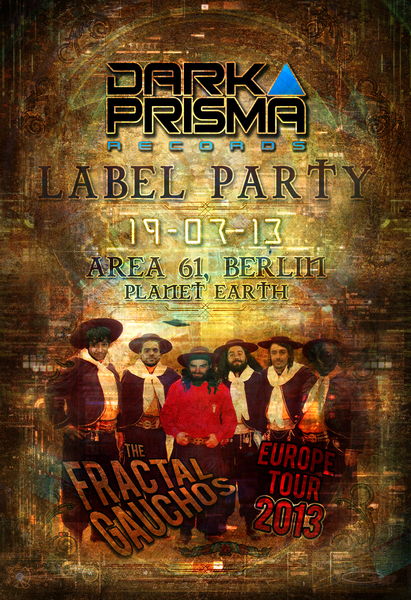 ------------------------------------- +

We will have a nice outdoor chillout area without music.

-> TCM Köstlichkeiten by Chris - 5 Element Snacks
He will prepare snacks from the nutrition science of traditional chinese medicine...

-> Chai Pirates
They will prepare chai,tee and coffee...

------------------------------------- +
Deco
Deco
decorated by friends!
Info
Info
Welcome to,
>>> DARK PRISMA RECORDS <<<
[com.ar]
Dark Prisma Records is a nursery and platform for avant-garde, experimental, mind bending, electronic music, born out of from the need to express and manifest inner worlds through sonic potions distilled and grown in the deepest corners of our souls.
We participate in existence as a haven for the psychedelic explorers who materialize their experiences into sound. Concocting rituals and sonic downloads, we seek to transform ourselves and the world around us by punching holes into another dimensions and pouring them over our planet.
Art and science blend together to form a tool designed to enhance perception and bring a direct experience with knowdledge. Through music and technology we will we navigate existence, and keep on exploring this self-conscious, self-transforming alien-machine we call Universe.
Location
AREA 61 (Music-Hall)
Alexanderstraße 61
10179 Berlin
[facebook.com]
Direkt im S-Bahnhof Jannowitzbrücke (Spreeseite).
Links raus aus dem Bahhof, links die Treppe runter, links reingehen.
Directly inside the trainstation "Jannowitzbrücke"(riverside)
Leave the station to the left, go down the stairs to the left, then enter to the left.
U-Bahn/S-Bahn: Jannowitzbrücke
S-Bahn: 5 / 7 / 75 / 9
U-Bahn: 8
Organizer
Organizer
Dark Prisma Records & Cerebral Chaos