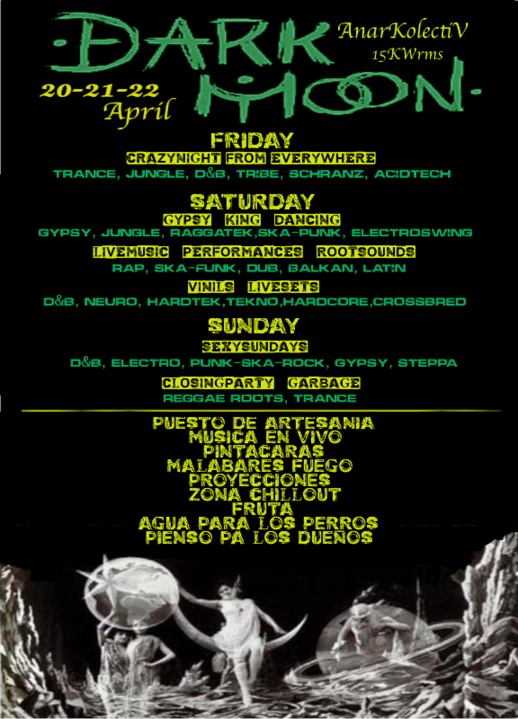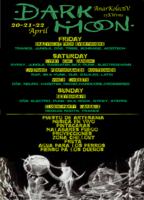 Line Up
………………………………………………………
Friday:
CrazyNight FROM EveryWhere
Trance, Jungle, D&B, Tribe, Schranz, AcidTech

SaturdayMorning:
Gipsy & King & Dancing
Gipsy, Jungle, RaggaTek, Ska-Punk, ElectroSwing

SaturdayEvening:
LiveMusic & Performances & RootSounds
Rap, Ska-Funk, Dub, Balkan, Latin

SaturdayNight:
Vinils & LiveSets
D&B, Neuro, HardTek, Tekno, HardCore, CrossBred

Sunday:
SexySundays
D&B, Electro, Punk-Ska-Rock, Gipsy, Steppa

SundayEvening:
ClosingParty & Garbage
RaggaeRoots, Trance

…………………………………………………………………………………
Deco
Deco
..___..
WorldRecycled!!
&HALFTeamTrip
..___..
Info
Info
We go back again and we gather us the big happy family to have a magic night where speak with the grooves and dance with the harmony that offers us the nature. Seat it and enjoys his flavours!!
Have the pleasure to share the event with friends of today and always where mix mystic sounds and shows for our astonishment.
This moon goes loaded of stellar gifts where left us amazed by his mixes of frequencies announcing a new horizon!!
Peace, love and bass!!

Info, intelligent:
Bring rubbish and carry rubbish!!
Location
Location
====================
"""You think, we think!!""""
*************************
CONTACT TO EMAIL
*************************
Organizer
Organizer
† AnarKolectiV †