Backend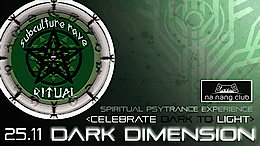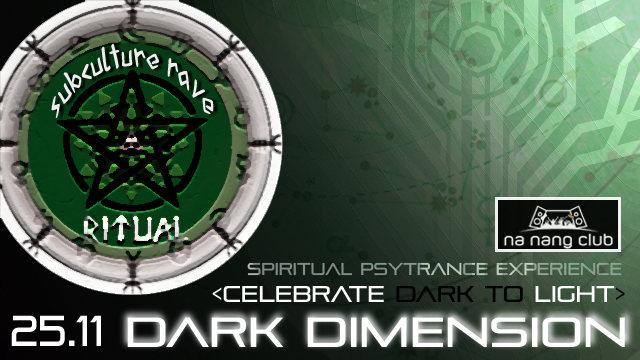 Line Up
Line Up
DarkForestNetwork & Friendz
Info
Die DarkForestCrew läd euch herzlich zu unserer ersten Weekend-Experience in den neu endeckten Club Na Nang ein.

Ufonyca wird für euch das Soundsystem neu ausbalancieren - es wird definitiv lauter sein und besser ankommen als bissher.

Desweiteren freuen Wir uns auch wieder auf den bewährten spirituellen-Ritual und Chillout-Saveplace zum erden, aufladen und rasten, auf der Bühne direkt vor dem DJ Pult. Free for All!

Die Möglichkeiten hier wurde interessiert beobachtet und sogar von einigen erforscht, und ausprobiert.

Auch wird sich unsere Kräuterhexe wieder um die energetische Balance der Räumlichkeiten, und vor allem im Zentrum unser Gemeinsamkeit, dem Dancefloor mit gezielten Räucherungen kümmern.

Dadurch wird unser Vibe am Floor durch nichts negativ beeinflusst werden und wir so dazu im Stande, gemeinsam das beste aus unserer Nächtlichen Reise hervorzubringen.

<Dance-Trance-Unity-Experience>

Wir werden euch auch mit mehr Dekoration und bunten Spannsegeln, inklusive den zahlreichen bunten Lichtquellen und Schwarzlichtfluter auf psychedelische Reise schicken.

<together we dance ∆ devided we fall>

Lineup:

DarkForestNetwork + Friendz

-Ufonyca
-Gatodelic
-Karam J
-SiddART

Soundstyle from forest to dark to Hitech.

Doors: 23:00

"Foodcorner" für wenig Geld falls ihr hunger habt. traditional african style

Entry:

Diesmal haben wir uns auf 8.- geeinigt.
Wenn ihr uns +2 Euro in die Crew Kassa spendet dürft ihr euch gerne ein paar Sticker abreiẞen + mitnachhause nehmen.

darkforestcrew.jimdosite.com

staytuned.
Location
Na Nang Club
Hernalser Hauptstraße 21
1170 Wien
Web
darkforestcrew.jimdosite.com
Fb.com/darkforestcrew