DARK CONTACT - From Serbia 1°Time JESUS RAVES LIVE!!!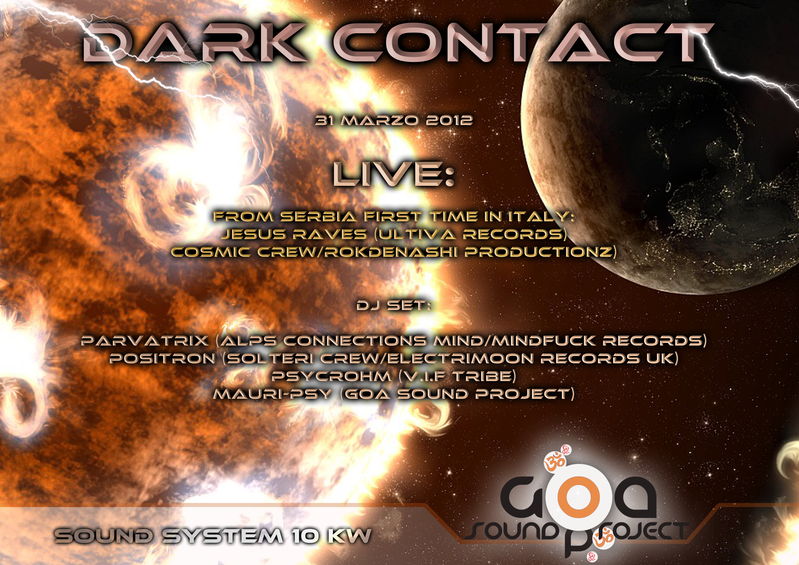 Line Up
FROM SERBIA FIRST TIME IN ITALY:
JESUS RAVES (Ultiva Records/Cosmic Crew/Rokdenashi Productionz)
[myspace.com]
soundcloud
Biography:
The man behind the Jesus Raves project is Serbian born Zdravko Gladovic (86).
His 1st contact with music production came in 2001 when along with a friend he began producing Detroit Techno/Schranz using an old PC with Pentium 2 processor, Steinberg Cubase, a Yamaha DX11 synth and a rubbish Roland drum machine.
These days however he is producing using Ableton Live as the main sequencer though sometimes with Cakewalk Sonar, Nuendo or Cubase and some extra hardware. The result is heavy darkpsy sound with twisted ambiences, strong rhythms and leads that get deep inside Your head taking You on the incredible journeys.
Zdravko doesn't really draw influences from other people, just tries to do his own thing and create his own, unique style. For this same reason he is not a fan of making so many VS tracks.
Aside from the Jesus Raves project he also has down tempo/old school with e.Bug from KanibaL HolokausT called Chemical Products and suomi/forest Kanibal Raves.
He also calls himself a "vintage synth freak" with a real passion for old school hardware.
.
Info
Info
============= Please: ===================

NO PUSHER NO DRUGS and RESPECT FOR ALL!!

OnLy GoOd ViBeS aNd PsYtRaNcE pArTy EnJoy !!!

=======================================

.
Location
Location
TACU TACU Music Zone - Via Galileo Galilei 40 - Mestrino (PADOVA)
Entry fee
Entry fee
TESSERA ( A.I.C.S ) OBBLIGATORIA :

Chi Non Ha La Tessera Paga il costo Di Iscrizione Comprensivo Di Ingresso

Chi è Già In Possesso Della Tessera ( A.I.C.S) Paga Solo L'ingresso (10 euro).

INOLTRE PER I NUOVI TESSERATI 1° CONSUMAZIONE IN OMAGGIO !!!

.