Dancing Budhas Outdoor: New Year's Psychedelic Celebration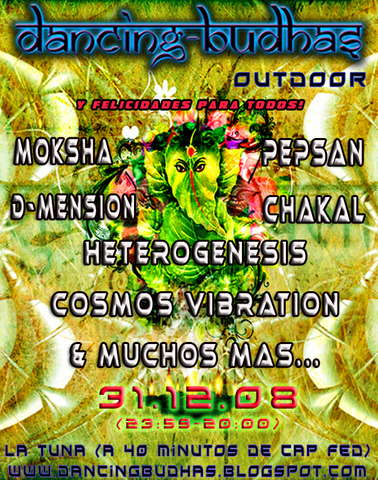 Live
Line Up
Heterogenesis

Cosmos Vibration
Chakal

Pepsan

Moksha

D-Mension

Sudamericano

Intaresh

Mithra Vs CrashiN

Dual Shot Dj\'s

Highbarder Vs Pixi-Pax
Info
Info
Wednesday 31.12.08 23:59hs to Thursday 20:00hs

The location is 30 minutos away from the city by car, in an open and beautifull field with camping zone, swimming pool, private parking, food and drinks bar, giant tent, visuals, and much more...

Buses from Galeria Bond Street, Av Santa Fe 1670 from 01:30 to 04:30, and then 09:30, 12:30, and 15:00hs. Also from the Planetarium @ 08:00 and 10:00hs.
Coming back @ 08:30, 11:30, 14, 17, and at the end of the event.

Cost of the Trasnport $10.
Entry fee
Entry fee
$35 (local pesos) with flyer

$50 (local pesos) without flyer