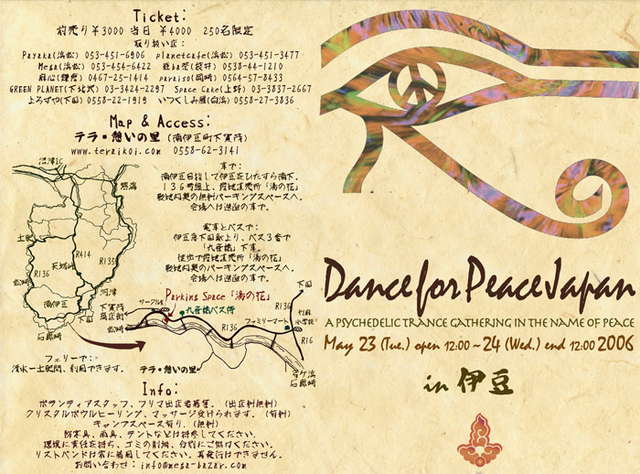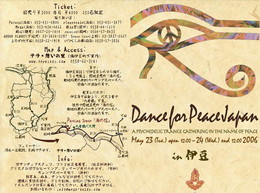 Live
Line Up
Koh Tao (Natural Music-Japan) Kenichi Yamakita (Percussions-Japan) Jun Makino (Vocalist, Crystal Bowls, Flute) Silent Running (Laptop Musician) Belly, Fire Dancers and more...
DJs
Dj Patrizio (DanceForPeace Bali) Dj Didion (Turbo Trance Records) Dj Gerry (DanceForPeace-Bali) Dj KG (Exiles-Japan) Dj Samurai (Stargate-Japan) Dj Hi Life (DanceForPeace-Japan) Dj Eiko (DanceForPeace-Japan)
Chill
Dj Uno (Exiles-Japan) Dj Gu (Payaka-Japan) Dj Chiaki (Moonjuice-Japan)
Info
Info
Welcome to DanceForPeace Japan. This is our second time we are staging this event in Japan. This has been a yearly event in Bali since the 2002 bombing. We hope to achieve the same success here in Japan. Dance For Peace's mission, seeks to raise money through our parties for charitable organizations of good standing. This year's proceeds will be donated to Medecins Sans Frontieres Japan. Do check out their website
[or.jp]
and find out how they are assisting in critical areas of conflict around the world.
A beautiful party happens when all our positive energies converge and are woven into a fabric of peace and love. Bring only your good vibes; there are no strangers here. Dance for love, dance for peace!
Location
Location
Izu, Shizouka Prefecture. Easily accessable via train, ferry or car from Tokyo or Hamamatsu. Teraikoi campsite. Check out location website -www.teraikoi.com.
Entry
Entry
Advance - Yen 3,000 / Gate - Yen 4,000
Organizer
Organizer
Gerry/Koji/Toru - DanceForPeaceJapan