Backend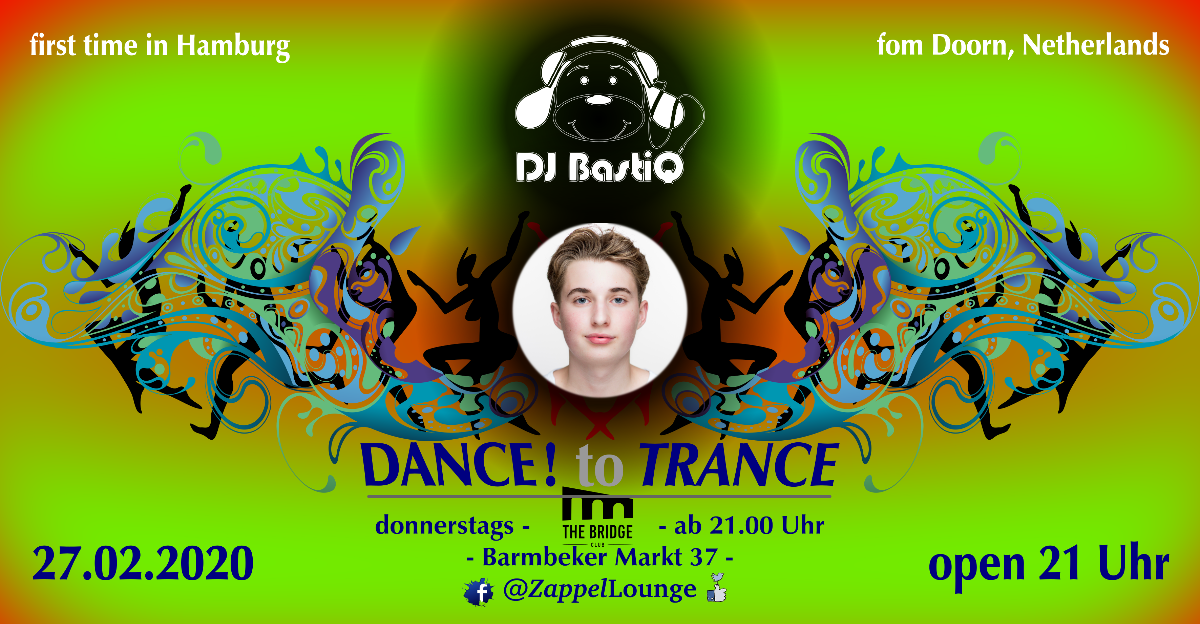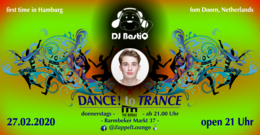 Line Up
🎶🕺🧚‍♂️🎶🕺🧚‍♂️🎶🕺🧚‍♂️🎶🕺🧚‍♂️🎶🕺🧚‍♂️🎶🕺🎶
Zum ersten Mal in Hamburg! DANCE! to TRANCE präsentiert einen ungewöhnlichen Newcomer (bekannt aus SocialMedia, TV & Youtube :-) )
Dj BastiQ (Niederlande)
facebook.com/djbastiq
instagram.com/djbastiq
soundcloud.com/djbastiq
mixcloud.com/djbastiq
youtube.com/djbastiq
BastiQ ist ein junger niederländischer DJ/Produzent aus dem Utrechtse Heuvelrug. Sein Ziel ist es, Menschen mit Musik glücklich zu machen.
Was den Musikstil betrifft, so liebt BastiQ die Melodie, einen schönen Kick und Energie. Im energetischen Bigroom, Progressive, Trance und Psytrance hat er seine Heimat gefunden.
Seit seinem Start im Jahr 2014 als DJ/Produzent ist DJ BastiQ im In- und Ausland auf mehreren (großen) Bühnen aufgetreten, wie zum Beispiel im Ahoy Rotterdam, auf einer Spanien-Tournee während des Karnevals und im Olympiastadion in Amsterdam. Er gab auch Interviews für das nationale Radio und Fernsehen, gewann Preise mit DJing & Produzieren. Als Produzent machte DJ BastiQ die offizielle Melodie für den KPN World Cup Shorttrack 2017.
Seine wöchentliche Radiosendung "Energy of Trance" ist auf mehreren FM-Radio- und Internetstationen zu hören.
(Spielzeit 23.00-01.00 Uhr)
sowie
DiePsyden (ov-silence Music)
[facebook.com]
[click here]
und
Klaustrophobia (ov-silence Music)
[facebook.com]
soundcloud
(Spielzeit 01.00-05.00 Uhr)
und
Me Phy (DANCE!toTRANCE-Booking)
[hearthis.at]
[facebook.com]
(Spielzeit 21.00-23.00 Uhr)
gestalten die Nacht...
🎶🕺🧚‍♂️🎶🕺🧚‍♂️🎶🕺🧚‍♂️🎶🕺🧚‍♂️🎶🕺🧚‍♂️🎶🕺🎶
ACHTUNG!!!!! - Wir planen bis 06.00 Uhr - die VA kann aber schon früher enden. - ACHTUNG!!!!!
🎶🕺🧚‍♂️🎶🕺🧚‍♂️🎶🕺🧚‍♂️🎶🕺🧚‍♂️🎶🕺🧚‍♂️🎶🕺🎶
Info
Moin ihr Feiervergnügten, Tanzwütigen, Liebenden, Liebhaberinnen (ach... usw.)
und FreundenInnen lauschiger Ausflüge in die elektronische Musik!
Donnerstag ist eure "DANCE! to TRANCE" Nacht!
Musikalisch werdet ihr herausgefordert ;-)
Beim "DANCE! to TRANCE" spielen die verschiedensten Djs und Acts der unterschiedlichen Genres Goa-, Psy-, Progessiv- und Alternativ-Trance... aber es gibt auch trancey housey oder elektro proggy - neo psychedelic oder minimalistic tribal Klänge.
DANCE! to TRANCE bietet Euch einen Ort des vergnügten Feierns :-)
Der Abend fängt etwas früher als sonst in Hamburg üblich an.
Der Tanz beginnt ab 21h, damit auch die arbeitenden, erziehenden und die aus anderen Gründen zeitlich gebundenen TänzerInnen mal raus gehen können.
Liked oder abonniert uns unter
[facebook.com]
um besser informiert zu sein.
Wir wünschen Euch eine vergnügliche Zeit und wir freuen uns darauf, Euch am Donnerstag im THE BRIDGE Club zum "DANCE! to TRANCE" begrüßen zu können.
Entry
Entry
Dein Kulturbeitrag sind 5,- Euro
Organizer
Organizer
DANCE!toTRANCE-Crew