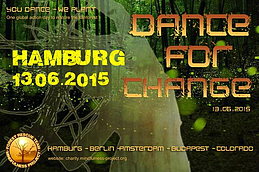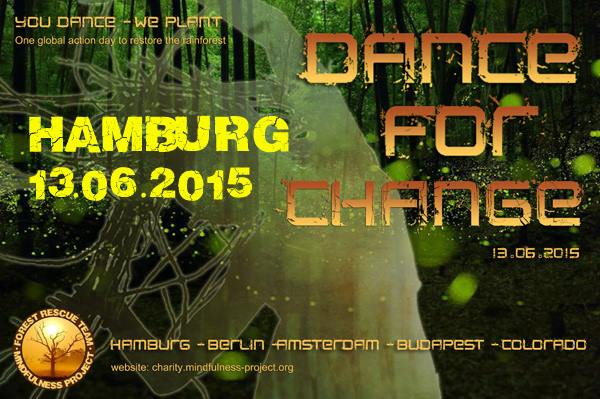 Line Up
Auflegen werden (bisher bestätigt):
Electronischer Floor..................................................................:
Sanjun (Mindfulness Project)
Das Kollektiv (Zappellounge Hamburg)
Janoshi B (Berlin) leider kann sie doch nich nach Hamburg kommen...
El Zisco (
[elzisco.de]
)
Murus (Landmark Recordings)
Alternativer Floor.........................................................................:
DJ n.e.Styles
(Mix of Funk/Soul/Reggae - "New York-Styles in Hamburg")
Museke Mûseke
soundcloud
Über weitere News werden wir euch auf dem Laufenden halten.
Info
>>>>>>>>>>>>>>>> Hier der Einladungstext des Vereins:
(
[mindfulness-project.org]
)
Wir laden euch alle zu dem Dance for Change Event am 13.06.2015 ein!
Als Benefiz Event für unser Mindfulness Project wird dort zu feinster elektronischer Musik die Nacht zum Tag gemacht und gefeiert bis der Arzt, der Papst im Kettenhemd, oder wer weiss wer noch kommt. Wir werden eine Party auf die Beine stellen, in der Kunst, Live Musik und ohne Ende Fun zusammen kommen werden.
Da die Räume nur 200 Personen fassen solltet ihr euch auf jeden Fall eine Eintrittskarte sichern! Wenn ihr Lust habt, zu helfen, zu dekorieren, an der Bar zu helfen o.ä. dann am besten eine mail direkt zu uns:
charity@mindfulness-project.org
"Happiness alone is the cause for love!" (Sri Ramana Maharshi)
Das Dance for Change event ist der Start einer neuen Art Spaß zu haben. Anstatt Tanz, Musik, Kunst, Workshops zu nutzen um Spaß zu haben, wollen wir Spaß, Musik, Tanz und Kreativität nutzen um die Natur wieder zurück zu bringen, Wald wieder aufzuforsten, eine Schule für ganzheitliches Leben aufzubauen und eine außergewöhnliche Gemeinschaft zu erschaffen. Und Du bist teil der ersten Stunde. Tanz in Ekstase und hilf diesem Planeten!
>>>>>>>>>>>>>>>> So weit der Text des Vereins :-)
Laßt uns dieses vertrauens- und hoffnungsvolle Projekt freudig unterstützen!
Location
Freiraum und Zwischendeck
über
dem
Juice-Club
(eigener Eingang, rechts neben dem Club-Eingang)
Entry fee
Entry fee
Damit viel für das Projekt übrig bleibt, können wir keinen direkten Eintritt nehmen.
D.h. wir haben uns überlegt, das das "Eintrittsgeld" eine Spende ist.
Daher ist die Veranstaltung eine Vereinsveranstaltung für Mitglieder. Jeder Gast zahlt einen Beitrag für eine Tagesmitgliedschaft im M.-Pro. e.V. und erhält dafür eine Spendenquittung als Nachweis seiner Mitgliedschaft.
Der Beleg ist dann die Spendenquittung.
[mindfulness-project.org]
und Abendkasse ;-)
Organizer
Organizer
Mindfulness-Project e.V.
Added

7y 9m

· Update

7y 9m

·

/ 174