Backend
Dance Culture: The Dark Psy'd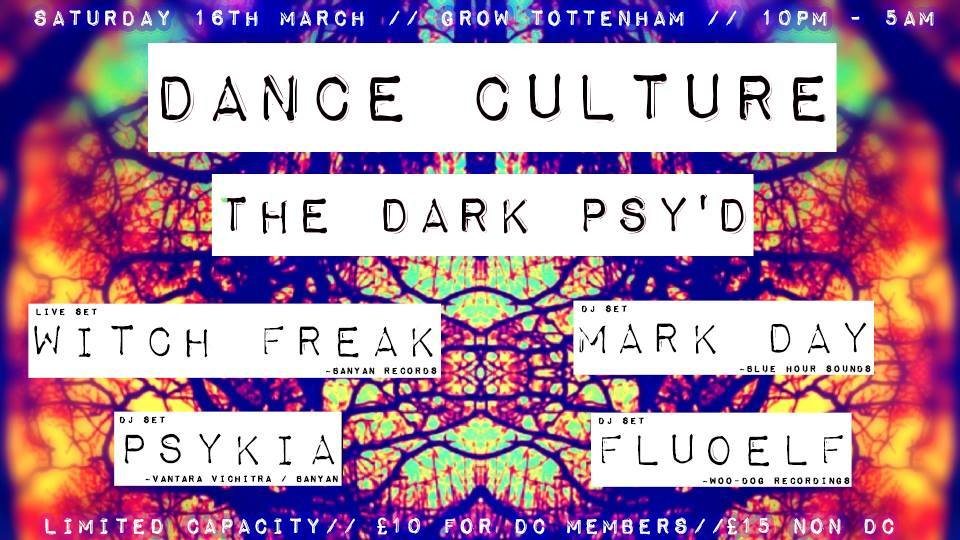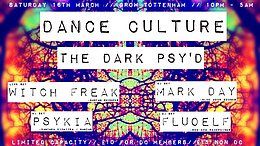 Line Up
▲WITCH FREAK (LIVE) ▲
~ Banyan Records
This striking artist made his first steps in a little Underground studio in Italy back in 2008; soon after he spent 8 years crafting his own sound while living in the vast uncontaminated forest areas of Estonia. Since then his music has intoxicated hedonist minds across the Globe. His live sets are a powerful, twisted fury of groove layered with a deeply organic soundscape.
soundcloud
▲ MARK DAY ▲
~ Blue Hour Sounds
This notorious London legend discovered Psytrance in late 2007, since then he has earnt distinction playing Worldwide as far as India, Indonesia and Australia. Over time mind expanding experiences led him to discover a whole new relationship with music totally reflected in his unique style that consists of layers and layers of atmospheres and heightening sounds. Rinsinggg!!!
soundcloud
▲ PSYKIA ▲
~ Vantara Vichitra // Banyan Records
Psykia is an eclectic and powerful female DJ and Producer originating from Italy. The underground music scene became obvious to her after spending time in Goa in 2008. Exploring all the nuances of the darker side of Psytrance, as well as Progressive, Techno, Chillout AND with a background in academic music theory she has refined her sound to sublimity.
Now DJing for many years Psykia has found her territory spread across the Globe; Brazil, Panama, Sri Lanka, Croatia, Spain, Sweden, India, Czech Republic ETC... We are very lucky to catch her!
soundcloud
▲ FLUOELF ▲
~ Woo-dog Recordings
A nomadic Psytrance DJ and producer from Spain, spinning since 2002. Highly skilled in the mix, his music is a blend of different Psytrance substyles always perfect to fit the vibe of the night. His sets evolve in captivating waves, progressively transitioning, creating a hypnotic flow with a very personal psychedelic spirit.
soundcloud
Info
Info
>>LIMITED CAPACITY<<

>>> PRESENTING: THE DARK PSY'D

We at Dance Culture appreciate a beat, hone audio captivation at its finest and know the experience is far more than what meets the ear. For this night we bring you The Dark Psy'd of the dance floor.

Our artists are Internationally recognised and regulars on the festival circuit who will be providing you the ultimate bass laden hypnotic sounds of DARK and FOREST PSYCHEDELIA.
VERY happy to presenting WITCH FREAK as our special guest!
Location
Location
Grow Tottenham
Ashley House
Ashley Road
Tottenham Hale
N17 9LZ