Damaru Records Labelnight // Release Party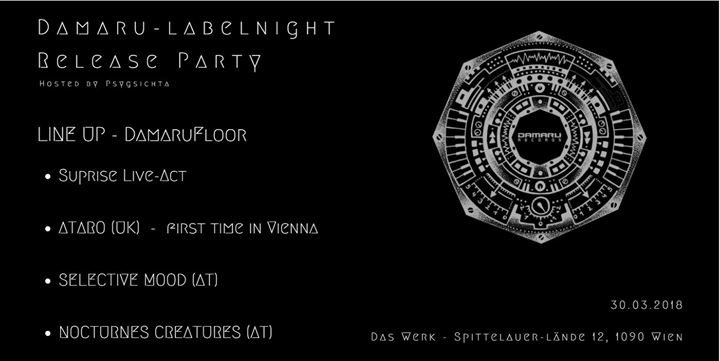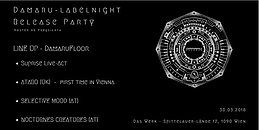 Line Up
DAMARU RECORDS - LABELNIGHT / RELEASEPARTY
hosted by Psygsichta
We invite you to celebrate the release of the next VA Compilation coming soon on Damaru Records :
"Compound 9" - compiled by Selective Mood
For that reason we are happy to announce, that we will be able to present you, for the first time in Vienna::
ATARO, who has been playing in and around the London scene for a few years and then started to get more and more into the production side of things.
In 2010, after he has set up his studio and created his unique Ataro style, which is night time psychedelic trance with heavy chunky basses and rythmical grabbing leads, he soon signed Damaru Records and several others to spread his music all around the globe.
We are very happy to introduce the last Artist we want to present u for this special gathering:
KASATKA, a well known Artist of the Damaru family which has been playing on festivals around to globe. His unique dark style combines heavy basses, timeless melodies and cutting leads to carry u away to fractal spheres.
DAMARU FLOOR
:: LINE UP ::
- Kasatka (DE)
(Damaru Records/Alice D Records)
soundcloud
[facebook.com]
[bandcamp.com]
- Ataro (UK) - first time in Vienna
(Damaru Records / Freak Records)
soundcloud
[facebook.com]
- Selective Mood (AT)
(Damaru Records / Zulutunes)
soundcloud
[facebook.com]
- Nocturnes Creatures (AT)
(Damaru-Records / Masters of Puppets rec.)
soundcloud
[facebook.com]
FOREST FLOOR
:: LINEUP ::
- Chudl
( Banyan Records )
soundcloud
- Charu
( Kodama )
soundcloud
- PanWuWu
( Kodama, Psygsichta )
soundcloud
- Beweggrund
( Alpentrauma Records )
Decorations by Visions of perception
[facebook.com]
-----------------------------------------------------------------------------------------
-----------------------------------------------------------------------------------------
Damaru V.A. Compilation 2018
COMPOUND - 9
Eventlink:
[facebook.com]
ataro (UK) (155BPM)
[click here]
Nano Bugz (DE) (160BPM)
soundcloud
Nocturne's Creatures (AT) (165 BPM)
[click here]
Bombax (DE) (170 BPM)
soundcloud
Organoise (SA) (172 BPM)
soundcloud
Nyama (DE) (Loose Connection Rmx / 175 BPM)
soundcloud
Antagon (DE) (175BPM)
soundcloud
Vector ZT (SA) (178 BPM)
soundcloud
Arcek & Hyperactive 25 Freak Records (MEX / CHE) (186BPM)
soundcloud
//
soundcloud
Pastor JOHN & Selective Mood (SA / AT) (200 BPM)
soundcloud
//
[click here]
Compiled by Selective Mood (AT)
Released by Damaru Records (DE)
Mastering By Laurenz Zipacna Upgespaced (AT)
@ Nocturne's Creatures-Studios (AT)
Cover Artwork by Atim ZT (Timothy Jon Hooper) (SA)
Eventlink:
[facebook.com]
Location
Location
Das Werk Wien
Spittelauer Lände 12, Stadtbahnbogen 331
1090 Vienna