Dalton's bday bash /Spirit of Psychodelic/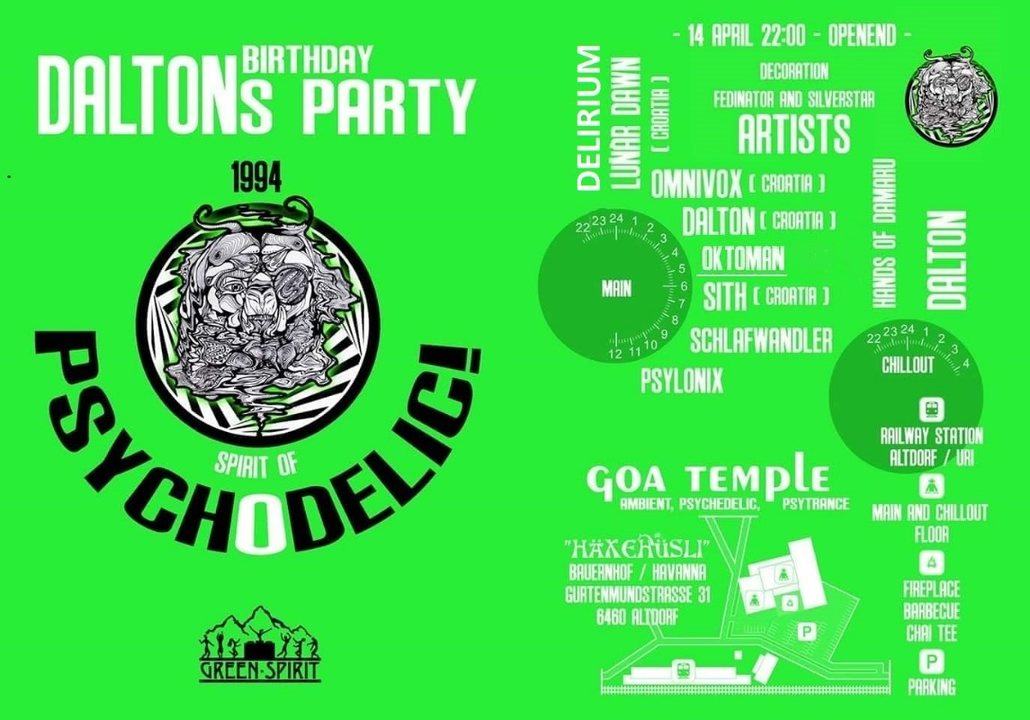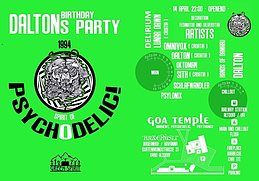 Line Up
HAPPY BIRTHDAY DALTON
--------------------------------------
Die Spirit of Psychodelic haben ihren Schwerpunkt im Psy-Trance und Oldschool Goa.Die Location ist alte Tradition. Schon in den 90ern wurden hier familiäre Parties ausgerichtet. Nur 2 Gehminuten vom Bahnhof Altdorf entfernt und mit ausreichend Parkplätzen optimal erreichbar.
Main
22:00 -00:00
Delirium
00:00 - 01:00
Lunar Dawn LIVE
1st time in Switzerland
01:00 - 02:30
Omnivox LIVE
02.30 -04.00
Dalton
04:00-05:30
Oktoman
05:30-06:30
Sun Sith LIVE
1st time in Switzerland
06:30 - 08:30
Schlafwandler
08:30 - 10.30
10:30 - 12:00
Psylonix
Und auf dem Chillout-Floor werden euch folgende Künstler eure innere Ruhe wiedergeben:
Chillout
22:00 - 01:00
Dalton Trance Teleport
01:00 - 04:00
Hands of Damaru LIVE (1h)
1st time in Switzerland
Die perfekte Kombination aus In- und Outdoor,
Chill- und Mainfloor.
● In unserer Garderobe könnt ihr alles abgeben, was ihr nicht mit euch rumtragen wollt. Während ihr die Nacht (und den Morgen?) geniesst, haben wir ein Auge auf eure Wertsachen. So könnt ihr ohne Bedenken eurer Freude freien Lauf lassen und den Event in vollen Zügen geniessen.
● Auf dem Chillout Floor könnt ihr runterfahren, damit ihr nachher wieder voller Energie die Tanzfläche aufsuchen könnt.
● Unser Wawa Chai Team verwöhnt euch mit Tee, Kaffee, Früchten, Omeletten, Pizza's und vielem mehr. Die ganze Nacht ein guter Ort um zu chillen und sich zu stärken.
[facebook.com]
Deco
Deco
● Silver-Star und Fedinator Deko werden auch diesmal alles geben, um euch UV-Pur und Augenorgasmus zu garantieren.
Entry
Entry
● 30.- inkl. Garderobe von Sa 22:00 - So 12:00

Wir freuen uns riesig auf jedes bekannte und unbekannte Gesicht

- Einlass ab 18 ( Ausweiskontrolle) -