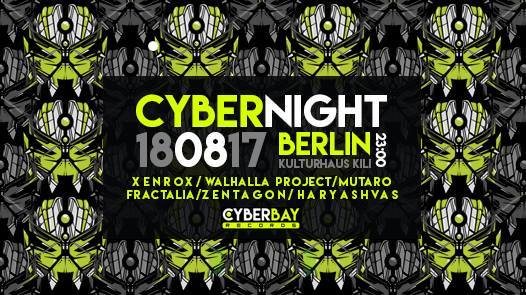 Line Up
Happy to invite u all to this spontanuese cyber meeting in Berlin!!! With tottaly not spontanuese line up!!!
--<<<MAINSTAGE>>>--
<<< XENROX>>> Austria - Live
Our super star, that representing and supporting us from the begining, finaly coming to blast our stage!!!
soundcloud
<<<MUTARO>>> Munich - Live
Our special guest to this night!!!
soundcloud
<<<HARYASHVAS>>> Live
Our newes member, and super talanted artist, will show us what he got !!!
soundcloud
<<<FRACTALIA / Walhalla project >>> Live
Representing new EP - Digital Mantra, and a lot of unrealeased music..
soundcloud
soundcloud
<<<ZENTAGON>>>Israel
Our co-founder, and a label manager coming back for the second round, with the heavy weight beats!!!
soundcloud
--<<<Second Alternative Stage>>>--
<<<Gato Louco>>>
Our resident, will open the Secod stage this time, with some Psychedelic Dub, Downtempo, IDM tunes
<<<Synthtikz>>>
After a succesful Debute set on our last party we happy to host him again!!! With Some Dub, and downtempo stuff
soundcloud
<<<RAH>>>South Africa - Downtempo / Zenon-style
Our special guest from SA, better known by his main prog project Portal -
soundcloud
will play some groovy night, zenon tunes.
<<<[Domski - BassImpacters]>>
Happy to host again Domski with his killer D'n'B, Brae sets!!!
facebook.com/domski.ber
Soundcloud.com/domski-ber
Hearthis.at/domski.ber
Once again we will present some finest art works from the Cube gallery:
[facebook.com]
[instagram.com]
Organizer
Organizer
CyberBay Records