Backend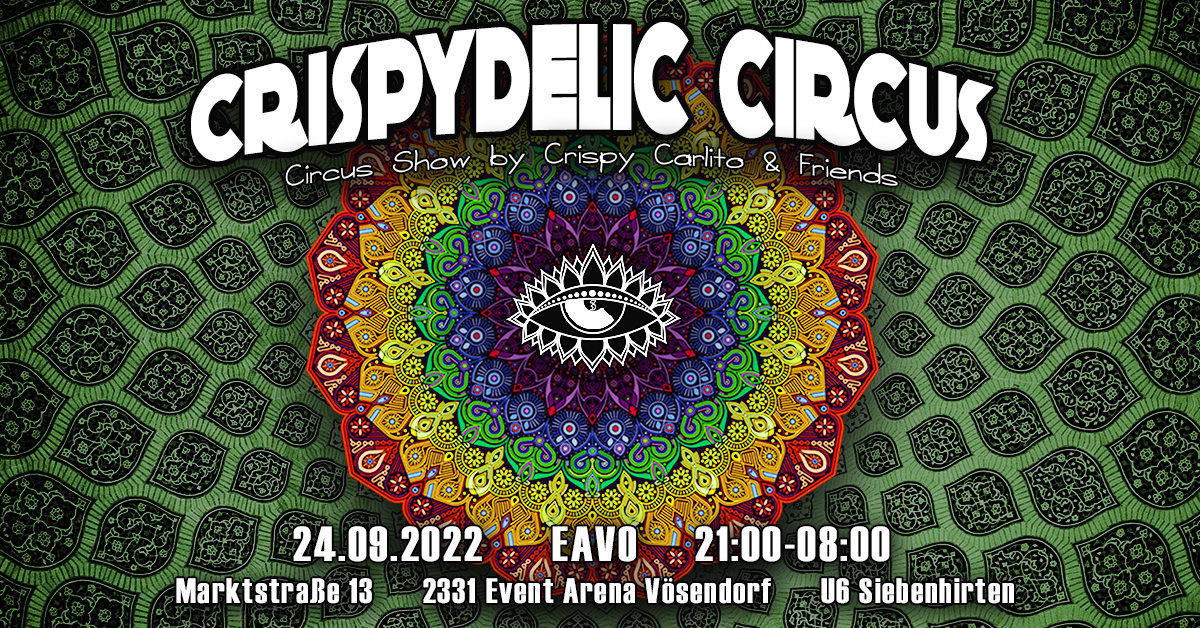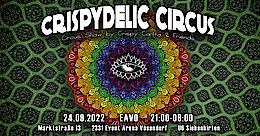 Info
C³ - Crispy Chaos Crew presents...
🤡🎪Crispydelic Circus 🎪🤡
✮ PERPETUUM & FUNKSHAPE LIVESET ✮ CIRCUS SHOW BY CRISPY CARLITO & FRIENDS ✮ EXTENDED Opening Hours till 08:00 IN THE MORNING ✮ Massive LAMBDA LABS Soundsystem ✮ Psytrance, Psychedelic, Nightpsy & Hitech ✮ KAJOLA ✮ ANJOLI ✮ KRI ✮ AKASHA NASHA ✮ WAYA WHATURA ✮
Liebe Freaks & Fraggles,
🥳 ES IST WIEDER SOWEIT! 🥳
The CRISPYDELIC CIRCUS is in town! 🥳🤹🎉
Da wir letztes Jahr so unglaublich viel positives Feedback von euch bekommen haben und das Konzept so aufgegangen ist, möchten wir unseren Crispydelic Circus wiederholen und diesen Spektakel noch einmal mit euch zelebrieren!
Wer im September 2021 dabei war, weiß was ihn erwartet: Eine fantastische Outdoor Zirkusshow organisiert von unserem lieben Crispy Carlito (der auch seinen Geburtstag bei uns feiert!), fetziger Psychedelic Sound Indoor, Deko die sich sehen lassen kann und jede Menge Spaß bis 8 Uhr morgens!
Einlass ist bereits ab 21:00 Uhr – die Outdoor-Zirkusshow (EINTRITT FREI!) startet um 21:30 Uhr, bei Schlechtwetter findet sie Indoor statt.
Crispy Carlito bringt zu seinem 31. Geburtstag viele seiner Artisten-Freunde mit. Etwas länger als eine Stunde lang wird uns die Truppe ein herrlich amüsantes Programm zum Staunen bieten. 🎪
Wer die Gelegenheit nutzen möchte, als Artist an der Show teilzunehmen und mal öffentlich vor einem Publikum aufzutreten: Bitte direkt bei Crispy Carlito per Whatsapp melden! (+43 660 2709911) 😊
Auch während der Party wird es eine Menge lustiger Jonglier-Action geben! Wer danach erst recht Lust bekommen hat mit uns Indoor in der Event Arena Vösendorf weiter zu feiern, kann sich ein Band an der Kasse holen.
Für so einen Anlass darf ein knackiges Lineup natürlich nicht fehlen! Deswegen haben wir mit 🔥 PERPETUUM & FUNKSHAPE 🔥 (Hyprid & Psyco Rec.) gleich zwei großartige LIVE Acts für euch organisiert, zu deren Sound wir unter anderem bereits am Masters of Puppets Festival abshaken durften!
Außerdem mit dabei sind:
🌟 KAJOLA (Zero Gravity), der bereits seit vielen Jahren in der Psytrance Szene vertreten ist und zu den großen Namen in der heimischen Szene zählt.
🌟 ANJOLI (FLOW EV) die ebenfalls bereits lange dabei ist und auf vielen kleineren und größeren Events rund um Österreich und Deutschland mit ihren knackigen DJ Sets überzeugt hat.
🌟 KRI (Masters of Puppets) der für seine hervorragenden Sets auf Events von Psyperience, Masters of Puppets, uvm. bekannt ist!
Und zu guter Letzt natürlich die DJs aus dem Hause Crispy:
🌟 AKASHA NASHA, sowie WAYA WHATURA AKA ARSENIC b2b LENYA (C³ - Crispy Chaos Crew), die mit ihren etwas schnelleren Psychedelic Sets für knusprige Luft am Dancefloor sorgen werden!
🏢 Als Location haben wir uns die neu gestaltete 2. Halle in der Event Arena Vösendorf ausgesucht: Mit neuem Konzept, glasklaren Lambda Labs Setup von der Leihwand Crew und einer verlängerten Sperrstunde bis 8 Uhr steht einer langen, ausgelassenen Crispy Feier nichts mehr im Weg!
Die zweistöckige Location bietet das perfekte Ambiente, um sowohl in ausgelassener Ekstase zu stampfen, als sich auch in einer der reichlich vorhandenen Sitznischen zu entspannen, wobei man dem bunten Treiben am Dancefloor zusehen kann!
An Gründen zum Feiern mangelt es definitiv nicht, also kommt vorbei und feiert mit uns als ob es keinen Morgengrauen geben würde! 😃
Auf eine knusprig-verrückte Nacht mit euch!
See Free, Stay Crispy & most important: Stay healthy! 😉
C³-Crispy Chaos Crew
▬▬▬▬▬▬▬▬▬▬▬▬▬▬▬▬▬▬▬▬▬▬▬▬▬
Ƹ̴Ӂ̴Ʒ DECO Ƹ̴Ӂ̴Ʒ
T.B.A.
🎪 SHOPS 🎪
T.B.A.
▬▬▬▬▬▬▬▬▬▬▬▬▬▬▬▬▬▬▬▬▬▬▬▬▬
Ƹ̴Ӂ̴Ʒ HARDFACTS Ƹ̴Ӂ̴Ʒ
Event Arena Vösendorf - Halle 2 Marktstrasse 13, 2331 Vösendorf
(100m von der Stadtgrenze Wien entfernt - nähe U6 Station Siebenhirten!)
Freitag, 24.09.2022, 21:00 - 08:00 Uhr
▬▬▬▬▬▬▬▬▬▬▬▬▬▬▬▬▬▬▬▬▬▬▬▬▬
✮ AK ✮
€ 15 ALL NIGHT!
Geburtstagskinder vom 24. & 25. September haben GRATIS Eintritt! Ausweis nicht vergessen!
Eintritt ab 18 Jahren!
▬▬▬▬▬▬▬▬▬▬▬▬▬▬▬▬▬▬▬▬▬▬▬▬▬
Ƹ̴Ӂ̴Ʒ ANFAHRT Ƹ̴Ӂ̴Ʒ
🚆 Öffentlich: 🚆
✮ U6 bis Meidling und von dort mit der Badnerbahn bis "Vösendorf – Siebenhirten"
✮ U6 bis "Siebenhirten" und von dort mit dem Bus 266 oder zu Fuß (15min)
🚗 Anreise mit dem Auto: 🚗
✮ Tangente Abfahrt Inzersdorf Südautobahn Abfahrt Mödling SCS und dann über die B17 S1 Ausfahrt Vorarlberger Allee
🚕 Anfahrt mit dem Taxi: 🚕
✮ Wiener Taxi (zB 40100) ohne Aufpreis direkt vor die Location
✮ Bolt -
[bolt.eu]
✮ Uber -
[uber.com]
Location
Event Arena Vösendorf
Marktstraße 13
2331 Vösendorf
Organizer
Organizer
C³ - Crispy Chaos Crew