Backend
CRASHED FREQUENCIES - Ankur | Karash | Olien | Frechbax Live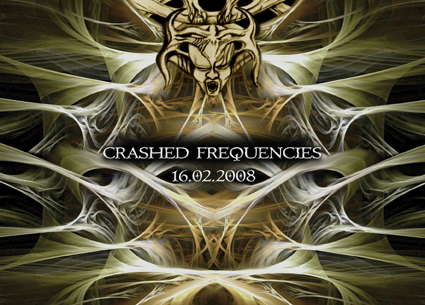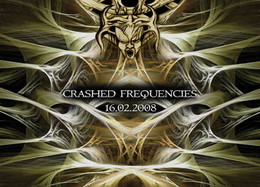 Line Up
Psychedelic
-- ANKUR --
(Noise Poisen Records/Mass Abduction Records) - Germany
Ankur is spinning records under his real name with 50% blood from India, but grew up in the Westsite of Germany. His first contact with electronic music came with the trance wave back in 1999 through his older brother. He started mixing in 2001, and is producing since 2004.... A trip to Goa in 2003 changed his direction into the more psychedelic kind of trance music, and therefore rapidly started to play in that direction. Shortly after he hooked up with Highko and got a member of the Noise Poison Rec crew. Nowadays he is living in Berlin promoting a 2nd label from Arizona, USA (Mass Abduction Rec), producing in his home studio for his soloproject, with terranoise as Terrakur and with his flatmate (Galactic Disco) under the projectname "Virgin suicide". his main idea is to to spread music wich is powerfull and highly psychedlic/experimental so as danceble as possible.
[noise-poison.com]
[myspace.com]
-- KARASH --
(Cerebral Factory/Kabrathor Records/Mass Abduction Records) - Swiss
Karash is born August 30th, 1979 in Nice (France). Very early, his father made him discover Rock music and Blues. Jimmy Hendrix, Led Zeppelin, The Beatles, Rolling Stones, Pink Floyd, & were his first musical experiences. Over the years, he developed interest in other music styles like Punk, Metal, Reggae, Experimental and also Classical. A special mention for Magma, a group that has been particularly influential for him.
One day, one of his best friend (Noon alias Joan)made him listening to a track of Shiva Shandra...That was a real shock! "It's possible to do that with synthetizers!!!"
Year 2000 was the first contact with Goa music. He is completely captured by the vibes and the sounds. He had found his way. In 2002, Karash began to produce sound just for the fun. In 2003 he joined the MTS(MantraTribeSystem) in order to organize parties around Geneva with the help of Padma (a well known DJ in the swiss French region) and also to have the opportunity to play live act under the name of MTS. When he first met Electrypnose at an after party, Karash was just killed by his sounds and his music style. This was the beginning of a true friendship that led to a joint produced album under the Cerebral Factory project. Karash has now signed tracks on D-A-R-K.net, on Dark Prisma Record and Peak Record with Electrypnose. Karash is now a Kabra friends and he just released with Electrypnose, their first split album on Kabrathor record, under the project "Cerebral Factory"
[karash.fr]
-- OLIEN --
(Trishula Records/Triplag Records) - Germany
Born in the south of Germany, Freiburg in 1980.
His first contact with electronic music was with the Cybertribe where he went to techno parties at the time. From there on he went through several music styles from acid house to psytrance and als ambient music with the same spirit.
In 1995 he installed Cubase and Rebirth on a 4400Mac and bought his first MPC2000 and started producing his own style of music, later on he purchased a Korg Z1. Now he is producing his music with the use of a PowerMac and Logic7.
His first released tracks were on the Mechanophobia compilation, released in March 2006 and a chill out track on the "A Magical Journey 2" cd at Ajana Records.
His musical spectrum for producing ranges from Goatrance (more melodic) to psytrance (faster and more psychedelic) and chill out music. He uses many instruments in a track like weaving a tapestry out of different fades. You could call it multi layered music.
His debut album Sounded Paratronic is released at 30 March 2007.
[myspace.com]
Progressive
-- FRECHBAX --
(Ajana Records) - Germany
Frechbax is a german trance project of Sebastian Auer. After visiting trance parties for some time he found the way to producing his own music in 2001 and one year later he played his first live live acts in small underground parties in South-Germany and Switzerland. He produced a lot of tracks since than and soon developped his unique sound consisting of progressive beats and psychedelic melodies. His debut album was released in 2005 at Ajana Records.
[myspace.com]
Info
LINE UP PSYCHEDELIC FLOOR
22:00 - 01:00 Clocharg DJ
01:00 - 02:00 Olien LIVE
02:00 - 03:30 Karash LIVE
03:30 - 05:30 Ankur LIVE

LINE UP PROGRESSIVE FLOOR
22:00 - 00:30 Tri DJ
00:30 - 03:00 Frechbax LIVE + DJ
03:00 - 05:30 MixedByMicha DJ

LINE UP AFTER HOUR
06:00 - 08:30 Ankur DJ
08:30 - 10:30 Nagmanda DJ
10:30 - ??:?? OPEN

• NEW LOCATION DIRECTLY IN FREIBURG!!!!
• cheap drinks

:::::::::::::::::::::::::::::::::::::::::::::::::::::::::::::::::::::::::::::::::::::::::::::::

+ AFTER HOUR with Chai | Coffee | Breakfast | Fruits
from 06:00 - open end
10min to walk

:::::::::::::::::::::::::::::::::::::::::::::::::::::::::::::::::::::::::::::::::::::::::::::::
Entry
Entry
10€ inkl. After Hour / 3€ only After Hour