Backend
COYA Psychedelic Trance Open Air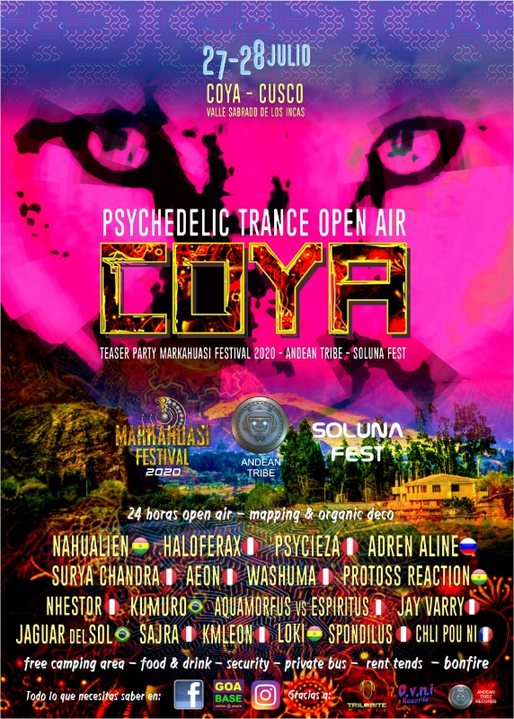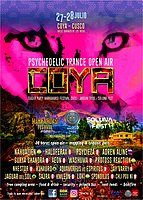 Deco
Inti Runas
Dp decor mafia
Info
The union creates the force, of this form is like old and new rituals
are united in this magical outdoor party in the heart of the Sacred Valley of Cusco.
The COYA, princess, sister and queen, awakens harmony, the feminine side,
the creation and prosperity, developing our supreme being that we are
ourselves without doubt a glass of gold.
Loyalty Who gives us breath, eat and drink. Thank you Pachamama.
A new cycle, a new era begins. In confidence, experiencing space-time.
In Consciousness, the creators that we are. Free souls, in joy and light,
a great sharing from heart to heart ...
Tickets pre sale:
Cusco
Rainbow Spirit
tandapata 649 san blas cusco
De lunes ah domingo ..open
[facebook.com]
Qilla tattoo..
Calle chihuampata. 543 San Blas
Cusco..
De lunes ah domingo.. open
[facebook.com]
Kaypacha cultural Restobar..
Calle tecsacocha 148 centro histórico de Cusco ..
Abierto .. 16:39 pm ah 00:00 am
[facebook.com]
Cusco:
wathsapp +51973509808
Lima:
wathsapp +51961856802 / +51991463790
La Paz / Bolivia
WhatsApp +59169839636
Location
COYA / Valle sagrado de los Incas /
Organizer
Organizer
Trilobite Music
Andean Tribe Records
Soluna Fest