Backend
Cosmic Vibes - JON BOVI & Satori LIVE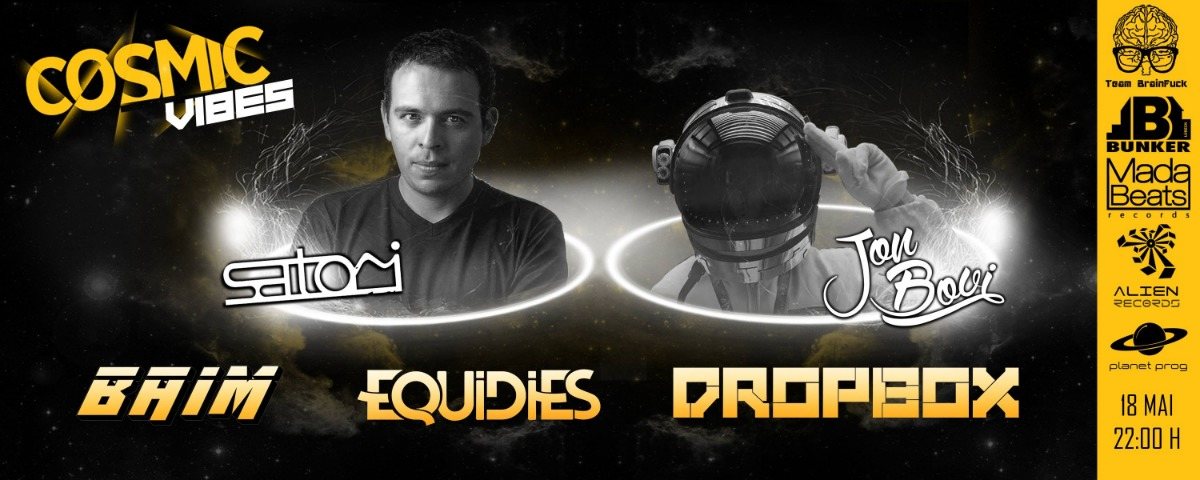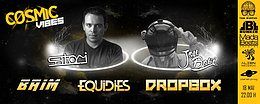 Line Up
▂ ▃ ▄ ▅ ▆ █ LINE UP █ ▆ ▅ ▄ ▃ ▂
LIVE:
🚀 JON BOVI // MADABEATS RECORDS // 👽
From out of this wad morld, check out this unique style which will transport you to outer space.
A wide collection of influences including psychedelic, progressive, electro, blues, marijuana and others to make it a smooth piece of work.
Spotify:
[goo.gl]
Soundcloud:
soundcloud
Youtube:
[youtube.com]
[facebook.com]
🚀 SATORI // MADABEATS RECORDS // 🇲🇽
Satori is one of the most explosive and respected artists in the Mexican scene and pioneer of the new era of progressive psytrance in Mexico. A few years to transform satori in a project of Progressive Trance. The music of satori has already been around the globe, and vibrated the dance floors of big festivals worldwide. Satori's music is a combination of powerful bass lines, enveloping atmospheres and creative melodies, creating stories in each of its tracks. perfect for even the most demanding tastes!
soundcloud
[facebook.com]
🚀 BAIM // WTR REC. // 🇩🇪
soundcloud
[facebook.com]
DJ:
🚀 EQUIDIES // PLANETPROG // 🇩🇪
soundcloud
[facebook.com]
🚀 DROPBOX // PLANETPROG // 🇩🇪
soundcloud
[facebook.com]
🚀 SPYRO // INFINITY PROJECT // 🇩🇪
[facebook.com]
Deco
Deco
▂ ▃ ▄ ▅ ▆ █ DEKORATION █ ▆ ▅ ▄ ▃ ▂
ChaosOptix Decoration
[facebook.com]
Info
•●✹●• COSMIC VIBRATIONS •●✹●•

PROGRESSIVE / PSYCHEDELIC / FUTURE

Nach unserem ersten Event im Mai 2016 im Schuppen D wurde TBF-Events gegründet.
Seit her konnten wir 18 weitere Event Projekte
in Lübeck und Umgebung realisieren
und 19 internationale Live Acts nach Lübeck
holen, darunter 12 das erste mal nach Deutschland.
Ohne eure Unterstützung auf unseren Events
wäre dies niemals möglich gewesen❤️
Zu unserem 20. Event und 3 jährigem Jubiläum
haben wir 2 ganz besondere Live Acts aus Mexiko
für euch gebucht.
Beide waren bereits im März 2017 bei uns
das erste mal in Deutschland und haben mit ihrer Musik
eine einzigartige Atmosphäre auf dem Dancefloor geschaffen.
Wir freuen uns darauf beide wieder Live im Bunker Lübeck
präsentieren zu dürfen!


Samstag, 18. Mai 2019 im Bunker Lübeck!


RULES

ૐ STRIKT AB 18 JAHREN
ૐ AUSWEIS & TASCHEN KONTROLLE
ૐ KEINE GEWALT
ૐ KEINE DISKRIMINIERUNG
ૐ KEINE SCHLECHTE LAUNE ;)
Location
★★★ ANREISE/ LOCATION ★★★
EVENTLOCATION BUNKER
ZIEGELSTRAßE 2A LÜBECK
[facebook.com]
Vom Hauptbahnhof Lübeck zu Fuß in 5 Minuten erreichbar:
Einfach über die Brücke neben dem Hauptbahnhof in der Fackenburger Allee bis zur Aral Tankstelle gehen und dann links in die Ziegelstraße einbiegen. Nach 100 Metern kommt rechts unverwechselbar der Bunker.
Entry
Entry
★★★ Eintritt Abendkasse ★★★

12€