.:: COSMIC AWAKENING 2 ::.
Magical Land Of Emerald Isl… ·
Ireland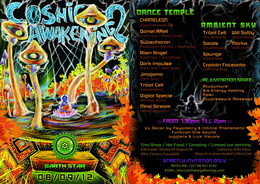 Line Up:

19:30 --- 20:00 >>> *** OPENING CEREMONY ***

::: DANCE TEMPLE :::

20:00 >>> TRIBAL CELT (Independent)
22'00 >>> DIGITAL SPECIE (Remedy Music)
23:30 >>> JIMAJAMA (Earth Star)
01:00 >>> SUBSAHARAN (Subsystem Records / Neutronyx)
02:30 >>> DARK IMPULSE (Earth Star / Aum Veda)
04'00 >>> DANIEL RRELL (Earth Star / Druid Circle)
05:30 >>> CHAMELEON (Liquid Records) UK
07:00 >>> ALIEN ANGEL (Earth Star/Quest4Goa)
08:30 >>> MIND STREAM (Mind Expanders)

10:30 --- 11:00 >>> *** SPIRITUAL RITUAL ***

11:00 --- 14:00 >>> *** SURPRISE DJ SET ;) ***
Chill
::: AMBIENT SKY :::

20:00 >>> WILL SOFTLY
22:00 >>> SOTOLS
00:00 >>> SPUNGE
02:00 >>> MARKA
04:00 >>> TILLY BILLY
06:00 >>> CAPTAIN FACEPALM
08:00 >>> TRIBAL CELT
Deco
Uv Decor by:
* Infinite Phenomena
* Psyometry
Info
Dear cosmic friends...
At this time we are approaching a new season and change is upon us.... with changing leaves & changing skies, a changing earth & changing cosmos.... it is a time to reawaken ourselves and embrace these changes into our hearts... and so, we invite you ALL to come once again and dance with us beneath the stars... upon a special land where mushrooms come to life and trees breathe a magic energy... we will gather together in celebration of life & love, music & dance, as we welcome in a new year ahead of COSMIC AWAKENING***
Returning to a sacred space we feel blessed to have the opportunity to join together to provide you with a magical mix of psychedelic wonder.... visual feasts and musical treats for your eyes and your ears and your dancing feet...
~A special opening ceremony will welcome you all at 7.30pm where we will begin with some earthy drumming.... music then begins @ 8pm in both spaces the Dance Temple & Ambient Sky until 10.30am when we will take a half hour pause to welcome the day with a spiritual ritual... from 11am we will have a surprise act to keep you dancing til 2pm.... ***
~Nourishing food & chai will be provided throughout the night by * InTents Cafe' * to keep your heart & soul warm... ***
~ A Rejuvenation Space will be available all night from the beginning, providing anti-hangover acupuncture & soothing acupressure massage to help ease tensions & calm the mind, to keep you revitalized and able to dance till dawn and beyond... *** this space is available for all to come, sit, meditate, relax within but a suggested donation of just 10euros for treatments is recommended for our very special rejuvenation fairy...***
~~~~please respect your own self, the one beside you, our mother earth, and the sky above~~~
---------------------------------------------------
::: Powered by FUNKTION ONE SOUND
Rejuvenation Space:
* Acupuncture
* Bio-Energy Healing
* Reiki
* Acupressure Massage
Chai Shop / Hot Food / Camping / Limited car parking (parking is free to those with 3+ in their cars)
:::Gates open 6pm on Saturday and Music begins 8pm and goes till 2pm on Sunday:::
The Gathering of Tribes
Magical Location situated in West Cork, Ireland
Tickets are by invitation only and directions to the event will only be sent on the day once prebooked....
*** STRICTLY INVITATION ONLY ***
INFOLINE: +353 86 0514543
EMAIL:
info@earthstargatherings.com
*** BOoM SHanKAr ***
~ We would like to add a small side note to those interested in joining us... this event is purely a psychedelic union... there will be NO techno, dubstep, minimal, drum n bass or tech house ~ this is our passion, ALL are welcome to share ~
Location
The Gathering of Tribes
Magical Location situated in West Cork, Ireland

Directions:
*from Cork City* -get to South Ring Rd N22 -follow N22 for 21Km -left onto N71/Bantry Rd (R585) for 2.3Km -left onto Bishop Galvin Terrace/ R585 follow for 20Km -take a slight right to stay on R585 for 24Km till KEALKILL -right at JC Collins Pub, @ the bottom of hill take right, follow Rd around to CARRIGANASS CASTLE, @ Castle take left and follow the yellow arrows.... DRIVE SAFE.... *** BoOm ShanKar ***
Entry fee
Entry fee
::: Admission 10 stars till August 24th
::: After 15 stars if available
Added

11y 2m

· Update

10y 4m

·