Backend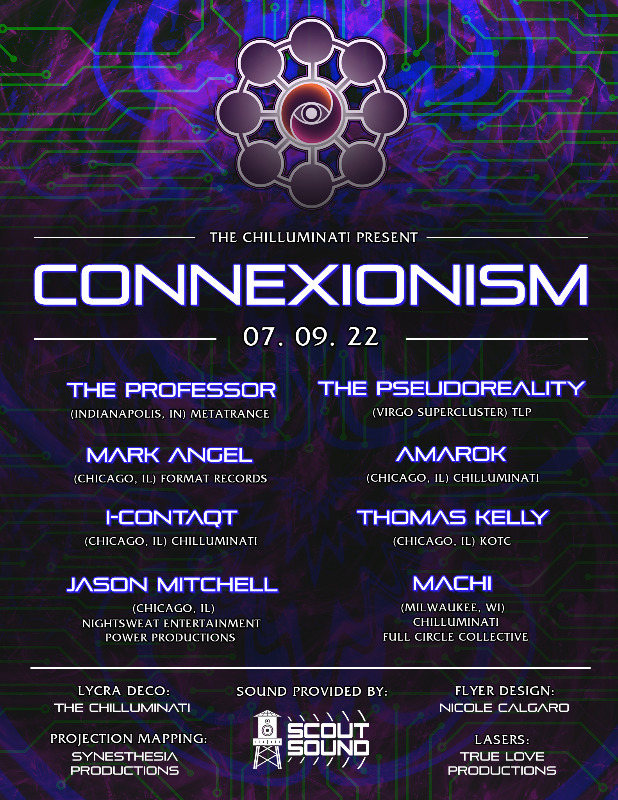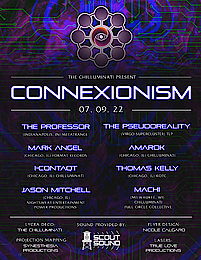 Line Up
******DJ Lineup******
The Pseudoreality .:. Virgo Supercluster
(T.L.P)
soundcloud
Machi .:. Milwaukee, WI
(chilluminati)
(full circle collective)
soundcloud
Jason Mitchell .:. Chicago, IL
(Nightsweat Entertainment)
(Power Productions)
soundcloud
I-Contaqt .:. Chicago, IL
(chilluminati)
soundcloud
Thomas Kelly .:. Chicago, IL
(KOTC)
soundcloud
Mark Angel .:. Chicago, IL
(Format Records)
[format-rec.net]
Amarok .:. Chicago, IL
(chilluminati)
soundcloud
The Professor.:. Indianapolis, IN
soundcloud.com/professors_lab
mixcloud.com/professors_lab/
Info
Our mission is to create a space of higher consciousness and connection in the Chicagoland area and it's surrounding region. By bringing together like minded people and sharing our passion for art and music.
We focus on creating a escape from the everyday mundane reality we live in by using cutting edge psychedelic music, professionally made U.V. Lycra stage deco, U.V.installments all over the venue, projection mapping and some of the best people you will ever meet!!!!
Connexionism is an one night 2 stage psychedelic music event located in the industrial district near Midway Airport.
For this edition we are bringing two genres that are close to each other at the roots but have their distinct differences that make them unique.
***PSYTRANCE***
***TECHNO***
Admission is restricted to ages 21 and up and there will be strict ID checks at the door. We encourage you to purchase pre-sale tickets to guarantee admission and to save a few bucks.
$15- Pre_sales available April 2nd
Price will increase to $20 Beginning of June
$30 A.T.D
(R.O.A.R. (or Right Of Admission Reserved) is in effect for this event. This means that your participation is voluntary and at our sole discretion. The Chilluminati reserve the right to refuse entry or make anyone leave the event at any time for any reason, or no reason.
Absolutely NO UNDERAGE DRINKING, NO DRUGS, NO WEAPONS, NO DRAMA.
Connexionism IS A LEAVE NO TRACE EVENT. This means that you are expected to pick up after yourselves.
Organizer
[facebook.com]
About The Chilluminati:
-Psychedelic trance, chill and ambient are the music that we play. Music in itself is a transformative and psychedelic agent.
-Our gatherings are more than music. They are multidimensional and multifaceted experiences-incorporating musical, visual, art and kinetic performances, as well as interactive workshops and community.
-Our gatherings are about transformation and becoming. Whatever your sense of spirituality is, you bring that to the event.
-At our gatherings everyone takes responsibility for the event, others and themselves.
-Our gatherings have an atmosphere and a vibe. It is a field of energy that connects us.
-Our gatherings are about expressing yourself, being creative, and being an individual.
-Our gatherings are inclusive and open.
-Our gatherings are both local and planetary; reflective of the American Midwest, yet global and culturally diverse.
-We respect local laws and customs.
-Our events are a gift which we all (organizers, artists, DJs, stagehands and attendees) give to each other. This is not about money, commercialization and exploitation. This is not a product; this is a community.