Connection Festival Teaser Party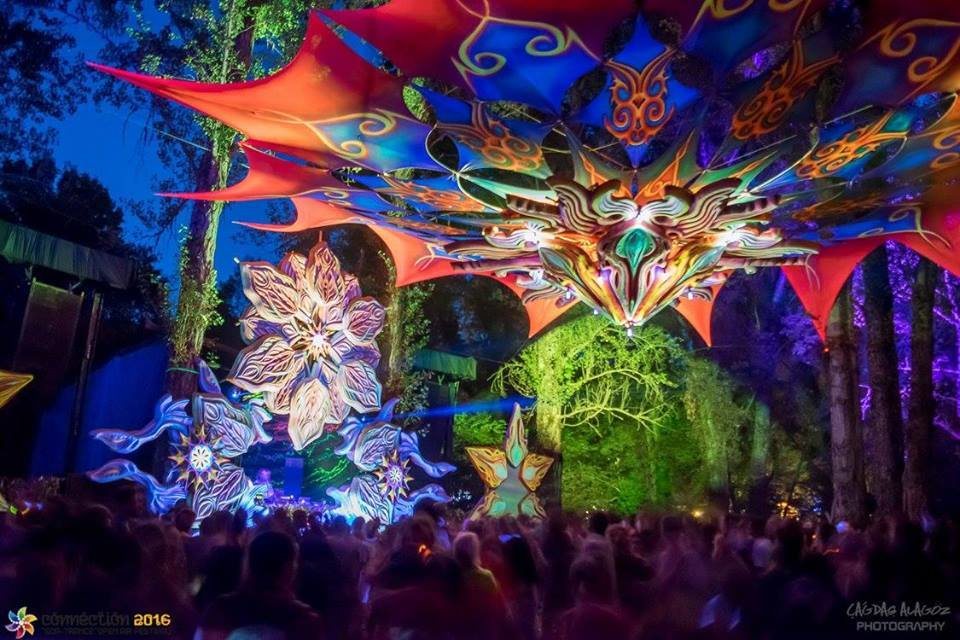 Line Up
╔═.♥.═════════════╗
CONNECTION FESTIVAL
TEASER PARTY
╚═════════════.♥.═╝
★★★◉ CONNECTION STAGE ◉ ★★★
★ ★ ★ DUST ★★ ★
✔ (Nano Records)
♬
soundcloud
★ LORD FLAMES ★ Spain
✔ Suntrip Records
♬
soundcloud
★ MALORY GOA ★ Spain
✔ Goa Madness Records
♬
soundcloud
★ RAVEHEART ★
✔ (Evil Corp)
♬
soundcloud
★ AMNESIA ★
✔ (Evil Corp)
♬
soundcloud
★ SHIYSMA ★
✔ (Magma Records)
♬
soundcloud
★ NICHOLAS ★
✔ (Magma Records)
♬
soundcloud
★★★◉ SOUNDTREK STAGE ◉ ★★★
●ALIEN J.● (Special Live Set KORG)
( Soundtrek)
soundcloud
Alien J AKA Jibbo. Nato nel 85 in Brasile arrivato in Italia nel 2001 con la passione per la musica già iniziata nei vari movimenti state punk hardcore melodico californiano. Ha dedicato la sua vita con un basso e una chitarra per vari anni della sua gioventù. Nel 2007 inizia la sua passione verso la musica elettronica e nel 2009 decise buttarsi sulle produzioni analogiche e hardware. Inizia così il periodo delle sue electribe Dove ha avuto il primo impatto a un contest del vecchio ARCI Q a Fidenza nel quale ha vinto. Avendo così occasione di spalleggiare dj di grande calibro come VANDAL, NEUROKONTROL, DKBROTHERS, MINIMANIAC, JOHNNY NAPALM tra tanti altri. La sua musica scorre per tutta l Emilia nei principali locali della scena tekno hardtek. Da Fidenza a Bologna (zoom, kindergarten) a Parma (Mu) Reggio Emilia ecc. Nella aprile del 2014 viene osservato dalla squadra HARDBITCH che ha voluto fortemente portare la sua scena nel Veneto iniziando così la sua prima esibizione al JACK HOLE a Vicenza spalleggiando gli OKUPE PROD. Crea francese che ha fatto la storia sulle produzioni hardware. L impatto è stato unico. Tanto che subito e stato invitato a spalleggiare i canadesi dei ZONE33 al revolver club di San dona VE. Da questa esperienza viene chiamato per la prima volta nel Friuli all etnoblog a TRIESTE nel quale ha sostenuto GOTEK / MASKK KERNELPANIK E IXINDAMIX (SP23) nel quale ha decisamente fissato il suo potente calibro in tutto il nordest italiano nell arco del 2014/2015 sostenendo altre serate con JULIAN VEGAS E MYSSIL NONEM / HAZARD UNITZ CREW / KEV ACID ANONIMOUS e eventi grossi come la prima edizione del MALEFIK. A fine 2015 decise puntare il ritorno nei vari free party in tutt Italia dove a capodanno al teknival 2015/16 ha consacrato definitivamente tutta l Italia col suo live Grazie al sostegno dei PIRATE CIRCUS / BADUNIONZ / MADFAMILY E TANKO SOUNDSYSTEM. Ha partecipato così ai vari free party collaborando alle varie crew HAZARD UNITZ / MECHANIKA / CIRKUS ALIEN / TEKNO NOISE / NOPOLITIC / BABBUZZI / FAMILYTEK / KAMOS / EQUIPE23 /CIRCUIT GANG tra tantissimi altri... Così è stato invitato nel centro Italia per la prima volta come spalla a ALIFER & SHOCKRAVER e la prima data alla estero in austria. ha concluso il 2016 attivo nel cuore bolognese e centro italia in varie serate e allo witchtek del 2016 e al NYE 2016/17 spalleggiando artisti come PENN-AK / K-LUIS / NADER e altri grossi pezzi di calibro della scena italiana. Nel 2017 ha cominiato ad approfondire la passione per le machines cominciando ad ampliare il setup. aggiungendo suoni modulari, pedal combos, strumenti analogici iniziando la sua piccola "cabina di pilotaggio" manipolando ogni singolo suono dando un tocco piu tecnico e progressivo. Ha avuto alcuni impatti con il suo primo release ASTRO SONG su TEKNO CITY RECORDS. ha partecipato nelle piu gran date Legali vari teknivals parties nel quale oggi il suo virus ha avuto una gran diffusione in tutt italia. avendo un occasione di suonare accanto al suo idolo e grandissima persona Claudio HESED. ora la sua attesa per espandere verso l estero finalmente ha avuto il suo inizio. prima in germania a ottobre, e poi in repubblica ceca nel gennaio del 2018 con il suo style spaziale melodico.
● JANEZ ●
(Soundtrek)
[facebook.com]
● ACID WAVE ●
(Soundtrek)
soundcloud
● TK URBAN ●
(Soundtrek)
[click here]
● KNT23 ●
(Soundtrek)
[click here]
● BOMB ●
(Soundtrek)
[click here]
● ABSTRAKT ●
(Tekno Invasion)
soundcloud
●TEKDOG AKA BRUTALDOG ●
(Utnbookings)
soundcloud
★★★◉ MINIMAL OLD SCHOOL STAGE ◉ ★★★
★THE ANIMAL ★
✔ (PsyFlyProject)
★ MOLLA ★
✔ (K-Tribe)
★ MALA ★
✔ (Trance Invason)
★ ★
✔
★ ★
✔
★ ★
✔
★ ★
✔
Deco
Deco
▀▀▀▀▀▀▀▀▀▀▀▀▀▀▀▀▀▀▀▀▀▀▀▀▀▀▀

►BOTN Decoration + Visuals team (Greece)

► EVIL CORP
Info
▀▀▀▀▀▀▀▀▀▀▀▀▀▀▀▀▀▀▀▀▀▀▀▀▀▀▀
► ►► ► CONNECTION FESTIVAL TEASER PARTY STAGE
► ►► ► TEKNO STAGE BY SOUNDTREK
► ►► ► SOUND SYSTEM_
► ►► ► SOUND SYSTEM_
► ►► ► LED WALL + VISUAL MAPPING
► ►► ► PSY SHOPS
░░► INFO PHONE ◄░░
324 6384263
342 8772852
▀▀▀▀▀▀▀▀▀▀▀▀▀▀▀▀▀▀▀▀▀▀▀▀▀▀▀
CONNECTION FESTIVAL returns stronger than ever, reborn from its essence !!
After two very hard years trying to maintain the comfort of our audience, we decided to change location: we have sought to maintain the magic of our venerated "Batán de las Monjas" and improve everything that we could not offer there in terms of comfort for our connectors. After these last two years in which we have had increasingly difficult access with cars and caravans, the parking of caravans and cars at the festival ... With our connectors in an increasingly uncomfortable situation ... For the survival of your festival we change venue . Not without thanking the unconditional support of the people of San Nicolás del Puerto and the "Batán de las Monjas" to Connection Festival these 5 years. They will always be in our heart.
As an important fact: We changed the date to be closer in the calendar of festivals and in the Spanish summer, to be able to take advantage of this location and that you can enjoy the baths in the Natural Pools of La Codosera, where the bath is allowed! !!
New times arrive and the times of La Codosera and the blessed Gévora river arrive !! Some magical natural pools in a magical forest environment that is completely flat! With more than enough space to camp, park with your car or caravan, access roads up to 50 meters from the Main Stage! And all the amenities we seek !!!
Drinkable water, shade and a great geographical location being only 3 hours from Madrid, 2 from Lisbon or 3 from Seville !! It is located in the province of Badajoz, Spain.
We have capacity for up to 5000 people !!! The Main Stage will have twice the size to jump and dance all much more comfortable in our beloved "Oldschool Temple" !! And above all remember that this work team is more excited than ever to demonstrate that our mistakes of the past are improvable in a space like the one we are going to work only for you!
This year we will have three spaces:
Chill Out Healing Area!
Altechnative Stage !!
Oldschool Temple !!!
Being in such a privileged situation we will have shuttle bus from Lisbon, Madrid and Seville, so that you can arrive from any of these airports comfortably to the festival.
Our website will be available the 1st of december with all the info related to the festival and the sale of the first early bird tickets for only 75 €!!
[connectionfestival.com]
Connection Festival 2018 awaits you ... The rebirth of Oldschool Goatrance !!
"Our destiny is never a place. Our destiny is the connection. Stay connected in 604 mode..."
* * * * * * * * * * * * * * * * * * * * * * *
Dates: 4th to 10th of september of 2018
Location: Natural Pools of La Codosera (Badajoz, Spain)
* * * * * * * * * * * * * * * * * * * * * * *
TICKETS:
We keep the same prices of the last edition!!!!!!!!!!!!
EARLY BIRD PROMO TICKETS (just for freaks!!): 75 € From the 1st of december to the 31st of december or until sold out.
Location
Location
Bologna, Emilia-Romagna, Italy
Bologna
Entry fee
Entry fee
?????????????????