CONNECTION 2012٠•●ૐ●•٠• Sala Cosmos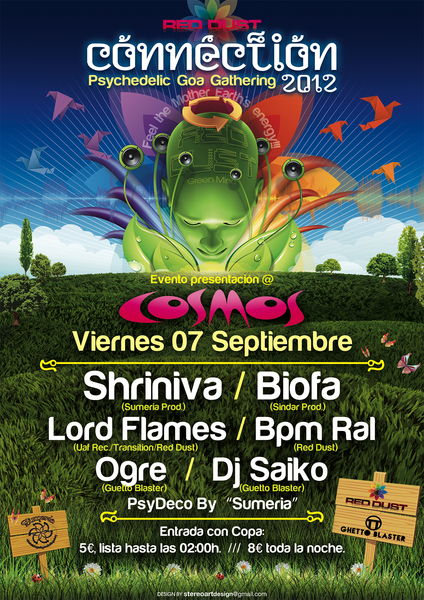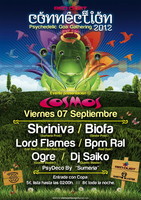 ॐ Shriniva
(Sumeria Productions )


ॐBiofa
(Sindar `Productions)


ॐLord Flames
(UAF Records/Transition/Red Dust)


ॐBPM Ral
(Red Dust)


ॐOgre
(Gueto Blaster)



ॐDj Saiko
(Gueto Blaster)
Deco
Fluor-Deco:
ॐ Sumeria
VISUALS:
ॐ Be Reverde (Red Dust) Berlin
•●●•٠•●●•٠٠•●●•٠٠•●●•٠٠•
Organiza:
ॐ Red Dust crew
[facebook.com]
•●●•٠•●●•٠٠•●●•٠٠•●●•٠٠•
Colaboran:
ॐ Sumeria
ॐ Transition Crew
ॐ UAF Records
ॐGuetto Baster
Info
Red Dust se reune de nuevo en Sala Cosmos para presentar en Sevilla CONNECTION 2012 .

Psychedelic Goa Gathering que se llevará a cabo en Priego de Córdoba el 5/6/7 de Octubre.

Para esta presentación contaremos con la presencia de djs y artistas que estarán en el Line Up de Conenction 2012 .

Shriniva desde Ibiza, Biofa desde Madrid, Lord Flames Y Bpm Ral de Red Dust (Sevilla) que harán que el Trance sea la única melodía en sus Dj Sets.

Contaremos con la colaboración de Guetto Blaster, colectivo sevillano que estará muy presente en Connection 2012 con ritmos como electro, techno o Dub Step.


Y para adentrarnos del todo en lo que será el Psychedelic Goa Gathering CONNECTION 2012, el Cosmos quedara decorado por Sumeria, los mismos decoradores que conseguirán que la sierra de Córdoba se convierta en un cuento de hadas en Octubre.


See you in the Dance floor..

See you in the Cosmos...
Entry
Entry
Entrada: 5€ con consumicion por lista hasta las 2:00

/////////// 8€ toda la noche.
Organizer
Organizer
ॐ Red Dust crew