Connecting The Tribes: The Gathering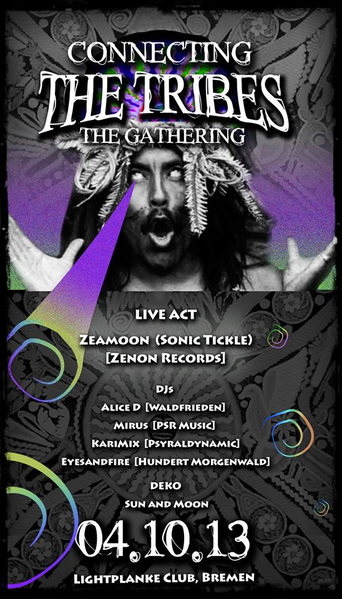 Live
Line Up
★ Zeamoon (Sonic Tickle) [Zenon Records]
DJs
★ Alice D [Waldfrieden]
★ Pappe [Glitchy Tonic Records]
★ Eyesandfire [Hundert Morgenwald] + LIVE SAXOPHON
★ KariMix [Psyraldynamic]
★ Mirus [PSR Music]
Info
Info
Der Sommer war phat, die Festivals hart und bunt. Aber der Herbst wird umso bunter. Zeit für etwas Erdung! Jeder ist den Sommer über seiner Route gefolgt, nun wird es Zeit für eine Häuptlingsversammlung!

Wir möchten euch einladen eine kleine schamanische Reise zu begehen um den Herbst einzuläuten.

ZEAMOON von SONIC TICKLE wird dies als LIVE ACT eine Zeit musikalisch begleiten, ebenso EYESANDFIRE, der durch einen LIVE SAXOPHONISTEN begleitet wird. Wenn ihr dann noch nicht in der Götterwelt der alten Mayas angekommen seid, wird MIRUS euch ein Stück an die Hand nehmen, um euch das Fleisch der Götter ein wenig näher zu holen. Notfalls muss ALICE D dann noch aus dem Wald kommen, um sämtliche Wogen in der Götterwelt zu besänftigen. Und dann ist da ja noch KARIMIX...man munkelt: Es wird tribial ;)

Connecting the TRIBES, with good VIBES!
Location
Location
Lightplanke Club
Rembertiring 1
28195 Bremen
Added

7y 7m

· Update

7y 7m

· 8 Parties ·

/ 10