••◄█ COLORS OF PROGRESSIVE PART 2 █ ►•• DIE UV FARBSCHLACHT -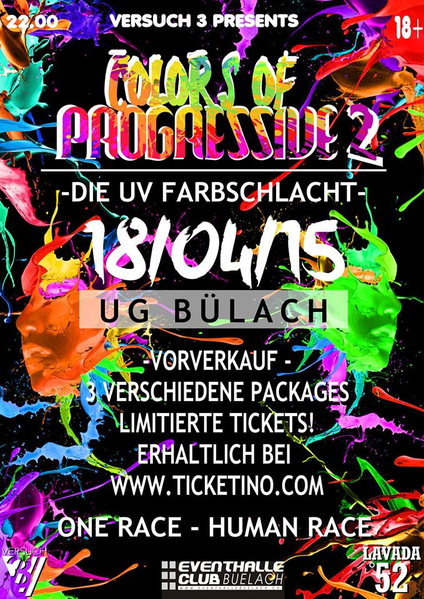 Line Up
▀▀▀▀▀▀▀▀▀▀▀▀▀▀▀▀▀▀▀▀▀▀▀▀▀▀▀
╠ ★ ╬ ░ MAINFLOOR (FARBENFREIEZONE) ░ ╬ ★ ╣
► Meis (ITA) ✔
PSR
soundcloud
►SI-MOON (CH)✔
PSR
soundcloud
► Boot Sequence (ITA) ✔
Bass Addicted Prod.
soundcloud
► MR. TRIP - ARTRANCE (ITA) ✔
ROLL-IN GROOVE RECORDS
soundcloud
►GOODFELLAS - EVIL MONKEY (ITA) ✔
ROLL-IN GROOVE RECORDS
soundcloud
►TIROON VS GREENSTUFF (CH)✔
PSR
soundcloud
soundcloud
►OWNER (CH)✔
FIST RECORDS
soundcloud
►D-LISCIOUS (CH)✔
EARDEATH REC
soundcloud
►SIAREXX✔
LION REC
soundcloud.com/brunominimal
►CHROMOSOM✔
WASTED RECORDS
soundcloud
►NASSIRIA ✔
EARDEATH REC
[facebook.com]
►LINE UP CLOSED✔
▀▀▀▀▀▀▀▀▀▀▀▀▀▀▀▀▀▀▀▀▀▀▀▀▀▀▀
╠ ★ ╬ ░SIDEFLOOR (UV COLOR SCHLACHT) ░ ╬ ★ ╣
►Info Folgt ✔
Deco
Deco
Lavada 52 & Versuch 3
Info
╔═.★.═════════════╗
COLORS OF PROGRESSIVE 2
╚═════════════.★.═╝
THE ORIGINAL
Wir begrüssen euch zu Runde 2 der einzigartigen UV Schlacht COLORS OF PROGRESSIVE! Wer beim ersten mal dabei war, weiss was ihn erwartet. Ein Farbenspektakel begleitet von purem PROGRESSIVE!
Sei dabei wenn der Countdown beginnt und sich hunderte weisse Shirts in einmalige UV Shirts verwandeln. Diesmal wird der Countdown von MC Travis D angesagt!!Vergiss für einen Abend alle sorgen und lasse das Kind in dir raus! Verbinde 2 der schönsten Dinge die es gibt, Musik & Kunst.
An diesem Abend bringen wir wortwörtlich Farbe in euer Leben
ONE RACE.
HUMAN RACE!
DRESSCODE: WEISSES SHIRT!!!
Die t-shirts können am Eingang gekauft werden oder als Package (mit Ticket und UV Farbflashe nach wahl) vorab bestellt werden.
!!!LIMITIERTE PLÄTZE!!
Wenn der Countdown kurz vor 01.00 Uhr beginnt, macht euch bereit! Denn bei 0 beginnt die grösste Farbschlacht in ganz Zürich und eure weissen T-Shirts verwandeln sich in einzigartige UV Shirts!
OFFICIAL COLORS OF PROGRESSIVE SOUNDTRACK
soundcloud
OFFICIAL TRAILER:
[facebook.com]
✪SPECIALS✪
█ ►2 ROBOT MAN MIT LASERSHOW
█ ►PAINT STAND MIT UV TEXTILFARBE
█ ►UV FARBSCHLACHT MIT 4 COUNTDOWNS
█ ►UV FARBEN & WASSERPISTOLEN
█ ►COP T-SHIRTS
█ ►FOTOWAND
█ ►T-SHIRT DRUCK NACH DEINEM WUNSCH
▀▀▀▀▀▀▀▀▀▀▀▀▀▀▀▀▀▀▀▀▀▀▀▀▀▀▀
Pictures & Aftermovie
by Partyshooter.ch
Bodypainting
by KKart
Countdown by
MC Travis D
David Dave Kneubühl
Location
Location
Eventhalle Club Bülach
schützenmattstrasse 32
Entry fee
VORVERKAUF TICKETINO
[click here]
STANDART PACKAGE 37.-
EINTRITT (Inkl. Shirt & UV Farbe small)
COLOR PACKAGE 57.-
EINTRITT & SHIRT
4 x UV COLOR SMALL
2 x UV COLOR MEDIUM
VIP PACKAGE 97.-
EINTRITT & SPECIAL COP SHIRT
2 GETRÄNKEBONS¨
2 x UV COLOR SMALL
5 x UV COLOR MEDIUM
1 x UV COLOR BIG
1 x WASSERPISTOLE
COP PACKAGE
ABENDKASSE 40.-
EINTRITT (inkl. Shirt & Uv Farbe)
ABENDKASSE
T-SHIRT 10.- (nur solage Vorrat!
UV FARBE 10.-(nur solange Vorrat)
NUR EINTRITT 25.-
Organizer
Organizer
VERANSTALTER
✪✪Versuch 3✪✪
✪✪Marco Oxi Lavada & Maik Cui✪✪
[facebook.com]