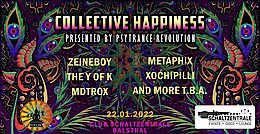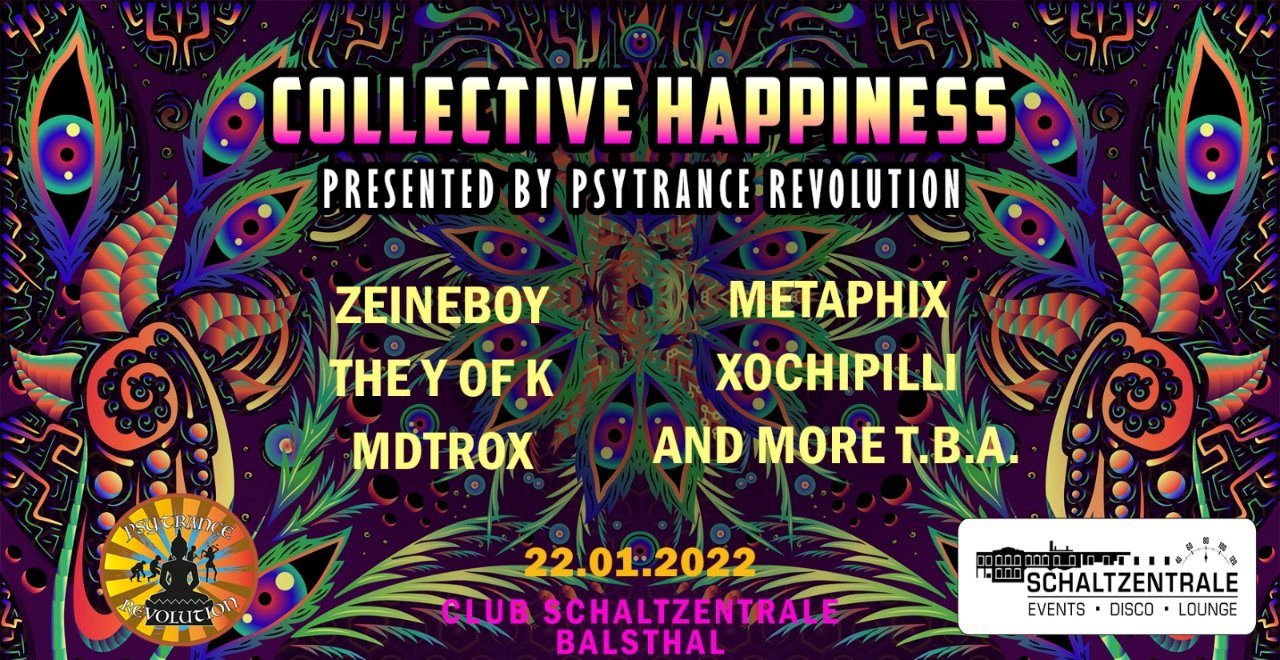 Line Up
Psy Trance☮️ Forest ☮️ Hitech
Line up:
PsyFloor
☞ TouretteBallett AKA LIQUID SPACE
🎧
[click here]
🎧
☞ Zeineboy vinyl set
💣 PsyMoments 💣
🎧
soundcloud
☞The Y Of K ✓
💣(PsyTranceRevolution) 💣
🎧https://soundcloud.com/user-675074185 🎧
☞ Synapsonics
💣Aajaadee records 💣
🎧
soundcloud
🎧
🎭💃💣🔊☮️🍸🕺🎊
Forest/☮️Hitech☮️ Floor
☞ MDTrox✓
💣 PsyTranceRevolution 💣
☞ Metaphix
💣independent 💣
🎧
soundcloud
🎧
☞ AndiBabaGandi
💣forest Evolution 💣
🎧https://soundcloud.com/andreas-schwarz-343031058 🎧
☞ Mösi
💣forest Evolution 💣
🎧https://soundcloud.com/moris-mayr-424208164🎧
☞ Acheloos
💣Kelloggs Records 💣
🎧
[goo.gl]
🎧
☞ RumpelNielschen
🎧https://soundcloud.app.goo.gl/CwbZi9qFYtb1g6jC7 🎧
☞ PSYDONYM
💣PsyTranceRevolution 💣
🎭💃💣🔊☮️🍸🕺🎊
Info
Wir von PsyTranceRevolution heißen euch Herzlich Willkommen zu unserem ersten Rave in diesem Jahr, welchen wir wieder in der Schaltzentrale durchführen werden
In dieser Nacht werden ausgelesene DJs euch satte Bässe und Psychedelische Klänge Auf 2 Floors um die Ohren hauen.

Die Schaltzentrale wird euch die Möglichkeit geben von 22:00 - 03:00, sich vor Ort gratis testen zu lassen Krankenkasse und Personenausweis (ID oder Pass) muss vorgewiesen werden
2G+ genesen oder geimpft.
Mit Zertifikat, bei der 2G länger als 4 Monate her ist.
Booster und solche, bei der 2G weniger lang als die 4 Monate her ist, sind ausgenommen.


Wir freuen uns über jede tanzende Seele die uns am 22.01.2022 besuchen wird, und in dem Sinne See You On The Floor

》》》》》》》》》INFO》》》》 》》》》

☮️ strikt ab 18 Jahren
☮️ Faire Barpreise
☮️ Friendly Security
☮️Lightshow by Psy Trance Revolution
☮️ No Dogs & Drugs only good vibe
☮️Masives Soundsystem 🔊
☮️ Getränke von ausserhalb sind NICHT gestattet ⛔
☮️Cody Teststation
🥰ॐ SEE YOU ON THE FLOOR ॐ 🥰

🎭💃💣🔊☮️🍸🕺🎊

Deko
PsyTranceRevolution
forest Evolution
Bar 🍸
Schaltzentrale



Schaltzentrale Bahlsthal
Industriezone Klus 53
4710 Balsthal





Sicherheitswahrung:
Bei dieser Veranstaltung werden grosse beschallungsanlagen eingesetzt, welche einen hohen schaldruck erzeugen können (Über 93DB) deswegen empfehlen wir euch euer Gehör zu schützen.




WICHTIG:
Da wir die Einhaltung der Abstandregeln nicht garantieren können, werden deine Kontaktdaten erfasst und bei Bedarf dem BAG zur Verfügung gestellt. Bitte macht uns den gefallen und gebt eure richtigen Daten an damit wir auch weiterhin Partys machen dürfen.
Wir bitten dich von einem Besuch der Veranstaltung abzusehen, wenn du dich krank fühlst. Durch enge Kontakte mit unbekannten Personen besteht ein Risiko, sich mit COVID-19 anzustecken. Die Aufnahme der Kontaktdaten dient der Rückverfolgung, falls es zu einem engeren Kontakt mit einer Person kam, von welcher ein COVID-19 Ansteckungsrisiko ausgeht.
Leider ist es immer noch so dass wir ein Covid Zertifikat verlangen müssen, ohne diesem dürfen wir euch leider keinen Einlass gewähren. Damit wir Maskenfrei Arbeiten können müssen wir 2G+ durchsetzen, um euch umstände zu ersparen hat die Schaltzentrale vor dem Eingang ein Testzentren eingerichtet.
Bei dieser Veranstaltung kann die gültige Distanzregel nicht umgesetzt werden.
Wir empfehlen, während der Veranstaltung eine Hygienemaske zu tragen.
Location
Roll-Areal 53
🚬💃🎪🎊📸🎊🥴🎃🧨🎇 ☮🚬 👾💸
Schaltzentrale Balsthal
Von Roll-Areal 53, 4710 Balsthal
Der Bahnhof Klus ist in wenigen Gehminuten erreichbar.

🚬📸🎊🥴🎃🧨🎇 ☮🚬 👾💸 👍🥴🎊