Cohesion Sat 7th November 09 London UK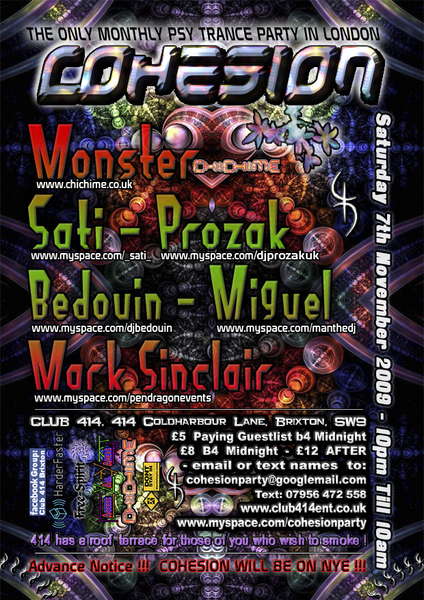 Info
Welcome Psy Trance Lovers
Saturday 7th November 2009
10pm till 10am
Club 414,
414 Coldharbour Lane, Brixton, SW9 8LF
London/UK
Cohesion Psy Trance Party Is proud to present:
DJ's:
Sati
[myspace.com]
Prozak
[myspace.com]
Miguel
[myspace.com]
Mark Sinclair
[myspace.com]
Monster
[co.uk]
Bedouin
[myspace.com]
The club has a roof garden for those whom wish to smoke.
More info and bio's soon :)
£5 Paying Guest List Before Midnight
if full names are texted/sms before 8pm on sat 7th November
or emailed by 6pm Fri 6th November
£8 Before Midnight / £12 after
text info: 07956472558
email:
cohesionparty@googlemail.com
web:
[myspace.com]
Biogs:
DJ Monster:
Monster will be pleasuring us with his modern blend of Psy Trance sounds. He is London's 'Chichime' promoter, who is committed in bringing you the right vibe in the psychedelic trance scene. Chichime have hosted over 80 events in the last 10 years and continue to bring a loyal following to the full on energetic psytrance parties that they have become know for. Chichime brought you some of the best Dj's & producers from UK & international scene including such Artists as Eskimo, Talamasca, Dajavoo, Dark Soho, Cosmosis & many more. And continue to organise some of the best Underground & Open air parties in London. We at Cohesion cant wait for his set. Everyone who comes to hear will certainly NOT be disappointed! :)
DJ Bedouin:
He first discovered Progressive when he worked in a shop in Camden Town - London, Bedouin used to go to the infamous Dream Temple shop to listen to new minimal psychedelic proggy coming mostly out of Switzerland, Sweden, Denmark and Germany.
His style varies from the roots of classic funky minimal psychedelic progressive through to epic and pumping psy prog, and tribal progressive styles..... if it hits the right buttons for him....He'll play it.
Bedouin is label Dj and general operations assistant for Domo Records and has been supported and pushed in the right directions by Jay Blatch and the sheriff.....DJ Nadi.
Label DJ and part organiser for 'Furthur Project record label and events' His first release 'London Landscapes' was released at the beginning of 2009 - Furthur Project has built a special reputation as one of London's premier Progressive parties and progressive stage management services.....Hosting the likes of Kacey Taylor, Symphonix, Ace Ventura, Klopfgeister, Feurehake, Anti (Spiral Trax), Liquid Soul, Earsugar, Roobix Q-bit, Ignorant Fairy, Hamish, Intelligent Idiot, Dick Trevor, Pink Noise, Disco Stu and many many more very talented people mixed with a truly special atmosphere......visit:
[furthur-project.com]
for more info.
Co organiser for progressive stage @ Offworld Festival (UK) and Life Festival (Ireland)
*Resident for one of the UK's flagship Progressive promoters: 'The Dream Temple' who have hosted the likes of D-Nox & Beckers, Antix, Yotopia, Peter Digital, Liquid Soul,Tegma, Vibrasphere, Peter Gun, Mirowvsky, Annarchy, Anndromeda, Reefer Decree, Pena, Emok and Insane Creation among many.
Other bookings within the past two years for Bedouin include:
BOOM FESTIVAL 2008 – Portugal. Universo Parallelo – Brazil. The Glade Festival – UK. Life Festival – Ireland. Hadra Festival – France. Transubtil - Marseilles – France. Offworld Festival. Echo Festival (Alchemy Records) – UK. Eastern Haze Festival – UK. SEMF festival Audiobahn records – Denmark. Waveform Dance Project Festival.
DJ Sati:
Has been playing in and around the London scene for the past 3 years. Her styles vary between progressive, driving Psytrance and Techno sometimes mixing up many different genres in one set. Resident with Cohesion, Oneness & Tribal Dance, Sati has played alongside the likes of Infected Mushroom, Astrix, John OO Fleming, Sterling Moss, Prozak, Chris Liberator, Breakfastaz, Sutekh, Beatnik, Journey, Tron, Sinewave to name but a few, and in venues such as indigo2 (Infecting the UK), Brixton Academy (Psychedelic Academy - Antiworld), Turnmills (Antiworld), The Fridge (Colours, Logic), Aera (Contrast), The Medussa, 414 (Cohesion) & Grand Junction Arms (Torque). Last year Sati's psytrance took her to Lake Deczno in her homeland of Poland, where she was the only female artist to play at the Ramada Festival. She Returns to Poland this year for the Common Festival on 11th July.
DJ Prozak:
Has been DJ'ing for the past 15 years and is truly in a class of his own. There simply isn't a venue he hasn't played at. Not content with just DJ'ing. He also produces engineers & re-mixes at his studios "LG4" in London, UK. With current residencies around the globe. Plus running his own promotions in London, "Cohesion" & "Event Horizon". Having run numerous successful trance record labels in the past has in the last 3 years turned his attention to psychedelic sounds. Recently Prozak has joined forces with Free-Spirit Records UK plus the "Logic" Organization. Famed for his cutting edge full on psychedelic trance, electro & progressive sets. Never miss a boom.
Mark Sinclair:
Legendary trance dj and producer. instrumental in the promotion of trance music worldwide. promoter of the legendary Pendragon parties and London organiser of the world famous earth dance international party in aid of the Tibetan cause. DJ Mark Sinclair Mark Sinclair's Dj career began in Swansea (south Wales) as the lead singer of a post punk rock band. Having always been musically orientated, he began Djing 22 years ago. Throughout that course Mark has played almost every genre of dance music. His big break came when he was asked to host a weekly show on the infamous London underground pirate radio station, Faze 1 fm, working alongside the now legendary Dj's, Fabio, Grooverider and Dave angel. After 3 years of hosting the show, as well as promoting a successful 1960's American soul + R'n'B club, a new dawn of dance music emerged – in 1989, acid house was born. Two years later, in March 1991, unhappy with the party scene in London, mark and his partner Kate, decided to form their own party calling it 'Pendragon'. They pride themselves on keeping one step ahead, pioneering and changing their sound, every time the commercial market catches up. That was to become a springboard for his Dj career. Now 15 years on, Mark is one of the most versatile, prolific and sought after DJ's on the techno trance scene in London and the U.K. he has always been at the forefront of underground music, striving to keep the sounds fresh. Having played such a huge part in pushing the music, he decided to write and produce his own. Mark's tunes have been released on several record labels, which lead him to create a label of his own, Pendragon records, now on their fifth release. (See discography) Mark has headlined at some huge events around the world. Regularly playing to massive crowds of 10.000 in Brazil, 2000 in Holland, and even at his own events in London, where Pendragon regularly sold out the 4.500 capacity Brixton Academy venue, as well as monthly 2000 crowds at the legendary Tyssen Street Studios and the fridge nightclub in Brixton. With all of this in toe, it must be said that Mark Sinclair has been fundamental in the creation of the techno trance sound we hear today.
Location
Location
Club 414,
414 Coldharbour Lane, Brixton, SW9 8LF
London/UK
Entry
Entry
£5 Paying Guest List Before Midnight
if full names are texted/sms before 8pm on sat 7th November
or emailed by 6pm Fri 6th November

£8 Before Midnight / £12 after