Cohesion PsyTrance Adventure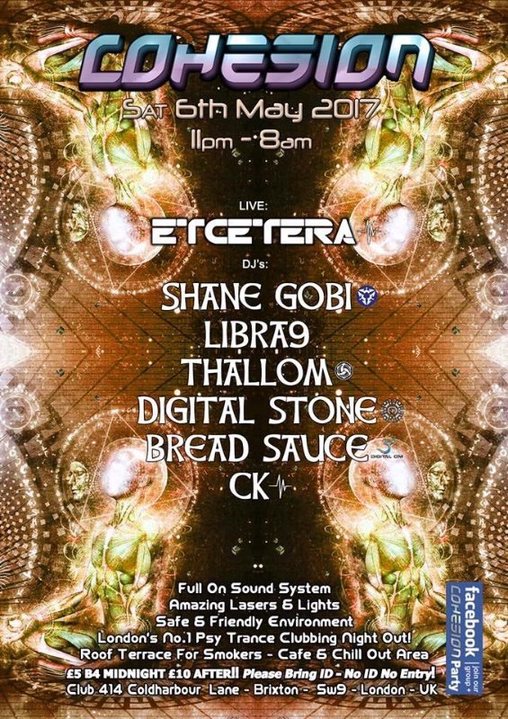 Line Up
Line Up
ETCETERA live guitar set!
SHANE GOBI
LIBRA9
THALLOM
DIGITAL STONE
BREADSAUCE
C.K
Info
Welcome back to another Cohesion PsyTrance adventure featuring ETCETERA/ SHANE GOBI & many more!
******INVITE ALL YOUR GOOD VIBE FRIENDS ******
And lets make it the one to remember, bring it Om!!!
●ૐ● ROOM 1 (Magic Playground)
Live Act:
●ૐ● ETCETERA with live guitar set!
(Biopulse Record's)- PORTUGAL
soundcloud
Dj's:
ૐ●SHANE GOBI
(Alchemy Rec)- SOUTH AFRICA
soundcloud
ૐ●LIBRA9
(Psyrhythmix)- UK
soundcloud
ૐ●THALLOM
(Expo Rec)- BRAZIL
ૐ●DIGITAL STONE
(Mutagen Rec)- POLAND
ૐ●BREADSAUCE
Digital Om Record's)- UK
soundcloud
ૐ●C.K
(Biopulse Rec)- PORTUGAL
soundcloud
----·٠•●ૐ●•٠· -----·٠•●ૐ●•٠· -----·٠•●ૐ●•٠· -----·٠•●ૐ●
All this under one roof, bring on the positive vibe!
----·٠•●ૐ●•٠· -----·٠•●ૐ●•٠· -----·٠•●ૐ●•٠· -----·٠•●ૐ●
●ૐ● ROOM 2 (Chill Out Lounge/cafe)
A beautiful place to sit down and chill
& chat with your friends
* High Quality Deco
* Face Painting
* Lights and Lazer Show
* Friendly Security
* Over 18 Only
(Open Roof terrace for those who wish to smoke)
Please note that excessive noise will be not tolerated outdoors
Please respect the neighbourhood, Thank you for your co-operation
Location
Location
Club 414-414 Coldharbour lane Brixton SW9, 8LF.
Entry fee
Entry fee
£5B412 £10 after.